By Rob Patrick
Photos by Kevin Nagle and Rick Nation
John Winn and K.J. Hill each hit free throws in the final minute to help the Bryant Hornets freshman team[more] fend off a comeback bid by the Lake Hamilton Wolves and secure a 35-29 win on Monday night.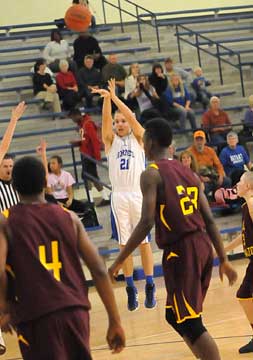 Bryant led 31-21 going into the final three minutes only to have the Wolves whittle the margin to 4 three times in the late going. But they could never get closer because of those clutch free throws.
It was the second win of the season for the Hornets against Lake Hamilton. The two teams met in the opening round of the Bryant Invitational Tournament on Nov. 14 with Bryant prevailing 48-33.
In that game, the Wolves pressed to get the Hornets play at a faster pace. It worked but Bryant beat them at their own game. This time, the game turned into a half-court contest. Lake Hamilton worked the ball inside to talented post man Jason Burks, who came through with 15 points, nine rebounds and three blocked shots.
And the Wolves played a variety of half-court defenses including a diamond-and-one for a while to try to slow down the Hornets' K.J. Hill. They also played a sloughing man-to-man in which Burks and forward Donnell West stayed in the paint.
But Hill still wound up with a game-high 18 points.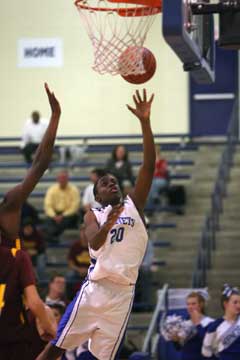 "They played us differently as far as they didn't guard our post people," acknowledged Hornets coach Jim Pennington. "They sunk back into the lane, which makes you, offensively, have to adjust. We just tried to make them come out and guard us so we could play five on five instead of playing three on five.
"We didn't play with much enthusiasm," he added. "You know, we always tell them the toughest team wins. Tonight, we were not the toughest team and we're just lucky that K.J. Hill had the game he had or we'd have been in trouble.
"I tried to tell them that what you did last time doesn't necessarily mean that it's going to happen this time," the coach related.
Still, Lake Hamilton's last lead of the game was 4-2 halfway through the opening period. J.C. Newborn fed Ryan Hall for a basket that tied it at the 2:05 mark then, in the final :30 of the period, Hill knocked down a jumper from the wing and Brandan Warner made a steal that allowed Bryant to hold for the last shot which Winn drilled at the buzzer from 3-point range to make it 9-4.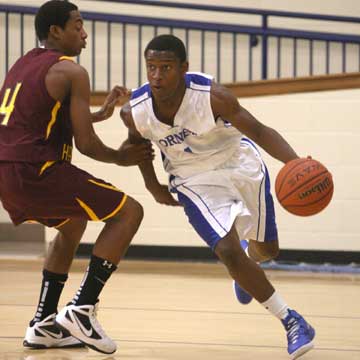 Hill added a free throw and a driving jay in the early stages of the second period to extend the lead to 12-4. After Dallas Baldwin scored for the Wolves, Hill nailed a 3 to make it 15-6.
Lake Hamilton pulled within 17-13 at the half on a lob to Burks off an inbounds play and a last-second 3 by Hunter Daley.
But Warner answered that 3 with one of his own to start the second half and when Newborn scored off a drive, the lead was back to 9.
The lead seesawed from 7 to 9 for a while. Bryant held a 24-17 lead going into the fourth quarter and it was 28-21 after Burks scored inside with 3:48 left.
"He's a good player," Pennington commented. "He just did anything he wanted to do. But we weren't physical enough."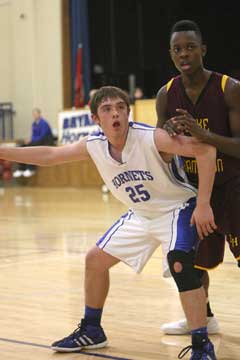 At the 3:22 mark, Hall hit a free throw. The carom off his missed second shot must've ricocheted off the hands of every player before Hill snatched it and whipped a feed to Newborn for a layup that made it 31-21.
Daley sparked Lake Hamilton's rally with a 3. A free throw by Burks and a turnaround jumper with 1:00 left had the Wolves within 31-27. But the Hornets spread the floor and, with only one team foul to that point, Lake Hamilton had to start fouling to get Bryant in the bonus.
Hill had hit 6 of 6 free throws down the stretch for the Hornets in the previous win over the Wolves so they double-teamed the Bryant point guard and kept him from getting the ball. They wanted someone else to have to step up and beat them if they could.
Finally, with :46.5 showing, Winn was fouled. He converted once. West hit a free throw in return and, with :22 to go, Newborn was fouled. Though he missed the front end, the ball went out of bounds off the hands of the Wolves and, after the inbounds play, Winn was fouled. Again, he converted once to make it 33-28.
West got to the line again with :10 to go and made the first shot. With a chance to make it a one possession game, however, he missed. Moments later, Hill put the icing on the cake with two from the line to set the final score.
Now 5-1 overall and 2-0 in the Central Arkansas Junior High Conference, the Hornets hit the road Thursday to play Conway White in a rematch of the Invitational championship game.
JUNIOR HORNETS 35, JUNIOR WOLVES 29
Score by quarters
Lake Hamilton 4 9 4 12 — 29
BRYANT 9 8 7 11 — 35
JUNIOR WOLVES 29
Daley 2-7 0-0 6, Scott 0-2 0-0 0, Burks 7-11 1-3 15, West 2-6 2-4 6, Baldwin 1-6 0-0 2, Crumpler 0-1 0-0 0, Bullard 0-1 0-0 0, Daniel 0-0 0-0 0. Totals 12-34 3-7 29.
JUNIOR HORNETS 35
Hill 6-7 5-6 18, Winn 1-2 2-4 5, Warner 1-9 0-0 3, Newborn 3-9 0-1 6, Hall 1-3 1-2 3, Withers 0-0 0-0 0. Totals 12-30 8-13 35.
Three-point field goals: Bryant 3-9 (Warner 1-6, Winn 1-2, Hill 1-1), Lake Hamilton 2-9 (Daley 2-6, Scott 0-1, Baldwin 0-1, Crumpler 0-1). Rebounds: Bryant 25 (Newborn 5, Warner, Hall 4), Lake Hamilton 20 (Burks 9). Turnovers: Bryant 11, Lake Hamilton 11. Team fouls: Bryant 8, Lake Hamilton 12.