By Rob Patrick
Photos by Kevin Nagle
In their season opener, the Bryant Lady Hornets freshman basketball team[more] struggled against the press defense played by the Vilonia Lady Eagles in the fullcourt and against the half-court zone that was packed inside. The former produced most of the 21 Bryant turnovers. The latter produced a 4 of 20 shooting night from the field for the Lady Hornets.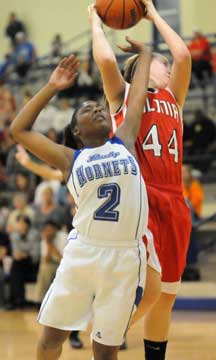 Together, they resulted in a 26-12 loss for Bryant.
Carly Whitehead led the Lady Eagles with 10 points. Seven Vilonia players contributed to the scoring.
For Bryant, Destiny Huffman had 9 points. Taylor Lindberg added a basket and Brittney Earls hit a free throw to account for the Lady Hornets' total.
"They're a good team for us to play to start the season to kind of see where we're at," said Lady Hornets head coach Nathan Castaldi. "I saw some good things and some things we have to work on.
"I think we've got to work on protecting the basketball," he explained. "We had too many turnovers which led to easy shots for them. Then when we got to play defense, I thought we did a good job. But too many turnovers led to too many easy baskets.
"Defensively, I thought we helped very well," the coach concluded. "We worked hard on that, trying to play man and helping each other out when somebody gets beat. We did a good job on that."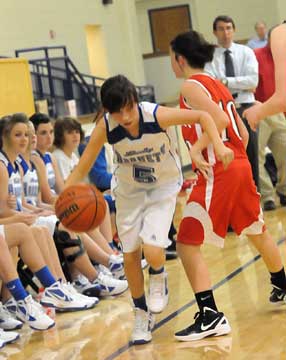 Bryant led early 4-1. Vilonia's only point in the first five minutes was a free throw by Kelly Teer. Lindberg's basket and two free throws by Huffman gave the Lady Hornets the lead.
But, in the final minute of the first quarter, Whitehead canned a 10-footer and, after a Bryant miss, Teer hit two free throws with :04.7 on the clock to put the Lady Eagles ahead to stay.
It was 9-4 before Bryant could score again. Huffman's drive cut the margin to 3 with 2:32 left in the half but the Lady Hornets were shut out the rest of the period, falling behind at the break, 11-6.
Neither team scored in the first three minutes of the third quarter. Finally, a steal and layup by Vilonia's Cacy Simpson broke the ice.
After a timeout by Castaldi, Huffman sparked a rally. She scored off the offensive glass and was fouled with 2:29 left in the third. She completed the three-point play then made a steal and a driving jumper to get the Lady Hornets within 13-11 with 2:11 to go in the period.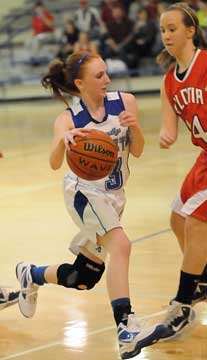 But that proved to be the last field goal of the game for Bryant. A 3-pointer by Alex Wilkens broke the Lady Hornets' momentum and made it 16-11 going into the fourth.
Then Bryant didn't score until Earls' free throw with :50 left in the game. Sparked by a 3 from Whitehead to start the final period, Vilonia built a 24-11 lead before Earls' free toss. A basket by Jennifer Jackson with :11 left set the final score.
The Lady Hornets return to action on Monday, Nov. 14, in the first round of the Bryant Invitational Tournament, which will include Benton, Hot Springs, Lake Hamilton, Texarkana, Hot Springs Lakeside, Conway White and North Little Rock. Bryant takes on Lakeside in the first round at 5:35 p.m.
JUNIOR LADY EAGLES 26, JUNIOR LADY HORNETS 12
Vilonia 5 6 5 10 — 26
BRYANT 4 2 5 1 — 12
LADY EAGLES
Whitehead 4-4 0-0 10, McNespy 0-4 0-0 0, Wilkens 1-5 0-0 3, Teer 0-5 4-6 4, Lyons 0-3 0-2 0, Simpson 1-3 1-2 3, Brandon 1-6 0-2 2, Jackson 1-1 0-0 2, Rappold 1-2 0-0 2, Brantley 0-1 0-2 0. Totals 9-34 5-14 26
LADY HORNETS
Clay 0-1 0-0 0, Anderson 0-3 0-2 0, Huffman 3-8 3-4 9, Davidson 0-2 0-0 0, Lindberg 1-4 0-2 2, Solinger 0-1 0-1 0, Curry 0-1 0-0 0, Gray 0-0 0-0 0, Powers 0-0 0-0 0, Earls 0-0 0-1 1. Totals 4-20 4-11 12.
Three-point shooting: Vilonia 3-5 (Whitehead 2-2, Wilkens 1-2, Brantley 0-1), Bryant 0-2 (Anderson 0-1, Huffman 0-1). Turnovers: Vilonia 16, Bryant 21. Rebounds: Vilonia 29 (Rappold 6, Brandon 5), Bryant 19 (Lindberg 5, Huffman 4). Totals fouls: Vilonia 17, Bryant 13.