By Rob Patrick
Photos by Kevin Nagle
Vilonia's Lucas Nicholson scored all 7 of his team's points in overtime including an[more] ice-in-his-veins 3-pointer with his team trailing 34-32 with 1:22 left as the Eagles escaped with a 37-34 win over the Bryant Hornets in the opener for both freshman teams Monday night.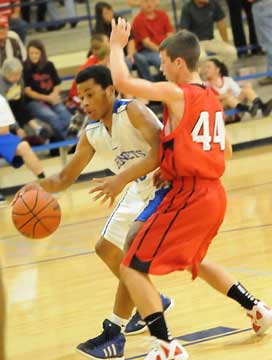 Vilonia held a narrow lead for much of the game but, with :56 left in regulation, Bryant took a 30-28 on a layup by Brandan Warner off a drive and dish by K.J. Hill.
With :25 left, Vilonia's Hayden Weaver hit a short jumper to tie it. Bryant worked the ball up the floor and head coach Jim Pennington called timeout with :14.5 showing.
When play resumed, Vilonia, with fouls to give, committed one at the :07 mark. Off the inbounds, the Hornets got an open look for John Winn from 3-point range but the shot refused to go down and the game went into overtime.
Hill put the Hornets ahead with a 12-footer and Bryant forced a turnover. A quick shot, however, gave the Eagles another chance to tie and Nicholson went to the free-throw line and did just that getting both shots to fall.
With 1:41 left, however, Bryant regained the advantage when Hill found Ryan Hall for a layup.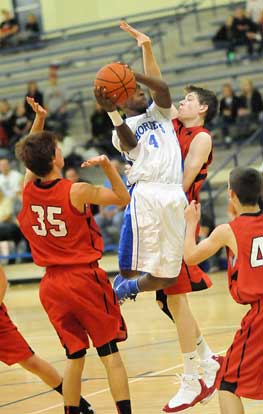 Trailing by 2, the Eagles got the ball to Nicholson once again and, this time, it looked like he might've been doing the Hornets a favor with his long-range shot. But the 3-pointer went in and the Eagles held a one-point edge.
Warner couldn't get an answering triple to fall and when Hall and Vilonia's Garrett Brown both came down with the rebound, the Eagles were awarded the ball on the alternating possessions.
Nicholson was fouled with :49.3 to go and, shooting a one-and-one, drained both tosses to make it a 3-point game.
After a timeout, Hill was unable to get a 3-pointer to fall but the carom went out of bounds off a Vilonia player.
The Eagles called timeout with :06.5 showing. Warner, who sank a trio of triples in the game, got a look from long range at the buzzer but it rimmed out as Vilonia prevailed.
"Vilonia's got a good little ball team," Pennington said. "They shot the ball extremely well."
In fact, the Eagles were 12 of 20 from the field (60 percent) including 5 of 11 from 3-point range. Vilonia went 8 of 12 from the free-throw line while the Hornets were awarded just two shots from the line, of which neither sank.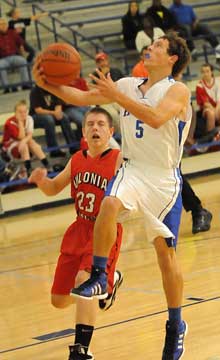 "In a close game like this, you can learn a lot about your team," Pennington commented. "We learned a lot about personnel in close situations, who needs to be playing where. We'll look at the mistakes we made in those situations, go back and correct them.
"We've got to do a little bit better job defensively," he added. "But we just haven't had time to teach it. That's something that takes a lot of time and we just haven't had it. We got all our football players in about three days ago.
"We're going to go back to work and try to get better," the coach concluded. "I'm very proud of their effort. They played hard. This is going to be a good basketball team before we're through. I really like our team."
Hill and Warner each finished with 11 points for the Hornets who return to action on Monday, Nov. 14, in the opener of the Bryant Invitational Tournament. They'll take on Texarkana at 7:45 p.m.
The Hornets fell behind 7-2 at the start of Monday's game with Vilonia. Warner's first 3 with :11 left in the first quarter cut the margin to 7-5 going into the second period.
A nice turnaround jumper by J.C. Newborn tied the game at 7 early in the second and, after Weaver scored for Vilonia, Warner hit another troika to give the Hornets their first lead at 10-9 with 3:28 left in the half.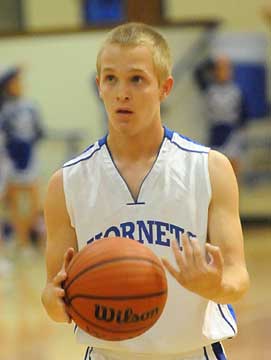 After a Vilonia miss, Newborn scored again to make it 12-9 but Nicholson and Corey Brewer drained 3's on either side of a driving layup by Hill and the Eagles led 15-14.
Bryant tried to hold for a last shot but a turnover occurred with :20 left and Vilonia took advantage with a basket by Brown despite a foul.
The Hornets trailed 19-16 in the third quarter when Winn fed Newborn for a bucket. Though Vilonia's Ethan Goff answered, Hill canned a 3 to knot it at 21. The Hornets had a chance to regain the lead but a turnover undermined the opportunity and another bucket by Goff had Vilonia up 23-21 going into the fourth quarter.
And when David McMartin hit a 3 to start the fourth, the Eagles had matched their early 5-point lead. Warner, however, came through in the clutch with an answering 3 to cut the margin to 26-24.
Nicholson hit a pair from the line with 5:01 left to play and it stayed 28-24 for two seconds shy of three minutes. Finally, Newborn scored off a steal to tie it with 2:03 to go.
Both teams had chances to snap the deadlock over the next minutes. Finally, Hill found Warner for the layup that had the Hornets ahead going into the final seconds of regulation.
JUNIOR EAGLES 37, JUNIOR HORNETS 34
Score by quarter
Vilonia 7 10 6 7 7 — 37
BRYANT 5 9 7 9 4 — 34
JUNIOR EAGLES 37
Brewer 2-4 0-0 6, McMartin 1-2 0-0 3, Weaver 2-4 0-3 4, Nicholson 2-4 6-6 12, Brown 3-3 2-3 8, Newell 0-1 0-0 0, Goff 2-2 0-0 4, Brown 0-0 0-0 0. Totals 12-20 8-12 37
JUNIOR HORNETS 34
Green 0-1 0-0 0, Winn 0-4 0-2 0, Newborn 4-6 0-0 8, Withers 1-2 0-0 2, Fisher 0-1 0-0 0, Hill 5-11 0-0 11, Warner 4-10 0-0 11, Nelson 0-0 0-0 0, Hall 1-1 0-0 2. Totals 15-36 0-2 34.
Three-point field goals: Bryant 4-17 (Warner 3-7, Hill 1-5, Winn 0-3, Fisher 0-1, Green 0-1), Vilonia 5-11 (Brewer 2-4, Nicholson 2-3, McMartin 1-2, Weaver 0-1, Newell 0-1). Turnovers: Bryant 6, Vilonia 6. Rebounds: Bryant 17 (Newborn 5, Hill 3), Vilonia 14 (Brown 6). Team fouls: Bryant 11, Vilonia 7.