Freshmen Hornets complete perfect season with rout of Benton
EDITOR'S NOTE: Because the look back at each day in Bryant athletic history has been so favorably received during the time when there was no sports during the COVID-19 shutdown, BryantDaily.com will continueposting past stories of Bryant athletics either posted on BryantDaily.com (from 2009 to the present) or published in the Bryant Times (from 1998 to 2008).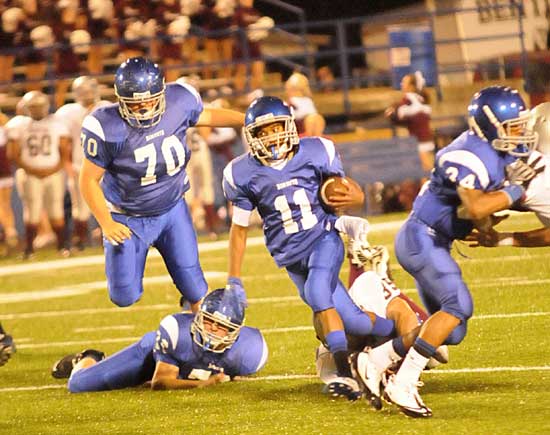 By Rob Patrick
Photos by Rick Nation and Kevin Nagle
In 2007, the Bryant Hornets freshman football team tied the Searcy Lion Cubs to open the[more] season — or rather, the Lions Cubs tied them. The Hornets proceeded to run the table for a 9-0-1 season. It figured to be hard to beat as the best freshman season in the history of the program.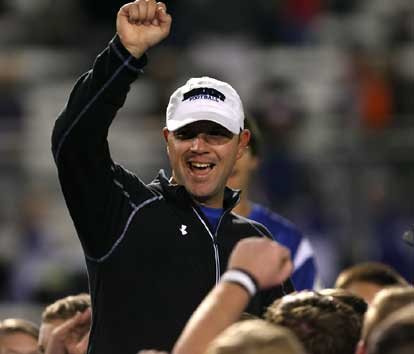 But, here in 2011, it's been done. With a 35-0 win over the rival Benton Panthers on Tuesday night, the current Bryant freshman squad surpassed that landmark season with a 10-0 campaign.
"You never know when you go in but that's an expectation that you've got to set, right?," pondered Hornets head coach Kenny Horn. "We set the expectation level that high and the kids followed suit. They're the ones that rallied around it. They embraced it and, truthfully, it was their goal too. We made it a goal and we talked about it and they did it.
"As I've said before, our goal is to get these kids ready to play on Friday night and, if we can win games along the way, then that's good," he added. "And that (winning) is important too because it teaches these guys to be winners. For your program to be successful from top to bottom, you've got to have winners. We try to stress that and we've been fortunate over the last few years that we've been pretty successful."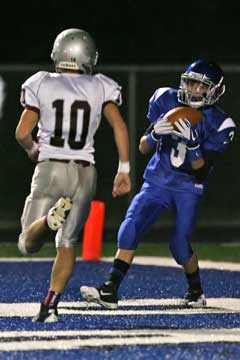 In the 30th meeting between the two freshman programs, Bryant won its eighth in a row to achieve the milestone.
Quarterback Brandan Warner threw for four touchdown passes for the second game in a row, giving him 24 for the season. He was 10 for 17 for 187 yards. Two of the scoring strikes went to K.J. Hill, another to Brushawn Hunter and the fourth to Mitchell Reeves. In addition, running back Mar'Kevius Nelson rushed for 139 yards on just 10 carries including an 86-yard touchdown bolt midway through the second quarter that broke up a scoreless game.
Meanwhile, the Hornets' defense allowed Benton just 18 yards of offense in the first half, without a first down. The Panthers' initial first down came with just over three minutes left in the third quarter. They would finish with just 54 yards of total offense with half of that coming on the final possession of the night when the Hornets' coaches (Horn with assistants Kirk Bock, Elliott Jacobs and John Orr) were working in reserves.
All five of Benton's first-half possessions were three-and-out, plus the first in the second half.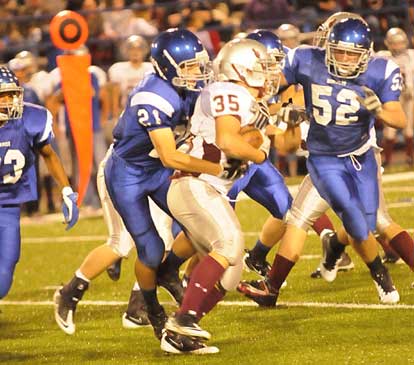 That proved particularly important early, since the Hornets turned the ball over three times. In fact, Bryant's first two possessions ended with interceptions. The first came after the Hornets drove from their own 34 to the Benton 11. '
Their first play from scrimmage was the old hook-and-ladder with Hill grabbing a short pass from Warner and lateraling back to Nelson who was trailing the play. It picked up 26 yards. Hill would catch an 8-yard throw then Nelson broke and 11-yard run to the 11.
But, on first down, Warner was sacked by Tim Dezort at the 20. On the next play, Stone Paul made a pick and returned to near midfield.
But Benton's first play was a 4-yard loss as Ben Bruick raced up to drop running back Chase Shamlin and, moments later, the Panthers were punting.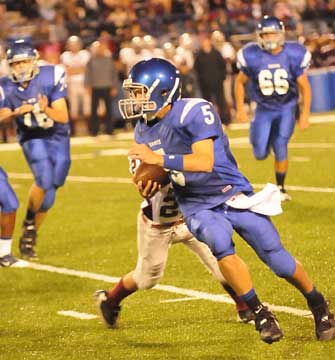 In turn, the Hornets' third-down play resulted in another interception, this time by Sam Baker.
Again, however, the Panthers' offense was squelched. On a second-down play, Brandan Young, Matt Shiew and Rashaan Jones dropped Shamlin for a loss. On third down, Young almost made an interception.
Shamlin then punted the Hornets back to their own 4. From there, they needed a 13-yard run by Hunter on third down to manage a first down. Then, on the very next snap, Nelson broke loose and headed down the left sideline, for the game's first score.
Alex Denker added the first of his five successful extra points.
Thanks in large part to a tackle for a loss by Kyle Lovelace and Jones on Benton quarterback Nick Quinn, Bryant forced another three-and-out. A short punt had the Hornets' offense setting up shop at its own 49. On first down there, Warner fired to Hill who broke it big for a 51-yard touchdown with 2:25 left in the half.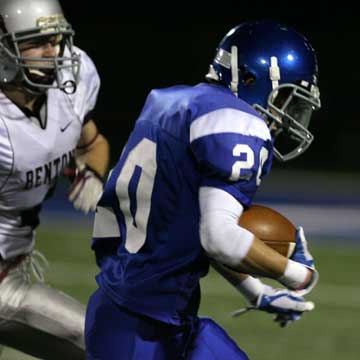 Two snaps, two touchdowns of over 50 yards each.
Using their timeouts, the Hornets forced Benton to punt again with 1:21 to play. A booming kick by Shamlin with a favorable roll pinned the Hornets back. An illegal block in the back pushed them back even further to their own 19 with 1:08 left in the half and one timeout.
Bryant quickly got into scoring position when Steven Murdock hauled in a Warner toss that he turned into a 35-yard gain, then Hunter broke a 38-yard run to the Benton 8.
Hunter got four more yards on the next play. Bryant called a timeout but, after the Panthers were cited for being in the neutral zone, Warner tried to keep only to have the Benton defense descend upon him for a loss back to the 5.
With no timeouts and only one down left, the Hornets quickly lined up and Warner fired a strike to Hill for a TD with :00.9 showing on the clock. Denker booted it to 21-0 and all that was left of the first half was a kickoff and short return.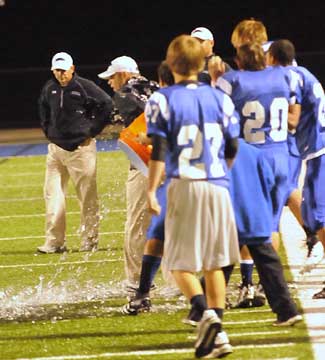 The two teams traded punts to start the second half. Benton got a break with 3:29 left in the third quarter when it recovered a fumble at the Bryant 34. Shamlin slashed 13 yards to the 21, picking up his team's first first down. On the next play, however, he ran into Jones who stopped him for a loss.
Ty Harris knocked down a pass in the end zone. On third down, Quinn, with Lovelace bearing down on him, threw short on an attempted screen pass to set up a fourth-and-11 at the Bryant 21.
Quinn completed a pass to Colby Johnson but a sure tackle by Bruick kept him from getting to the sticks and the Hornets took over on downs.
They quickly added to their lead. Warner hit Hunter for 24 yards to get them out of the hole they were in at their own 11. Nelson then sprinted for 11 yards to the Benton 37.
On second down, Warner tried to throw a swing pass but, in traffic, Nelson couldn't hang on. Initially, there was no obvious signal and Bryant lineman Caleb Chaffin alertly scrambled to cover the loose ball. But the play was ruled a forward pass so the Hornets held possession at their 37 instead of back somewhere inside the 25.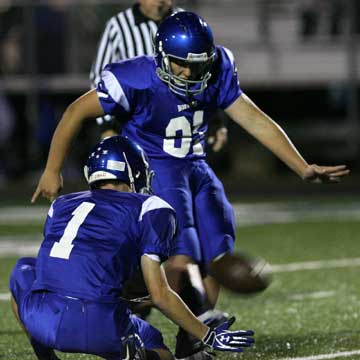 Still, facing a third-and-10, Warner scrambled for 16 yards and, on the very next snap, Hunter broke free down the middle, caught Warner's pass and sprinted to the corner for a touchdown, making it 28-0.
On Benton's next play, Bruick came up to blast Paul, the ball came loose and Drew Tipton scooped it up and raced to the 7. After Houston Chavis ran twice for a net of no gain, Warner threw one more pass, hitting Reeves deep in the end zone on the left side for the 6. Denker made it 7 and with 5:22 left, the final score was on the board.
In a last-ditch effort to break the goose egg, the Panthers drove to midfield. On a fourth-and-5 with time running out, Paul took a handoff and, needing 5 yards, was stopped after 3 by Lucas Reitenger and Jordan McDonald to seal the victory.
Horn got the water-barrel dunking as the game neared its end, as the team celebrated their unbeaten season.
Looking at the team's future prospects, the coach said, "There's maybe a few spots that you could fill later on because you don't know how much these kids are going to grow between now and then but I tell you what, there's some kids out here that are once-in-every-15-year kids. They're unbelievable. They overcame some coaching and pulled out 10 wins. We're happy."
BRYANT 35, BENTON 0
Score by quarters
Benton 0 0 0 0 — 0
BRYANT 0 21 0 14 — 35
SCORING SUMMARY
Second quarter
BRYANT — Nelson 86 run (Denker kick), 4:35
BRYANT — Hill 51 pass from Warner (Denker kick), 2:25
BRYANT — Hill 5 pass from Warner (Denker kick), :00.9
Fourth quarter
BRYANT — Hunter 21 pass from Warner (Denker kick), 7:23
BRYANT — Reeves 7 pass from Warner (Denker kick), 5:22
Team stats
Benton Bryant
First Downs 3 14
Rushes-yds 23-39 19-197
Passing-yds 15 187
Passing 2-8-0 10-17-2
Punts-avg. 0-00.0 1-19.0
Fumbles-lost 1-1 1-1
Penalties-blbd 6-32 2-7
INDIVIDUAL STATS
Rushing: BRYANT, Nelson 10-139, Hunter 3-55, Warner 3-4, Chavis 3-(-1); BENTON, Shamlin 10-26, Paul 7-17, Davis 2-6, Quinn 3-4, Storment 1-(-2).
Passing (C-A-I-Y): BRYANT, Warner 10-17-2-187; BENTON, Quinn 2-8-0-15.
Receiving: BRYANT, Hill 5-71, Hunter 3-46, Murdock 1-35, Reeves 1-7, Nelson 0-18; BENTON, Johnson 2-15.