Photos courtesy of Lynda Schmidt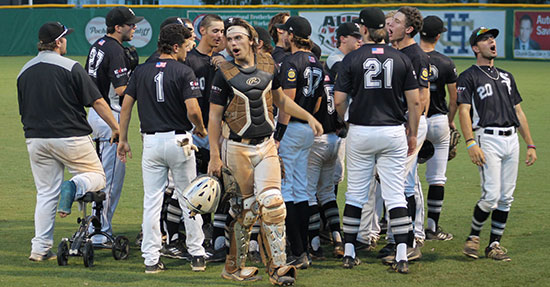 NEW ORLEANS — Against a team with a number of college freshmen or college commits, Logan Grant spun up a two-hit shutout and behind clutch hits from Myers Buck and Cade Drennan, the Bryant Black Sox clinched a spot in the championship round of the Senior American Legion Mid-South Regional Tournament at Kirsch-Rooney Stadium with a 2-0 win over the Tupelo 49ers, champions of Mississippi.
Both teams came into the contest unbeaten in tournament play. In fact, Tupelo had not allowed a run in its two victories, beating Columbia, Tenn., 7-0 on Wednesday and Gonzales, La., 2-0 on Thursday.
The Sox broke up that shutout string in the very first inning then Grant allowed just one hit over the first six innings. He wound up with four strikeouts along with four walks that had him in some trouble along the way. But he stepped up in the clutch to keep the 49ers frustrated.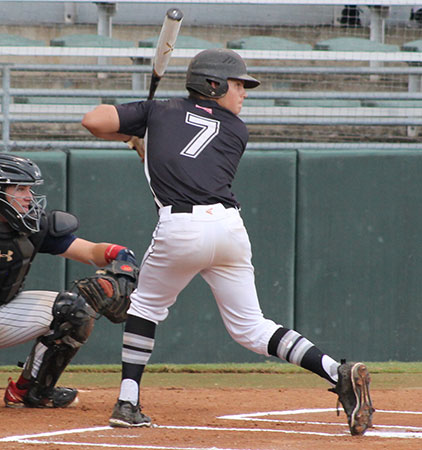 It helped that the Sox made some plays on defense too.
Drennan finished with three hits. Logan Chambers had two knocks and scored both runs.
Bryant, which knocked off Salina, Kansas, 8-3 on Wednesday and Jefferson City, Mo., 2-0 on Thursday, will take on the Gauthier/Amedee Wombats of Gonzales, the Louisiana champion, on Saturday after Tupelo and Columbia open the day with a rematch at 10 a.m.
The defending Mid-South champion, Bryant is making a bid to reach the Legion World Series in back-to-back seasons. If the Sox win on Saturday, the survivor of the Tennessee-Mississippi game, will have to beat them twice on Sunday to deny Bryant the championship and the trip to the World Series. If the Sox fall to Louisiana, they'll await the survivor of the first game on Sunday, which would pit the Wombats against the winner of the Tennessee-Mississippi contest, for the championship.
Coleton Ausburn's single to lead off the bottom of the third was Tupelo's lone hit before a single by Ray Sandroni with one out in the bottom of the seventh. With Ausbern at the plate, Grant picked Sandroni off first to end the game.
Later, Scott Schmidt, who was playing first at the time, said that he had been talking to Sandroni, perhaps distracting him unintentionally, when Grant snapped the pickoff throw to him.
In the top of the first, Logan Chambers drew a lead-off walk from 49ers' right-hander Pate Phillips. He was still at first as Phillips retired Logan Catton and Jake Wright. On a 1-2 pitch, Drennan drilled a grounder into the hole at short for an infield hit. On the very next pitch, Buck grounded one up the middle for an RBI single, the first run Tupelo had allowed.
In the bottom of the first, one-out walks to Ty Hill and LaBryant Siddell had Grant in some trouble. Clean-up hitter Kyle Crigger hit a fly to Buck in right. Hill tagged and headed for third, drawing a throw from Buck.
But Catton, the Sox' third baseman, realizing the throw was going to be late and noticing that Siddell, after seeing the throw go through to third, had made a late tag and effort for second, relayed to Schmidt in time to tag out Siddell, ending the inning.
After Grant eased through a 1-2-3 second, Chambers led off the third with a lined single to left. Catton sacrificed him to second. Chambers held at second as Wright grounded out to third, but he raced home when Drennan's blooper to right fell in for a hit.
After Ausbern's third-inning hit, Hayden Scarborough sacrificed him to second. But Grant struck out lead-off hitter Andy Franks and got Hill to fly to right to escape.
Crigger reached on a one-out error in the bottom of the fourth but Chad Stephens followed with a lined shot right to first baseman Peyton Dillon, who made the catch and stepped on first for another inning-ending doubleplay.
Phillips pitched around a two-out single by Catton in the top of the fifth, but Grant set down the 49ers in order in the home half.
In the sixth, Drennan led off with a single to right but was picked off first by Scarborough, the 49ers catcher. Phillips retired the next two.
In the bottom of the sixth, Grant fanned Scarborough but then issued walks to Franks and Hill, bringing up Siddell, Tupelo's top hitter. Grant struck him out on three pitches then got Crigger on a grounder to Dillon at first. Grant covered the bag and took the throw from Dillon for the final out.
The Sox made a bid to add on in the top of the seventh. Matthew Sandidge drew a lead-off walk. Noah Davis, pinch-hitting for Dillon, tried to get a sacrifice bunt down but wound up striking out. Coby Greiner fanned as well then Chambers slapped one inside the bag at third and down the line for a double. Siddell fielded the ball and hit the cutoff, Chase Shaw, at third, who relayed to Scarborough in time for the third out.
Though they may have been buoyed by that play, the 49ers' momentum was squelched by Grant and the Sox. Stephens opened the home seventh with a fly to Wright in left then Shaw hit a sharp one-hopper to Catton at third for the second out.
Grant and Sandroni battled to a 2-2 count when the Tupelo batter gave his team some hope with a lined single to left.
The first pitch to Ausbern was a ball then Grant picked off Sandroni to end it.
2018 SENIOR AMERICAN LEGION MID-SOUTH REGIONAL TOURNAMENT
At Kirsch-Rooney Stadium, New Orleans, La.
Wednesday, Aug. 8
Game 1 — Tupelo 49ers (29-4) (Mississippi champion) 7, Columbia, Tenn. (Tennessee champion) 0
Game 2 — Bryant Black Sox (43-9) (Arkansas champion) 8, Salina Falcons (35-2) (Kansas champion) 3
Game 3 — Gauthier/Amedee Wombats of Gonzales, La., (32-3) (Louisiana champion) 2, Cape Girardeau Post 63 (Missouri runner-up) 0
Game 4 — Jefferson City Post 5 (24-9) (Missouri champion) 2, Retif Oil of New Orleans (19-5-1) (host team) 1
Thursday, Aug. 9
Game 5 — Columbia, Tenn. 9, Cape Girardeau Post 63 8
Game 6 — Retif Oil of New Orleans 1, Salina, Kansas, Falcons 0
Game 7 — Tupelo, Miss. 49ers 2, Gauthier/Amedee Wombats of Gonzales, La. 0
Game 8 — Bryant Black Sox 3, Jefferson City Post 5 2
Friday, Aug. 10
Game 9 — Gauthier/Amedee Wombats of Gonzales, La. 7, Retif Oil of New Orleans 4
Game 10 — Columbia, Tenn. 4, Jefferson City Post 5 0
Game 11 — Bryant Black Sox 2, Tupelo, Miss. 49ers 0
Saturday, Aug. 11
Game 12 — Columbia, Tenn. vs. Tupelo, Miss., 49ers, 10 a.m.
Game 13 — Gauthier/Amedee Wombats of Gonzales, La. vs. Bryant Black Sox, 30 minutes after conclusion of previous game
Sunday, Aug. 12
Game 14 — Game 12 winner vs. game 13 winner, 2 p.m.
Game 15 — if necessary, 7 p.m.
If three teams remain after Game 13, the winner of Game 11 automatically draws the Bye for Game 14.