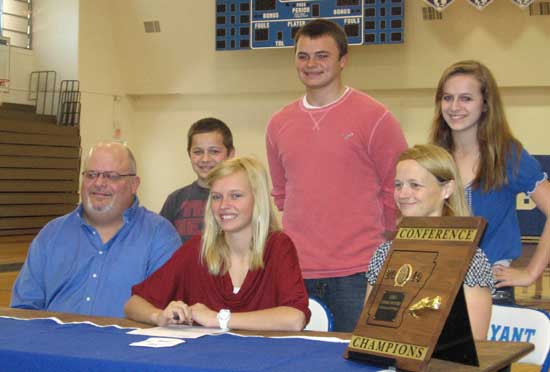 By Rob Patrick
For high school athletes who persevere, who contribute however they can, who keep working to[more] get better despite not making headlines and being the star, Wednesday, Feb. 1, at the Bryant High School gym should be an encouragement and continued insentive.
That's when Ashlyn Lessenberry signed an NCAA letter of intent to continue her education and cross country career on scholarship at Henderson State University.
In cross country, the top five finishers create the team's scoring total but, as Bryant head coach Danny Westbrook preaches and his teams keep proving year after year, team success often comes down to those who don't make the team's top five. By pack-running and having your sixth, seventh, eighth — as many as possible — runner finish ahead of those that might be among the scoring group of an opposing team, you can win championships even though you might not have an individual runner come out on top.
That's the formula that won 7A-Central Conference championships in 2009 and 2010 for Westbrook's Lady Hornets. Those teams included some talented under classmen and, though she occasionally finished among the Lady Hornets top five, Lessenberry was always among that next group of runners picking off opposing competitors.
No headlines but Lessenberry, as a four-year letterman, was unmistakably an integral part of the team's success since she was a freshman.
"Ashlyn dedicated herself to training as a distance runner and this scholarship is a reward for her commitment," declared Westbrook. "She leaves Bryant a multi-sport champion and she will be missed. Our program will not be the same without her, but we wish her well in her future college career."
As the coach mentioned, Lessenberry is also a member of the Lady Hornets' softball team, which will be seeking its third consecutive Class 7A State championship this spring. As in cross country, she hasn't been in the headlines in softball by cracking into the juggernaut starting line-up. But her contribution, asserted BHS softball coach Debbie Clark, has been no less important.
"She's an incredible teammate," Clark stated. "My first year here, she received the coaches' award. She was able to be an example. She's always at practice, always works hard, gives us everything she's had.
"Last year, she got the ultimate comment from her teammates," she continued. "We had a couple of seniors that decided during the year not to play so we had juniors that had to step into our leadership roles. They came to me and told me that, since they were freshmen, they had been looking forward to leading the team through warm-ups. But, they said, 'we all want you to have Ashlyn be in charge of that.'
"That's an incredible compliment to Ashlyn from her teammates," Clark noted. "But that's the kind of person and teammate Ashlyn is. I feel very blessed and honored to have been able to coach her. She's a coach's player."
Referencing her cross country prowess, Clark quipped, "The(softball) girls never want her to set our pace when we're running something. She can always run the furthest, the longest and the fastest."
The daughter of J'Anne Boyd and Lee Lessenberry, Ashlyn said she was drawn the HSU because her softball teammate Kayla Sory signed with the Reddies.
"Me and Kayla have always wanted to be college roommates ever since I met her," she said. "When she signed, I decided to email the (cross country) coach (Brenda Joiner) saying, 'I run for Bryant and I was just wondering if you'd be interested in another person (to be on the team)?'
"She emailed me back and said, yeah," Lessenberry continued. "She tried to get to a few of our meets but couldn't. But she had me send her all my times after our races. So, after the season, we met up and she said, 'You're a really good runner and I think you'd be a great asset to this team.'"
Lessenberry said she considered attending the University of Arkansas and Blue Mountain College in Mississippi.
"I like the school," she said of Henderson. "I don't like really, really big schools so Arkansas was kind of put out there. Then Blue Mountain was really small, like 1,000 people. It's smaller than Bryant (High School). Henderson was just kind of perfect."
Lessenberry hadn't run long distance before her family moved to Bryant before her freshman year.
"I'd never run over a mile," she said. "But I got moved up to the high school team to run and lettered all four years and, every year, I beat my time in every race."
As for her academics, Lessenberry said her plans are to be a first-grade teacher.