Photos courtesy of Devin Hester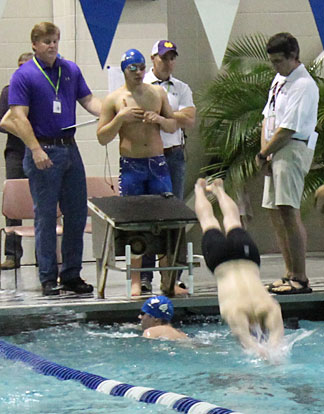 LITTLE ROCK — The Bryant Hornets finished fifth in two relays and freshman Michael Higgs turned in top 10 performances in two events at the 2015 Class 7A/6A State swim meet at the UALR Natatorium on Saturday.
With the addition of top 10 finishes by divers Justin Combs and Lucas Reitenger on Friday, the Hornets finished sixth in the 21-team field with 137 points. Bentonville took team honors with 521 points. Little Rock Central was a distant second with 213 followed by host Little Rock Catholic (212), Springdale Har-Ber (168) and Fayetteville (163). Rogers Heritage was seventh with 128 points.
Higgs finished sixth in the 100 yard freestyle with a time of 50.93 and seventh in the 100 yard breast stroke, clocking in at 1:03.70.
Junior Chandler Reep was 13th in the latter race with a time of 1:05.83 and 15th in the former with a 53.08 clocking. Junior Ray Weldon was 16th in 53.26.
That trio was joined by Fonzee Bittle in the 200 medley relay, which earned fifth in a time of 1:46.92. The same quartet finished the 200 freestyle relay in 1:35.84 to take fifth. Bentonville set a new State record in the 200 free with a time of 1:28.08.
Weldon added an eighth-place finish in the 100 yard backstroke, touching in 59.40.
The Hornets also got points from the 400 free relay team of Andrew Ball, Jim Dellorto, Kyle Henry and Bittle. They turned in a 3:49.91.