Photos courtesy of Julie Shelby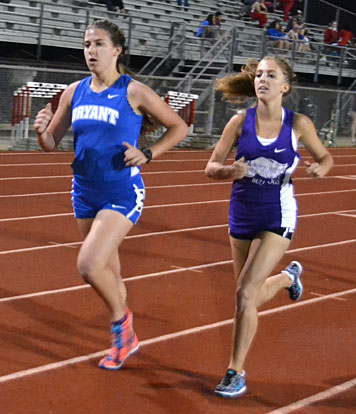 RUSSELLVILLE —Junior Haley Hood scored 21 points to lead the Bryant Lady Hornets to a third place team finish at the Cyclone Invitational track meet at Russellville High School Thursday.
Fayetteville won the meet with 98 points. Cabot was runner-up with 97 points followed by Bryant (87), Conway (71), Van Buren (40), and Har-Ber (36). There were 18 teams in the competition.
Hood took second in both the 400-meter dash and the high jump. In the 400, she ran a time of 1:00.1. She cleared 5'2″ in the high jump.
She also added a seventh-place finish in the 200 meter dash with a time of 27.5. She contributed to both sprint relay teams as well.
Distance runners Hannah Shelby and Talyn Billins each added 10 points. Shelby ran a personal best 11:56.08 in the 3200 to finish second and Billins ran 2:30.2 in the 800 to take third.  Both were members of the 4x800m relay that finished second.
"We had some really great performances at this meet," said Lady Hornets coach Danny Westbrook. "Haley Hood really shined in her events and Hannah Shelby's performance in the 3200 meter run was awesome. Our discus throwers, Jenna Freeman and Jordan Tarvin, both had outstanding performances as well."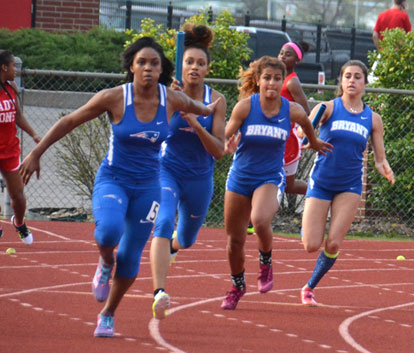 "We are still holding injured people out that we know could score big points," he added. "I am glad we are still hanging in there at the top of the team competitions. If we get everyone healthy, I think we can be a contender in the big meets coming up."
Other scorers for Bryant:
100m dash – Jadyn Lewis – 8th – 13.2
200m dash – Jadyn Lewis – 5th – 27.1
1600m run – Caitlyn Bell – 4th – 5:49; Rachel Curtis – 5th – 5:52
3200m run – Caitlyn Bell – 7th – 12:52
100 Hurdles – Jayla Anderson – 6th – 17.06
300 Hurdles – Jayla Anderson – 7th – 50.60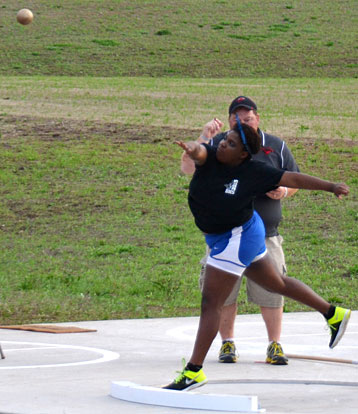 Pole Vault – Sydney Wilson – 6th – 8'0″
Long  Jump – Jadyn Lewis – 8th – 15'6″
Discus – Jenna Freeman – 2nd – 96'11"; Jordan Tarvin – 5th – 93'0″
4 x 100m relay – Reagan Smith, Jayla Anderson, Jadyn Lewis, Haley Hood – 5th – 52.2
4 x 400m relay – Reagan Smith, Jadyn Lewis, Talyn Billins, Haley Hood – 3rd – 4:18.3
4 x 800m relay – Caitlyn Bell, Hannah Shelby, Rachel Curtis, Talyn Billins
The Lady Hornets are scheduled to compete next at the Wampus Cat Relays in Conway on Thursday, April 9.