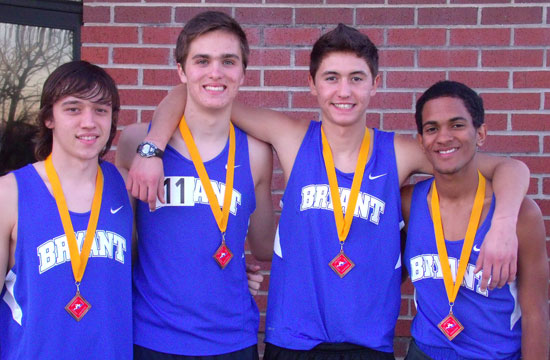 Photos courtesy of Raphael McCuien
FAYETTEVILLE — The Bryant Hornets opened the 2013 track and field season with a 12th[more] place finish at the 5A-7A State Indoor Track Championships at the Tyson Indoor Track Center on the University of Arkansas campus. The Hornets scored a total of 19 points in the competition, which was won by Rogers Heritage with a total of 66 points.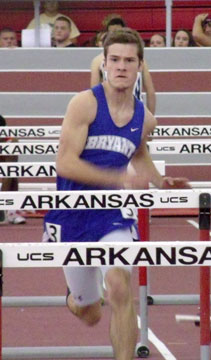 Spencer Sullivan and Brenden Young got the scoring started for the Hornets in the 60 meter hurdles. Sullivan, a senior, placed third in a time of 8.82, while Young, who is just a sophomore, placed 5th in a time of 8.93.
The 4 x 800 relay team of Clifton Hampton, Tyler Purtle, Connor Wilson, and Mark Winn, earned a 4th place finish with a time of 8:33.48. Winn then came back later to earn an 8th place finish in the 800 meter run in a time of 2:06.28.
The 4 x 400 relay team of Brenden Young, Darien Jarrett, Pierce Finney, and Brushawn Hunter finished off the scoring for the Hornets with a 6th place finish in a time of 3:38.83.
"I thought we competed extremely hard and had some outstanding performances, including some that just missed scoring," commented Hornets coach Steve Oury. "We are an extremely young team, so a lot of these guys were experiencing indoor track for the first time. Usually we would have two indoor meets and the state meet would be two or three weeks later than this, but scheduling conflicts left us with only one indoor date this year.
"It's a shame because I really feel that if we could have come back in two or three weeks that we would be much sharper," he continued. "We have several very talented athletes who came from football, so they are still making the adjustment to track. These guys have great competitive spirit, so the outdoor season should be a lot of fun."
The Hornets are tentatively scheduled to run in a practice meet on March 4 at Conway before officially opening the outdoor season with their own meet at Bryant Stadium. The Hornets Relays will be March 14.