Editor's note: This is a regular feature profiling senior athletes at Bryant High School.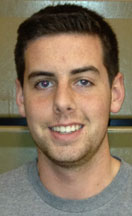 NAME: Riley Hall
PARENTS: Tim and Rhonda Hall
SIBLINGS: One sister, Macy. She's 22.
FAVORITE SUBJECT IN SCHOOL: History
FAVORITE SPARE TIME ACTIVITY: Play golf, I used to.
FAVORITE FOOD: Shrimp
FAVORITE MUSIC ARTIST OR GROUP: I don't really listen to music.

FAVORITE MOVIE: Space Jam[more]

FAVORITE TV SHOW: Hawaii Five-O

WHAT WAS YOUR FAVORITE TOY AS A KID? A basketball

WHAT ARE YOUR PLANS AFTER HIGH SCHOOL? To go to the University of Arkansas and major in education and become a coach.

OTHER THAN YOUR PARENTS, WHO'S HAD THE BIGGEST INFLUENCE ON YOUR LIFE? HOW? Definitely, my grandpa because of what he has done in his life. I just want to be just like him, a coach and all that kind of stuff.
WHAT'S YOUR FAVORITE THING ABOUT BASKETBALL? I don't really get to play but I enjoy watching it. I enjoy everything about it.
POSITION: I'm not really a manager but I do whatever (managers) Carl (Ratliff) and Will (Barefoot) can't or don't know how to because they're not really familiar with basketball like I am. So whenever Coach A (Mike Abrahamson) needs help, if I see he needs help, I go and do it. Sometimes I can get out there and help coach but I can't because of my recent surgery. I'm still trying to recover so I can get back active with that.
TALK ABOUT YOUR SERIES OF INJURIES. IT'S BEEN TOUGH FOR YOU NOT BEING ABLE TO PLAY. I had my first surgery in 2010 when I was in tenth grade. I've surgeries every year since them. I've had seven surgeries overall, one on my left arm and the other six on my right arm. My most recent one was over Thanksgiving break. All three years have just been trying to recover and recover and recover. Then, this year, after the most recent one, I'm not even trying to recover. I'm just going to help out the team and not risk another injury, not risk another surgery. I'm healthy. It's just a week by week thing right now. I have bad weeks and good weeks.
WHAT DO YOU THINK OF THE SEASON SO FAR? It's been fun. We've had ups and downs and we've gone through some troubles for sure. I think everybody's bought in now, everybody's starting to come together and we all really like being here again. I think that it's turned out really well.
WHAT'S BEEN THE HIGHLIGHT TO THE SEASON SO FAR? I enjoyed the El Dorado game just because nobody expected us to beat El Dorado. Everybody around the school saying, 'Ah, there's no way you're going to beat El Dorado. They took Benton into overtime. How are you going to compete with them?' Then we took them to overtime and beat them.
WHAT'S IT GOING TO TAKE FOR THE TEAM TO BE SUCCESSFUL THE REST OF THE SEASON? Just to keep staying bought in on what they're doing, keep blocking out and keep playing as hard as they can every game because the way we are, we can't just play half of what we have and win. We have to play our hardest.
WHEN YOU'RE THROUGH BEING INVOLVED IN BASKETBALL AT BRYANT HIGH SCHOOL, WHAT DO YOU THINK YOU'LL LOOK BACK AND REMEMBER MOST FONDLY ABOUT THE EXPERIENCE? I'll remember all the stuff that Coach A said and just remember about the stuff that I'll want to say and the stuff that he taught me so I can maybe teach somebody else that kind of stuff whenever I get older, when I become a coach and go through all the tings that we go through every day on a day by day basis.