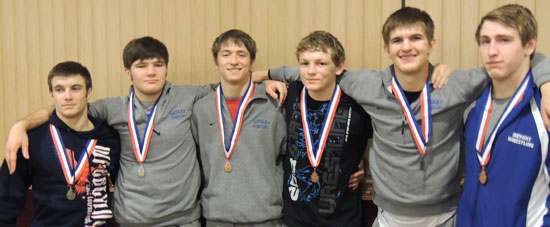 Photo complements of Steve Blend
LITTLE ROCK — Bryant's Zach Simmons, Connor Goshien and Levi Brady each reached the finals of[more] their respective weight divisions but were denied Class 7A/6A State titles Saturday at the 2013 State Wrestling championships held at the Jack Stephens Center on the campus of UALR.
The Hornets' Kyle Thompson, Brett Blend and Austin May also finished in the top six in their divisions as the Hornets placed sixth in the team standings in a field of 22 teams.
Bentonville won the team title with 254 points followed by Little Rock Catholic (193.5), Rogers (191.5), Cabot (161) and Little Rock Central (157.5). Bryant's point total was 144. The Hornets beat out Springdale Har-Ber (136), Fayetteville (130), Conway (126.5) and Greenwood (109.5) to round out the top 10.
Simmons reached the title round in the 126-pound division where he was defeated by decision by Fayetteville's Rodney Ensley.
Goshien, competing in the 160-pound division, faced off against Central's undefeated Tyler Mann in the final and was pinned at the 1:30 mark.
Brady faced off against Catholic's Seth Segovia in the final of the 170-pound division. He was narrowly defeated by a 9-5 decision.
Thompson finished third in the 152-pound class. After losing in the semifinals to Cabot's Kyle Wheeler, he defeated Conway's Ryan Ennis in the third-place match by an 11-6 decision.
Blend was sixth in the 145-pound group after suffering an injury in the consolation semifinals. May, wrestling in the 195-pound class, was also sixth, falling to Bentonville's Derian Moore in the fifth-place match with a pin at the 3:22 mark.
Also competing for the Hornets were Spencer Qualls (106-pound weight class), Latrey Holloway (113), Ben Freeman (132), Chris Baldwin (138), Colton Caviness (182), and Drew Allen (220).
Qualls lost to Rogers' Jose Sandoval in the championship round, pinned at the 4:59 mark. In the consolation round, he pinned Greenwood's Clay Watts at the 1:42 mark before being ousted by Lane Alexander of Mountain Home by pin at 2:53.
Holloway was pinned at the 0:21 mark by Cabot's Hayden Mills in the championship round then was pinned in the third round of the consolation bracket by Springdale's Joey Adams at the 0:35 mark.
Freeman was pinned by Bentonville's Jeff Bizzle at 1:00 in the championship round and, after a bye in the consolation round, fell by 9-5 decision to Mountain Home's Andrew Jiles.
Baldwin was defeated by technical fall in the championship round when he faced Heath Henman of Rogers. He came back to pin Springdale's Zachary Barthelemy at 1:49 in the consolation bracket. But he then ran into Fort Smith Southside's Dan Mai who ousted him with a 10-6 decision.
Caviness, in the championship round, was pinned by Conway's Ben Hughy at 1:59 but he came back to win by forfeit in the consolation bracket then pinned Har-Ber's Robert White at 0:43 and Greenwood's Jadrien Flores at 2:36. He then ran into Southside's Khalil Kimble who pinned him at 1:17.
Allen started out against Greenwood's Brett Calhoun who won on a pin at the 1:34 mark. In the consolation round, he bounced back to pin Austin Dederich of Springdale (1:12) and Adam Al-dhanki of Jonesboro (1:34) before falling by pin at 3:12 against Conway's Justin Vinson.
Simmons advanced to the quarterfinals thanks to a bye and a forfeit. But then he defeated Northside's Jesus Huerta by technical fall. In the semifinals, he advanced past Rogers' Raul Rodriguez by a 5-2 decision.
Goshien pinned Fayetteville's Jarrod Howard at 0:29 to advance to the quarterfinals where he pinned Ramsey Gonzalez of Rogers Heritage at 3:48. In the semifinals, he won a 7-3 decision over rival Barrett Olson of Catholic.
Brady's first win came by pin at 3:14 over Jeramee Stansberry of Heritage. He then ousted Fayetteville's Samuel Goll in a tight 3-2 decision. In the semifinals, he won a 9-4 decision over Searcy's Josh Bell.
Thompson's road to third place began with a pin of Benton's Cory Rinehart at 0:41. He then defeated Catholic's William Griffin by technical fall. In the quarterfinals, he got past Mountain Home's J.T. Carlsen via an 8-1 decision, setting up the semifinal match with Wheeler. In the consolation semfinals, he won a 12-6 decision over Colton Stewart of Heritage to set up the third-place battle with Ennis.
Blend opened the day with a forfeit then pinned Jonesboro's Logan Sydorenko at 1:40, reaching the quarterfinals where he was knocked into the consolation bracket by Rogers' Justin Moore by a 9-3 decision. He then advanced past Central's Greg Walker with a pin at 2:16 before winning a 2-1 decision over Northside's Jesse Lyons. He suffered his injury against Cabot's Bryce Mitchell in the consolation semi's.
May won his opener with a pin at the 1:01 mark against Joe Parenteau of Mountain Home. He was then knocked into the consolation round by Northside's Daiquon Jackson who managed a pin at 3:46. After a win by forfeit, May pinned Sheridan's Maleek Caton at 3:00 then decisioned Searcy's Jordan Slaughter, 10-5. A win by major decision over North Little Rock's Kalen Hutchinson put him in the consolation semifinals where he ran into Har-Ber's Nick Smith, who sent him to the fifth-place match with a pin at 1:16.