By Rob Patrick
When Kirk Bock came to Bryant in 2009, he said he had a system he was going to install, one[more] that was constantly evolving based on things he learned from other successful programs. It's basically all about how his teams prepare.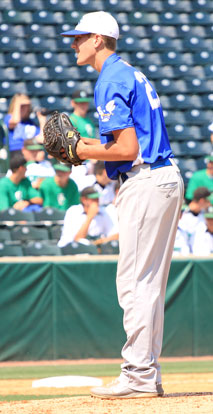 At the time, Bock said it might take five years to get the whole thing implemented and, in 2013, he begins his fifth season.
Along the way, however, the Hornets have just happened to make three consecutive Class 7A State championship games with two trips resulting in titles.
No doubt, they expect nothing less as they begin the 2013 season this Monday, Feb. 25, at home against the Arkadelphia Badgers.
"Their expectations are where the (coaching) staffs are," acknowledged Bock. "They expect to do well.
"We're further along this year, I think, than we ever have been," he added. "We've got a good base foundation on the system. Now we're going to mess up at times but as far as knowing what to do and when to do it, they've done a tremendous job."
The Hornets return the State Tournament MVP in right-hander Nate Rutherford, a senior, who came on strong late last season to wind up with a 6-1 record with an 0.95 earned run average.
Though out with a shoulder injury, senior Hayden Lessenberry, a two-year starter at catcher, is one of four players returning who had more than 60 at bats last season. Senior outfielder Hayden "Petey" Daniel, who's also nursing an injury, is the top returning hitter. He hit .299 last season with a team-high 19 stolen bases. Senior outfielder Tyler Green (.295) and junior shortstop Trevor Ezell (.289) are also back in the lineup.
Others who saw some playing time last season include senior Blaine Jackson, junior Chase Tucker, senior Marcus Wilson, junior Korey Thompson, sophomore Drew Tipton and senior Austin Caldwell. On the mound, Tucker pitched an inning and sophomore Jason Hastings got in 2/3 of a varsity inning.
"Even though we're young, we have some experience because there are guys that have played," Bock said. "They expect to execute. When they don't execute, they feel it. They know the importance of executing. Marcus is a good one, just leading us. He understands that he's not perfect. He's going to mess up some just like everybody but he understands the importance of executing the offense and the defense.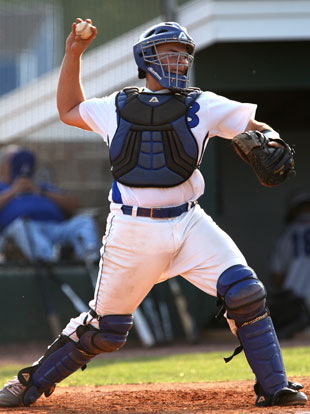 "We've got nine games the first week," the coach mentioned. "It's going to be a little taxing on us especially with the injuries we have. But we feel like once we get out of Texas and get back in Arkansas, everything will come together pretty good and we'll get everybody healthy."
After playing Arkadelphia on Monday and hosting Watson Chapel on Tuesday, the Hornets head to Waxahatchie, Texas (just south of Dallas) for the Robert Dulin Tournament, where they'll play five games in three days. When they get back on Monday, March 4, they'll host Maumelle.
"The head coach at Waxahatchie was a friend of mine in college," Bock related. "He's originally from Sylvan Hills. He's been calling me the last couple of years trying to get us in and this year it happened to match up for us pretty well. We're going to know where we're at a lot quicker this year than we have in the past because there are some tremendous teams we'll be playing."
Pitching and defense will once again be key for Bryant.
"Like it has been in the past," Bock said. "Not that our pitching's overpowering but they've done a good job of throwing strikes, keeping their pitch-count down and making people put the ball in play. Defensively, we're solid in the outfield and we're solid up the middle.
"The outfielders, we have experience out there in Caldwell, Wilson, Green, Tucker, Hastings and Daniel, whenever he gets back. But with Petey's injuries, I'm not sure how much time he's going to see out there until he can get fully recovered. The biggest deal is just keeping everybody healthy."
Daniel, the younger brother of Arkansas Razorbacks lefty Trent Daniel, should be able to help on the mound as he recovers, Bock indicated.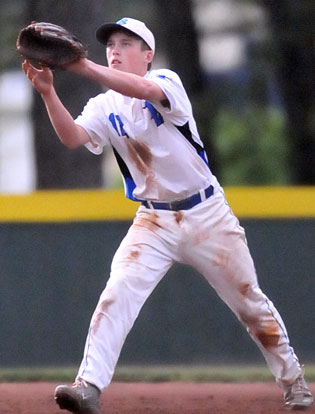 "Right now, we have Wilson in left, Green in center and Hastings in right field," he said. "Those three guys have really done a good job. Tucker and Caldwell have also been doing a very, very good job. We have some depth out there, which is good. Three of those guys are pitchers so we're going to be plugging people in. I think Green is going to be the mainstay out there. But I see us interchanging a lot of these other guys, depending on who's on the mound and who's hot at the time."
Going up the middle, Bock reported, "Thompson and Tipton are at second base. Both of those guys have done a tremendous job. Korey has a little bit more experience right now. His effort and attitude have been unbelievable.
"Ezell, at shortstop, should be our guy," he continued. "We've got a new guy who moved in, Tyler Simmons (a junior), that's still in basketball right now. He's a middle infielder that, from every indication, does a good job or he has in the past at other schools he's been at. I think he's going to help us there and he's also a pitcher so there's an opportunity for him to help us on the mound too. He's going to be a few weeks late and behind a little bit but I've seen him play basketball and he does a tremendous job of handling the game of basketball. I think he's going to fit in really well with us.
"Behind the plate right now, we've got a slew of guys with Lessenberry being out," Bock added. "Hopefully we can get him back in a couple, three weeks but Blaine Jackson, (sophomore) Trey Breeding and (junior) C.J. Phillips are going to be doing our catching especially early. And all three of those guys have done a good job.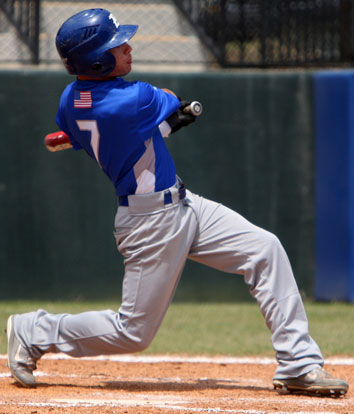 "What we're going to lack right there is just leadership," he said. "Lessenberry's been there for a couple of years and he's one of the best ones I've ever had as far as handling the staff and handling the ballgame. He does a tremendous job. Not that the other guys don't do a good job. They just don't have the experience that Hayden has right there."
In the meantime, Lessenberry will be getting some swings as the DH.
"We also have Tipton, who's doing a very good job offensively for us," Bock said of the DH spot. "Those guys are going to bounce around depending on what we're going to need in a game. Tip runs extremely well and he just battles at the plate. That's where he's kind of got a leg up on some other guys because he does run well."
The corner infield spots are places where holes need to be filled from last year's team.
"At third base, we have (sophomore) Brandan Warner and (junior) Harrison Dale. At first base, we have (junior) Justin Emmerling and (junior) Dalton Holt," the coach said. "Holt's an outfielder we moved in but he's getting better all the time. Emmerling's an outfielder we moved into the infield because, right now, (sophomore) Ty Harris is on the shelf. He's going to be out a few weeks. And Ty is certainly one who's going to play into that."
Though Rutherford is the lone Hornet with varsity experience, Bock likes his staff.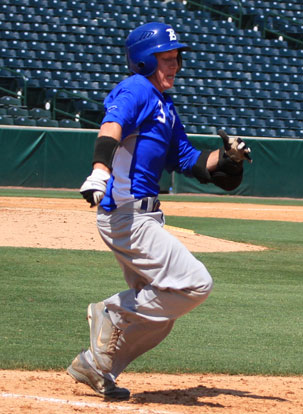 "Rut was an honorable mention on a pre-season all-American team," he noted. "You know, he's a guy that's not overpowering but he just does a good job of pitching. Devin Dupree (a junior) has also done a good job of just pitching.
"Again, we don't have anybody that's just going to throw it past you. That's really not our goal. Our goal is to get out of the inning on anywhere for nine to 13 pitches, get groundballs or a pop up or something and get out. When you start striking people out, your pitch count starts going up.
"Hastings has done a really good job coming in for us," he continued. "When we get Ty healthy, he'll be there. Dale is another one that's done a good job. Petey is probably going to end up being our closer. When he comes in and he's fully healthy, he's a guy that can bounce back, does a good job of throwing strikes. He's got a good slider and his change-up is getting there. We hope he can fall into that roll, where we can slip him out there every other day and let him go.
"Those are going to be our mainstay guys but we've got some young guys, Nick Shurtliff and Zach Jackson (both freshmen), that have done a tremendous job so far. They just lack experience. And (freshman) Evan Lee who we just got out of basketball. You know, when those guys get to be juniors, that's going to be a tremendous staff. I foresee those ninth graders throwing some innings for us. As long as the game doesn't get too big for them, they'll be fine."
Small ball has always been a key ingredient in the Hornets' offense and this year will be the same but with one addition.
"We're faster this year, one through nine, than I think we've ever been," Bock noted. "Our short game is coming around very well. So we'll start moving runners and using the short game in behind them and I think it's going to work out pretty good.
"We're going to have to rely on our speed," he acknowledged. "As far as just raw power, Blaine is about the only one we have. If you leave one up in the zone, he's fixing to hit one in those pine trees. The other guys just scrap. They do a good job. We're getting a lot of doubles in our intersquad games. Then we're able to move them around and it opens up our offense a little more."
The varsity roster to open the season also includes sophomores Blaine Knight, Blake Patterson, Conner Tatum and freshman Dylan Hurt.
The B team includes Logan Allen, Connor Alliston, Dakota Besancon, Bailey Bowers, Dylan Browder, Joey Cates, Caleb Chaffin, Daniel Darbonne, Emmerling, Lawson Fincher, Devon Fuqua, Jordan Gentry, Najee Hunt, Hurt, Zach Jackson, Jaylen Jones, Weston Jones, Nick Kehrees, Andrew Kincaid, Zach Knapp, Lee, Jay McGee, Jared Morales, Nic Murray, Aaron Orender, Bradley Plunkett, Dylan Singleton, Shurtliff, and Tatum.