By Rob Patrick
Photos by Rick Nation
There was a time in the history of the Bryant Hornets' soccer program when it was a challenge to[more] find 11 guys that could be relied on let alone any depth behind them. But that's changed in recent years. Now, there are more players for Hornets' head coach Jason Hay to turn to as a season unfolds and injuries occur.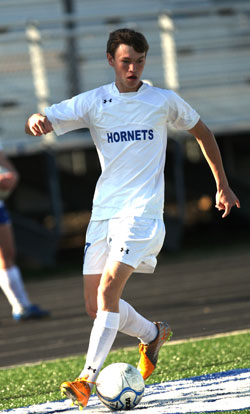 It's also important when a talented group of seniors graduate like last year's class, which led the team to a its second 14-win record in a row, a 9-5 mark in the rugged Central Conference and another trip to the Class 7A State Tournament.
Instead of facing a rebuilding season, Hay can say, "We're trying to re-load.
"We lost quite a few guys but we've had good classes behind them," he acknowledged. "When those guys that graduated last year came in as freshmen, we didn't have a lot of guys in every group ahead of them but now we've kind of built. The soccer club sends us a good group every year so it's not as big of a deal now losing that many guys. I don't think you can replace them but there's some of these guys that are seniors and juniors that have kind of been waiting for their time and this is it."
The Hornets are set to open the season with a benefit game at Little Rock Catholic on Tuesday, Feb. 26. They'll officially open the season on Thursday, Feb. 28, when they host North Little Rock.
"We've had a good preseason," Hay stated. "We'll find out how good we are on Tuesday against Catholic, always a good measuring stick."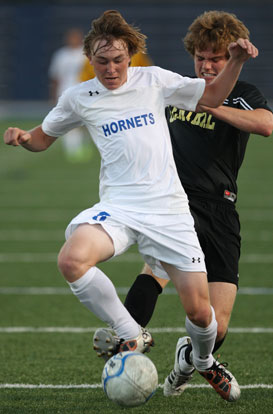 The Rockets are perennially one of the best teams in the state and figure to be in the hunt for a State title again this season. Last season they lost to Springdale in the State championship game after winning titles in 2011, 2010, 2009 and 2007.
The Hornets, after contending for a conference title right up to the last week of the regular season, lost a first-round heartbreaker to Rogers, which scored the lone goal of the match in the final 10 minutes of regulation.
The top returning players for the Hornets are all-conference selection Bryce Denker, all-State tournament pick Justin Travis, and all-conference honorable mention Josh Lowery.
At defender, Hay welcomes back junior Davis Nossaman. He'll be joined by Dylan Rives, a senior move-in from Texas.
"Those guys will be in the middle," Hay said. "We're looking at Cameron Furton and Austin Powell on the outside. This is Austin's first year coming in from football."
Both are seniors as are Lowery and Travis who return to play center mid.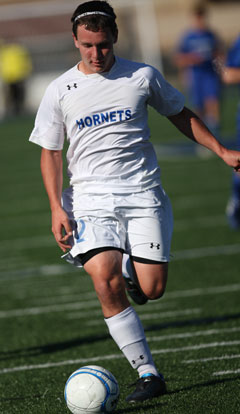 "Lowery's been on the wing the last couple of years," Hay mentioned. "But he's transitioning well.
"Up top there's Bryce, who's started there since he was ninth grader," the coach continued. "I look for (sophomore) Dylan Wolf to get a lot of play up there and (senior) Chase Stuart who's had a pulled hamstring and has been out. When he gets healthy, we'll get him back in there."
Hay mentioned Stuart among his wing players as well along with freshman Krishna Gurung and junior Evan Caddy on the left side.
"On the right wing, we've got (junior) Blake Reed, who also could play defender or mid, (sophomore) Cory Ballew, (sophomore) Houston Clifton and (junior) Bryan Oldham, who's been hurt," Hay mentioned.
"At keeper right now, Slade Lewis, who's a junior, looks to be the guy that starts," he added. "We've got (sophomore) Alex Denker and (freshman) Nick Gatlin back there too.
"The majority of those guys have gotten some playing time," the coach noted. "But it hasn't been all on them. I think some of them are ready to have it put on them. We lost more on the back line, our defenders, than we did anywhere.
"I think we may be a little better offensively than we have been," Hay said when asked about the team's strengths. "Our forwards, Bryce and Wolf, are working well together. Individually, player-by-player we may not be as gifted as we have been at times in the past but, as a team, I think we may be better overall. These guys are a good group together."
The team also includes seniors Jeremy Anderson and Francisco Zamora; juniors Bradley Oldham, Chance Levinson and Corey Laisure; sophomores Edwin Vicente, Jack Buck, Chris Godwin and Houston Chavis; and freshmen, Nathan Suarez and Danny Vivar.
In the South Conference this season, the Hornets will face different teams than in the recent past.
"Since we're the only 7A team in a 6A conference, I'm sure everybody's going to give us their absolute best just because we're the new team and everybody wants to get a shot to chop down a 7A team," Hay commented. "I think we're going to have a good year. We're going to try to keep improving."