By Rob Patrick
Photos by Rick Nation
In 2012, the Bryant Lady Hornets matched the program's previous high of 17 wins behind[more] a group for six talented seniors who had contributed to 63 wins in four years. They earned a first-round bye at the Class 7A State Tournament by finishing second in the Central conference and appeared to be poised for a big run at a State title.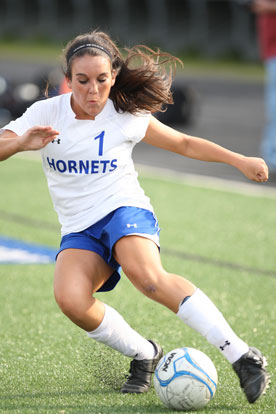 But they were deeply disappointed when, in their opener, their season came to a sudden end with a 2-0 loss to Fayetteville, the third seed from the West.
"I feel like last year, it was almost like we peeked too early," stated Lady Hornets coach Julie Long. "We were kind of ready (for State) but we had some injuries at the end of the season that really cost us."
Most notably to one of the team's top scorers, Shelby Gartrell.
As a response to that, Long has made some adjustments to the team's work leading up to their 2013 debut in a benefit game against the Mount St. Mary Belles at Little Rock Catholic's field set for Tuesday, Feb. 26.
"I've worked them harder this preseason than any year I've been here," Long related. "After losing so many seniors last year and kind of really not having the success that I wanted to have last year — mainly in the State tournament; during the season we were very successful but when we got to State, we just kind of folded under pressure.
"I'm trying to get (this year's team) to where they're ready for that — not looking to State but giving them the best chance that they can have once they get there," she explained. "Personally, last year, I don't feel like I had us set up. I kind of took for granted that we were loaded with talent.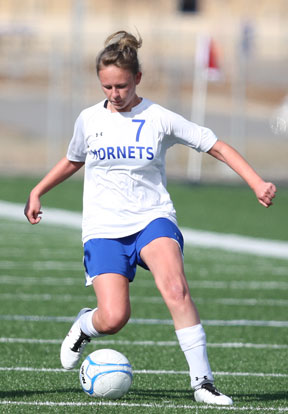 "This year, it's been a goal to take the time — our big theme at the beginning of this season's been fine-tuning," the coach continued. "So we're working on all the little things that make a huge difference and I'm on them all the time about them. It's starting to sink in. Like I've told them, they don't have to be 100 percent ready next Tuesday, they've got to be ready at the end.
"Another thing that we've been focusing on is — I'm loaded with speed. We've got a lot of speed up top with Bailey (Gartrell) and Shelby and Morgan Hawkins. I'm trying to get them to score without just playing them over the top balls, where we can work the ball around and if, like last year when Shelby got hurt — so that if any of our forwards who are really fast got hurt, we can still score. It's a good thing to have but if it's gone it kind of defeated us last year. We struggled scoring."
The team returns some players that got varsity minutes last year, led by all-conference selections Lexie Balisterri and Shelby Gartrell and all-conference honorable mention pick Rori Whittaker.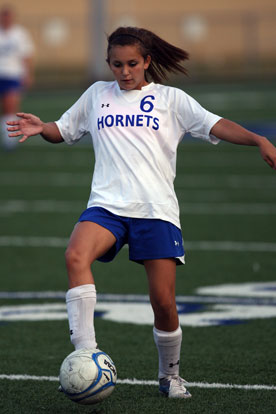 "I'm kind of anxious to see where we're at," Long said. "At times, we look really, really good. At times, we just look a little shaky in a few positions. I really don't know what to expect. It could be anything from having the best team that I've ever had to being mediocre. They have the potential to turn heads this year."
The Belles should be a good opening test.
"Mount has been young for the last two years," mentioned Long. "They've been building. They're going to be good. I'd say they're one of the top teams in the state this year."
The team has been sparked by an exceptional group of freshmen.
"My juniors and my seniors have had to step up," said the coach. "That comes back to my freshman class. It's a good freshman class that's made them have to step up because, if they don't, they know someone from that ninth grade group is going to come take their place.
"I think that's one of the biggest differences between us and last year," she added. "We have some depth. It's one thing I haven't had in the four years I've been here and it's that ninth grade group. It might not even be them that's stepping up and playing but it's them that's pushing the other ones to their full potential to play. That's been a pleasant surprise."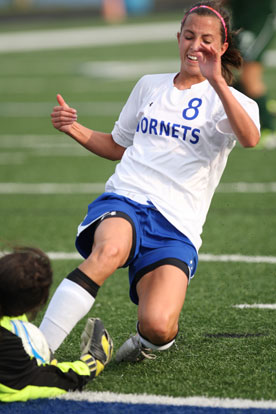 The team is solid at forward with the return of the Gartrell sisters and Hawkins. Long added, "Emily Pierce, when she gets healty, will help some too."
The biggest shoes to fill may be on the back end with the graduation of keeper Kaitlin Miller and all-state defenders London Abernathy and Lindsay Brazile.
"I have two keepers that have been battling it out, a freshman, Kayla Dreher, and Maddie Hawkins," Long said. "On defense, losing London and Brazile from last year is huge but I have been overly impressed with Kaitlin Gaiser, who I've now moved back. She's played my wing the last few years and some forward. This fall, when I was coaching the club team I told her, 'You can do this,' and she was like, 'I can do this.' It's been impressive. She's still learning but she's really stepped up.
"Outside defenders are most likely Callie Schalk and Tori Rose," she continued. "Tori played some last year for me. Addie Chaloupka will see some defensive time but she'll probably be more likely to play my center mid position."
Speaking of which, Long said, "I've got four or five centers that all rotate in and out. I've got three that play that position when I play the 3-5-2. Lexie Balisterri will play the middle center mid and Jacie McMahan. Addie will be in there. Rori Whittaker will rotate between our middle and our wing. Katie Barrington will be my other one.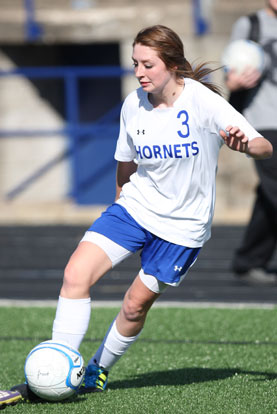 "Along with Rori on the wing will be Taylor Matthews and Kara Taylor," she continued. "Kendall Selig is one of the freshman that will step up and see some playing time along with Anna Lowery and a few of the other freshmen."
The squad also includes Whitney Brown, Haylee Campbell, Kara Moser, Hailey Levinson, Sarah Anderson, Allison Hughes, Britney Sahlmann, Kierra Sollinger and Peyton Ramsey.
While the team was in the Central Conference last year, they'll compete in the South this year against Class 6A schools, two of which don't have girls soccer teams (Pine Bluff and J.A. Fair). They will be seeded in the West for the post-season so a point system has now been figured out to facilitate the seeding process.
Also complicating the issue is the fact that, in the South, the teams play home and home (a double round-robin schedule) and, in the West, the teams play each other just once.
"What they're having to do is pro-rate all of our conference games," Long explained. "It's based on a 100-point system. We have 10 games so all of our games are going to be worth 10 points each. All of theirs in the West are going to be worth like 14.3."