By Rob Patrick
Photos by Kevin Nagle
The Bryant Lady Hornets varsity team was set to open the 2013 season on Tuesday at Beebe,[more] but the game has been postponed because Beebe's basketball teams are playing their State tournament on Tuesday. So the Lady Hornets' first official game will be at Russellville this Thursday.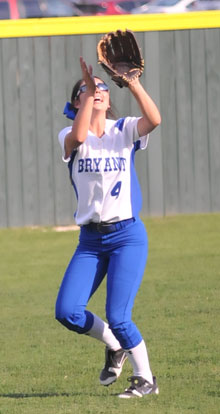 For the first time in three years, there will be a lot of new names in the starting lineup when Thursday rolls around. The core group of players that led the team to four straight Class 7A championship games and three State titles in a row has graduated.
"I didn't know what to expect because we did lose so many talented athletes in one class," said Bryant head coach Debbie Clark, who is beginning her fourth season at the school. "In the sports I've coaches, softball and volleyball, I've never lost that many in one class at one time that made that much of an impact in the starting lineup. I'm sure in other sports, you have that but it was a first for me."
Adversity has already cropped up.
"A month into practicing, we ended up losing another starter," Clark related. "McKenzie Rice had shoulder surgery and she will be out for the rest of the season. And we hate that for her because it is her senior season and she's worked so hard. She's such an incredible athlete. But we also want her healthy and that's what was best for her at this time so she can have time to recover and rehab."
Rice and Carly Yazza, the team's only two seniors, have both signed to play on in college. Rice is headed to Arkansas-Monticello; Yazza to Ouachita Baptist.
"So, we're down to three starters returning," Clark noted. Juniors Kaley Coppock and Katy Stillman started last season as well.
"So there's a lot that's different," the coach acknowledged. "But the girls are working hard. They're excited. I told them that they had to develop their own identity for this year, this team. And they want to do that. They're excited about doing that.
"It doesn't change our goals," she asserted. "Our goals are to win each game we play and to win the last game of the season in Fayetteville."
The State championship game is annually held at the University of Arkansas' Bogle Park in Fayetteville.
"They are a lot of fun to coach," Clark stated. "They work hard, they listen well and they're real quick to do what we ask them to do, to change. They've also been very versatile. We'll move them from one position to the next trying to find the right mix and they tend to be okay with that. And I like that about them. They don't ever seem to worry about how long we've been practicing because some days we practice long. They know that we need to work hard to get it done."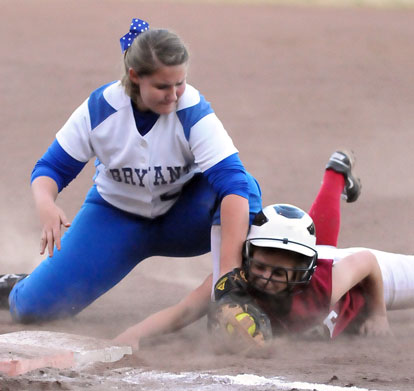 Asked if the successes of the last four years put the 2013 team, these players, under pressure, Clark answered, "I don't think so because there are so many of them who were not part of that, our freshman class. Then we have a lot who are on the field who were with the team but they were JV players. They were great supporters and they worked hard in practice. I think they see themselves a little detached. The three returners, they're working so hard to try to be leaders for me, I don't think they feel the same pressure that I probably feel. And that's pressure I put on myself, just because I'm competitive and I know what it feels like to win.
"They still feel pressure but it's pressure to do their best," she added. "What's been really neat is to watch those who work so hard and have been behind those players that were so good for so many years. It's like their debutante ball. They're coming out. They're here. They knew what their place was before but now they're getting their chance. It's their time and that's good and it's fun. I don't want them living in that shadow. That's why I told them, they have to develop their own identity."
Yazza is set in left field and Coppack at first. Stillman, however, is moving in from right field to take over the coaching duties.
"Carly does a great job there (in left)," Clark commented. "She reads the ball well. She's also strong in the lineup for us. She can hit in any slot for us.
"Kaley has stepped up big time," the coach added. "She's had to. You know, last year and the year before, she was the younger one, we had all the leaders out there and she stepped up. She and Katy both stepped up. I'm so proud of them. Kaley has been a tremendous leader in everything we've done.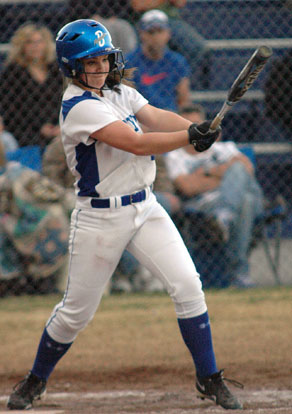 "She's also our power hitter," Clark continued. "I wish she could hit three times in the lineup. She'll be the one that they will pitch around and I hate that. Last year, we had so many power hitters, it was hard to pitch around everybody. I hope some other players will step up so she'll get more of a chance to hit."
Of Stillman's move, the coach said, "We just feel like that's a position we need a strong leader. She understands the game. She knows how to set up a hitter, calling pitches.
"I think it's important for the catcher to call the pitches," she asserted. "If I sit on the bucket and call the pitches, I don't see the same angle that Katy does, where the batter's standing. I also don't know what's working for my pitcher. She knows what's working. Now, if there's a problem, she comes over and we're going to talk about it. We chart things. But she understands.
"Katy's the true utility player and she can swing a bat. She uses every bit of her body in the proper way to swing the bat. But she can also put a bunt down for me. Two strikes, it doesn't matter. I tell her to bunt, she's going to bunt and it's going to be fair."
Sophomore Jordan Williams got some valuable experience in the pitcher's circle during the State Tournament last year when two-time State MVP Peyton Jenkins suffered a knee injury. She and junior Kayla Jolley are the prime pitching candidates.
"Both of them have worked extremely well over the summer," said Clark. "I am so proud of them. Of course, Jordan is left-handed, has a lot of movement on the ball so that makes her hard to hit. Kayla has picked up some movement and some speed and I'm really impressed with how she's improved.
"It takes a lot of stamina to pitch every game," she noted. "It's so nice to be able to rotate. It's also nice when you play double round robin in a conference and they see one pitcher one game and the next time you play them, you throw someone else. So we'll rotate and see how that goes."
As for the rest of the lineup, Clark said, "We're still trying to figure out what's our best combination on the field. How are they going to work best together? And it may take us two or three weeks to figure that out.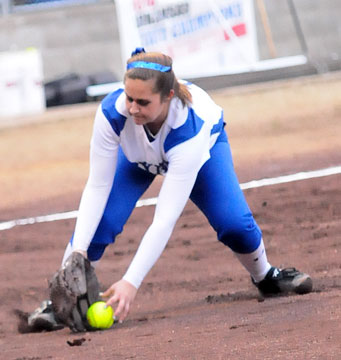 "We know they're beasts and they know they're beasts," she said, referring to her pet name for the team's hitters. "I'm just not sure how they're going to be. Are they going to be short game beasts? We're probably not going to score five runs an inning. We might. I don't know. Right now, I don't see that. But I see some other things happening that we've not seen in the past that we will be very successful with."
Joining Coppock on the infield initially will be sophomore Abby Staton at third, junior Breanna Sanders at short and freshman Shayla McKissock at second.
"Abby played JV pitcher and shortstop for us last year," Clark said. "She looks real good at third defensively. McKenzie's been working a lot with her. She has a strong arm and she can hit.
"Bre is one I was talking about that's worked so hard and was behind Cassidy Wilson. And it's her time now. And she deserves it," the coach related. "She can hit the ball too.
"At second base, we're looking at Shayla. She's fast. We're excited about what she can do. She has an injury and we've had to rest her some, at least with the bat. We may for the first couple of weeks have to hit for her, which will be okay. But she has a great swing and if she gets the ball in play, she's probably going to be safe. She can turn a base hit into a double. She's going to be able to steal. I can bunt with her. She's going to give us a lot of options. Like I was saying, where we might not be able to power the ball over the fence, we can put the ball in play and I've got her standing at third base.
"Centerfield and right field are still iffy," said Clark. "We're looking at different people there. We've looked at (junior) Brianna Forsythe in center and Sierra Jones who's a freshman. In right field, I'm going to put Kayla there when Jordan is pitching. We've also looked at Nikki Clay there, who is a sophomore, and Brianna Davis (another sophomore).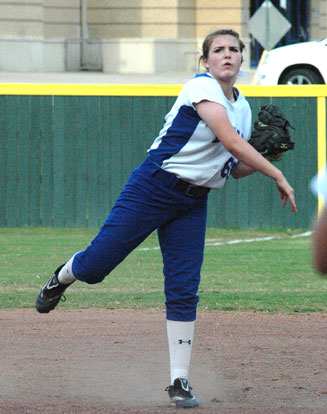 "A lot of this year, especially the first couple of weeks, there's just going to be some trial and error. We're going to have to find what we're comfortable with not only defensively but offensively too. Last year, when the ball was hit, we made the plays and that's what I've been telling them. I don't need you to make the diving catches. I need you to make the routine plays. And that includes finishing the play with a throw. It's the little things that we've got to make sure we do right. If we do the little things right, the big plays will come."
Clark has always put together a challenging schedule and this year is not different.
"We haven't backed off at all," she stated. "We've scheduled tough non-conference games so that we can get ready for this tough conference. We have a tough conference in softball. Defending 6A State champion in Lake Hamilton; Benton made it to the semifinals and had to play Lake Hamilton; Sheridan is right there then Texarkana, they have great athletes who can play softball. I want our lineup set by the time we get to conference play."
The team also includes sophomores Mercedes Dillard, Sydney Gogus, Jerrica Gray, Makayla Nguyen, Sadie Powers and Alex Taylor, along with freshmen Kerrigan Allen, Skylar Harper, Anna Beth Heath, Miranda Mayfield, Megan Medford, Anna Turpin, and Julie Ward.
The first league outing will be on March 14 against the arch-rival Benton Lady Panthers.