File photo by Kevin Nagle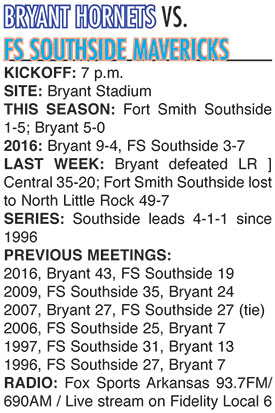 Editor's note: Tonight's Bryant-Fort Smith Southside game will be broadcast at 93.7 FM and 690 AM Fox Sports Arkansas with pre-game at 6:30 p.m., and live streamed by Fidelity Local 6 here
With their 35-20 win over the Little Rock Central Tigers last Friday night at Quigley-Cox Stadium, the 2017 Bryant Hornets became just the third team in school history to start a season 6-0. The team that did it last was the 2015 Hornets who had their unbeaten run stopped in week 7 by the Greenwood Bulldogs. The first team to do it was the 1999 team which went on to win 11 in a row before losing to Fort Smith Northside in the second round of the State playoffs.
In addition, with the 24-21 loss by the No. 1 Springdale Har-Ber Wildcats to the Bentonville Tigers, the Hornets ascended to the top spot in statewide rankings.
All of which, no doubt, will only intensify the focus of the Fort Smith Southside Mavericks who visit Bryant for Homecoming tonight.
Of course, being ranked No. 1 is a feather in the cap. But, a feather in your cap is one thing; a crown on your head is another.
"Like I told the team, all we can do is go down from here," quipped Hornets head coach Buck James.
"It's very difficult for our team to go with a target on their backs but this is where we wanted to be," he added. "This is what we expect. This is where we want our program to be at.
"What we've got to understand is that the real, official No. 1 doesn't count until the end of the year," he explained. "That's our goal, winning a state championship."
Southside comes in with a 1-5 record overall but they've played some good teams tough. They lost at Cabot by 2, 43-41, and took Conway to overtime before losing 54-47.
Obviously, they can score some points.
For Bryant, the win at Central was costly as junior quarterback Ren Hefley suffered a broken collarbone on his non-throwing shoulder. He'll miss 5 or 6 weeks, hoping for a return in the playoffs. When he went down with his injury in the second half, he had season stats that included 96 for 159 passing for 1,492 yards and 16 touchdowns with five interceptions.
Sophomore Jake Meaders and senior Cameron Vail will work at quarterback. Vail, a starting safety, has been working on offense as the wildcat back in the Hornets 'jumbo' short-yardage sets. Meaders who led the freshman team to a 10-0 season last fall, has seen spot duty on Friday nights with a lot of experience in junior varsity contests. In varsity games, he's completed 6 of 7 passes for 69 yards. He's also a quick, elusive runner when things break down, picking up 41 yards on five carries in relief of Hefley.
"It's just next man up," James said. "As bad as we all hate it, we have a lot of confidence in the other quarterbacks and we expect to keep rolling, to keep doing what we do. It would be the same thing if we lost a guard or tackle or corner or safety. We've just got to keep playing football and understand that's part of the game."
Senior center Preston Kyzer also came out of the game with a possible concussion. James said he passed all the protocols and should be ready to play tonight.
Regarding Southside, James said, "They're a very well-coached team. Jeff Williams does a tremendous job. When you watch them on film, they do everything right. When they get beat it's just because somebody who is more athletic or better beat them. It's not because they're not where they're supposed to be or not doing what they're supposed to be doing.
"They're a team that's young," he added. "They expected to struggle a little bit during the season but they have continued to improve and, just like they did against Conway, they've played extremely well. They only have two blowouts this year. That was against Greenwood and North Little Rock. Our guys have to be ready.
"They moved their tailback last year to quarterback," the coach noted. "And he throws better than what you would think. He looks like a tailback but he throws the ball well. He's very accurate. He's the head of their monster. He's the guy that we've got to contain."
The quarterback is Taye Gatewood who has passed for 1,469 yards on 98 completions in 165 attempts with 13 touchdowns and five interceptions. He's also rushed for 475 yards and nine touchdowns.
His top targets are Tyrese Solomon (40 receptions for 590 yards and six TD's) and Jordyn Jackson (18 catches for 388 yards and four scores). Utility back Brenden Ulrich has nine catches for 127 yards and a touchdown while rushing for 164 yards and a score.
"They're big up front on the offensive line," James noted. "They're long and tall on defense where they have seven returning starters from last year. They're just young up front."
And the key for Bryant?
"Our offensive line has to come out and dominate the game," he said. "This game will be decided in the trenches. If we're going to go out and play like we're capable of playing, the offensive and defensive lines have got to play great."
The O-line will be trying to create room for junior running back LaTavion Scott to add to his 763 yards rushing on 141 carries this season.
Bryant's receiving corps includes six with 12 or more receptions led by Ja'Kalon Pittman with 24 for 327 yards and Randy Thomas with 21 catches for 321 yards. Brandon Murray has been the big-play receiver. His 15 grabs have gone for 427 yards and seven TDs.
The Hornets have turned the ball over nine times this season, including three times last week. They hope to avoid those mistakes and go back to averaging just one per game as they did before going to Central.
Defensively, linebacker Jakob Neel, who was second on the team in tackles as a sophomore in 2016, leads with 64 stops this season. The next three top tacklers include someone at every level of the defense with end Johnny Wallace, linebacker Nick Smith and safety Rondale Messer.