By Rob Patrick
Photos by Kevin Nagle
The Bryant Hornets B team is off to a 3-1 start this season. On Tuesday, March 1, they[more] split a doubleheader with North Little Rock, winning 7-5 in the first game then absorbing a 4-2 loss in the second. On Monday, March 7, the swept Watson Chapel, 10-9 and 5-0.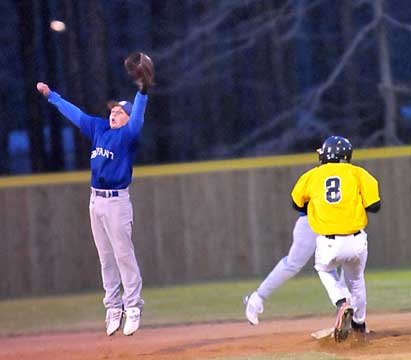 Against Chapel, the Hornets scored 10 runs in the last three innings to come from behind for the win. The game was tied in the bottom of the seventh when Chase Tucker scored all the way from second on a wild pitch to provide the winning run.
Tucker went 2 for 5 with two doubles in the contest. Trevor Ezell went 3 for 5 with a triple and two runs batted in.
In the second game, Zach Cambron and Garry Williamson combined on the shutout. Gray Orman was the hitting star, going 2-for-2 with four RBIs.
In the win against North Little Rock, the Hornets were led offensively by Ezell, Josh Davis and Cody Gogus. Devin Dupree started the game on the mound and Austin Caldwell relieved in the fourth and picked up the win.
In the second game, Austin Miller led off the first inning with a triple over the head of the center fielder. Caldwell drove him home on the next pitch then eventually scored as well.
But North Little Rock came back to take the 4-2 lead. Bryant's next best chance to score came in the sixth when, with two out and runners at second and third, A borderline pitch on a 3-2 count went against them to end the inning.
"I am proud of the way the kids responded in both games," said Hornets assistant coach Elliott Jacobs of the split. "In game one, NLR tied the game with a grand slam in the fifth but we came back and scored two in the top of the sixth to win the game. The second game felt the same way, we were up early, NLR got the lead late and had it not been for a questionable strike three, we are sitting bases loaded with our four hole hitter up.
"We had opportunities to win the second game but we let our guard down when we got the lead and did not execute the fundamentals when it counted late in the game," he added, "but, for the first time seeing a live arm and a different opponent, we battled hard, and the kids did all Coach (Mark) Cain and I asked of them."
The freshmen are scheduled to play again at Watson Chapel on Monday, March 14.