By Rob Patrick
Photos by Kevin Nagle and Rick Nation
Sophomore Brandan Warner went 3-for-4 and provided a spark to three scoring innings for[more] the Bryant Hornets who broke open a close game with a seven-run fifth on the way to an 11-1 win over the Texarkana Razorbacks on Friday.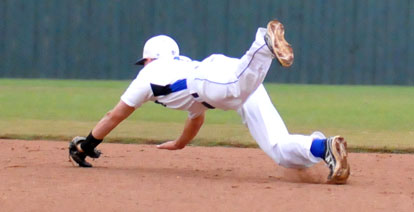 The Hornets, who ran their winning streak to 16 in a row, used 10 hits to take advantage of seven walks and five hit batsmen in the game. Trevor Ezell had two knocks and sophomore lefty Jason Hastings scattered five hits, picked off two base-runners and was supported by solid defense. He walked just one and struck out five.
Bryant improved to 23-5 overall this season, 11-1 in South Conference play going into its final two league games. They'll travel to Lake Hamilton, one of the hottest teams in the league, on Tuesday, April 30, then host El Dorado on Friday. A final non-conference contest against Camden Fairview will be played on Tuesday, May 7, ahead of the Class 7A State Tournament in Springdale starting May 9.
The Hornets currently share the lead in the South and is in contention for a first-round bye at State.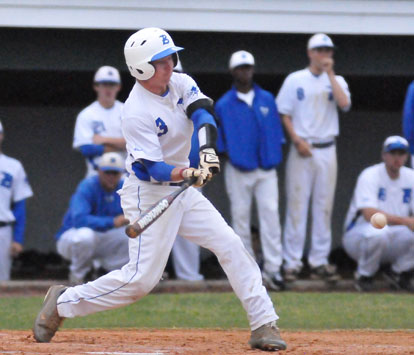 Texarkana, which seemed to be in disarray when the Hornets played them on April 2, was sharper and seemed more motivated this time. It helped that sophomore right-hander Hunter McGilberry, worked out of two early jams, limiting Bryant's scoring to three runs and forcing the Hornets to leave the bases loaded in both the first and second innings. He then worked scoreless frames in the third and fourth as well as driving in his team's lone run in the top of the fourth.
So the Hornets led just 3-1 going into the fifth.
"We just weren't in good rhythm with him," stated Hornets coach Kirk Bock. "We left six guys on in the first two innings. We needed that big hit and we just didn't get it. "Finding the right rhythm is the key and it's something we've been able to do for a couple of weeks but, the last two days, we haven't been," he added, referring to Thursday's 4-0 win at Sheridan. "We'll go back to work Monday and we'll figure it out."
Warner was the primary exception. He singled and scored in the second, doubled in a run and scored in the fifth then singled and scored the game-ending run in the bottom of the sixth.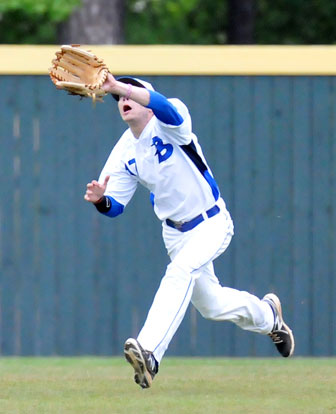 McGilberry gave the Hornets some gifts along the way as he accounted for five of the walks and all five hit batsmen in 4 1/3 innings of work before Patrick Flanagan ahd Steven Boyce relieved. In the opening inning, McGilberry issued lead-off walks to Tyler Green and Ezell then wild-pitched them to second and third. Hastings picked up an RBI with a grounder to the right side.
The Texarkana hurler then plunked both Hayden Lessenberry and Hayden Daniel on consecutive pitches to load the bases. But he escaped by retiring the next two, keeping it 1-0.
The Razorbacks' first hit came in the top of the second when freshman first baseman Braydon Ward plugged the gap in left-center for a lead-off double. Cole Harris made a bid at an RBI single but Hornets' second sacker Korey Thompson made a diving back-hand stop, sprang to his feet and fired to first in time to retire the batter as Ward stopped at third.
McGilberry popped out to Austin Caldwell in shallow left then Hastings fanned Lavert Paxton to send it to the bottom of the inning.
Warner led off and spanked a single to center for the Hornets' first hit. And when centerfielder Tamarco Collins let the ball get past him, Warner sprinted to third. Caldwell brought him home by cracking a 2-2 pitch up the middle.
Another walk to Green and a perfectly placed bunt by Ezell filled the sacks again. McGilberry retired the next two batters but then hit Daniel again to force in a run, making it 3-0. But he fanned Ty Harris to keep it there.
In the top of the third, Blake Sanders reached on an error but was forced on a tap back to the mound by Collins. With the top of the order up, Hastings proceeded to pick off Collins and, moments later, Hayden Phillips singled to left. He wound up being forced at second to end the inning.
Thompson had an infield single to start the home third but the Hogs turned a doubleplay. In the fourth, McGilberry worked around a two-out double by Hastings.
That came after his team got on the board in the top half. It was an inning that could've been worse for the Hornets. Jackson Murphy doubled to lead off but Hastings picked him off then struck out Ward. Cole Harris singled and the Bryant lefty was within a strike of escaping before McGilberry helped his own cause with a double down the line in left to chase home the run.
A strikeout ended the inning, however.
Bryant's game-breaking fifth started with a single up the middle by Daniel. Pinch-hitter Harrison Dale, who would bat twice in the inning, was plunked by a pitch. With one out, Warner came through with a shot to left-center for an RBI double.
That seemed to unnerve McGilberry. He walked Caldwell and Green to force in another tally. And when he hit Ezell with a pitch, in came another run and a new pitcher.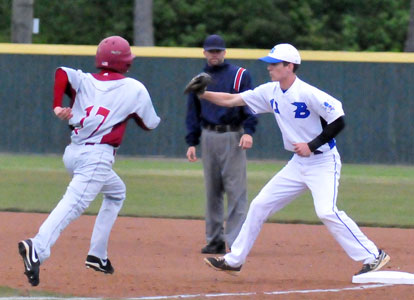 But Flanagan fared little better. He walked Hastings for force in a run then cut loose with a wild pitch that got Green across the plate. With runners at second and third, Lessenberry provided the crowning blow, a shot up the middle for a two-run single, making it 10-1.
Hastings wound up retiring seven of the last eight batters he faced and, in the bottom of the sixth, the Hornets made it a mercy-rule win. After Thompson was robbed of extra bases by Cole Harris in deep left, Warner yanked his third hit through the hole. Caldwell walked then was forced at second on a grounder to third by Green. Warner advanced to third on the play and Ezell ended it with a shot down the right-field line that probably would've gone for a triple had the first run not ended the game.