Editor's note: This is a regular feature profiling senior athletes at Bryant High School.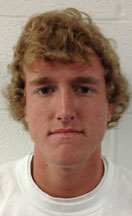 NAME: Cameron Furton
PARENTS: Dena and Shawn Furton
SIBLINGS: I have one older brother. He's 21. His name is T.J.
FAVORITE SUBJECT IN SCHOOL: If I had to pick, I guess History.
WHAT DO YOU LIKE TO DO IN YOUR SPARE TIME? I'm a big duck hunter so when duck season rolls around that's all I'm doing.
FAVORITE FOOD: Anything Italian, like pasta.
FAVORITE MUSIC ARTIST OR GROUP: Drake[more]
FAVORITE MOVIE: Batman

FAVORITE TV SHOW: Yukon Man
WHAT WAS YOUR FAVORITE TOY AS A KID? A little roly Flintstone car thing that had pedals on it.
WHAT ARE YOUR PLANS AFTER HIGH SCHOOL? I'm going to PT for a year and then transferring to Jonesboro.
OTHER THAN YOUR PARENTS, WHO HAS HAD THE BIGGEST INFLUENCE ON YOUR LIFE? Probably John Caddy, just to be a better person and a better follower of Christ.
FAVORITE THING ABOUT SOCCER: Joking around with the team and just memories made.
POSITION: Defender
WHAT DO YOU FEEL LIKE IS YOUR PRIMARY RESPONSIBILITY ON THE FIELD? I guess to communicate with everyone else that's ahead of me and not let anyone score.
WHAT DO YOU THINK OF THE SEASON SO FAR? It's been a really good season.
WHEN THE TEAM'S PLAYING WELL, WHAT'S IT DOING? I think when we're playing well, we're unbeatable. Good communication and focus and being prepared. No matter who we're playing we have to have focus.
WHAT'S BEEN THE HIGHLIGHT TO THE SEASON SO FAR? Beating Catholic.
WHAT'S IT GOING TO TAKE FOR THE TEAM TO BE SUCCESSFUL THE REST OF THE SEASON? As long as we keep our heads and know that no matter who we play we have to play our hardest, I think we can beat anybody.

INDIVIDUALLY, WHAT ABOUT YOUR GAME ARE YOU MOST CONFIDENT ABOUT? Speed, probably.
WHAT DO YOU WORK HARDEST TO IMPROVE? My touch.
AFTER YOU'RE THROUGH PLAYING SOCCER AT BHS, WHAT DO YOU THINK YOU'LL REMEMBER MOST FONDLY ABOUT IT? Just the guys I've been around these four years and the friendships made.