By Rob Patrick
File photos by Rick Nation and Kevin Nagle
With two conference starters and a closer sporting earned run averages under 1.00, there[more] haven't been too many varsity innings lately for the Bryant Hornets bevy of talented young arms. That's been especially so since the Hornets got into the heart of the 7A/6A-South Conference schedule. They've not faced a non-conference foe since taking on Monticello on March 25.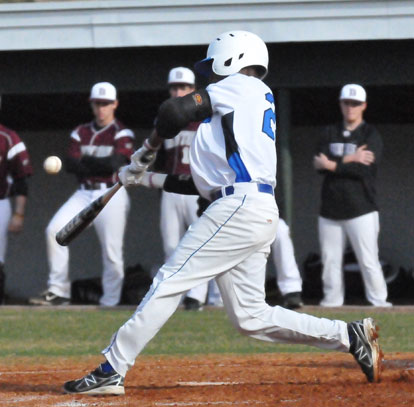 But, on a chilly, damp Saturday afternoon, the Hornets closed out the regular season with a game against the Camden Fairview Cardinals and sophomore right-hander Blaine Knight got the call.
And he came through with 5 1/3 innings in which he allowed just one run on four hits with a walk and eight strikeouts. Junior Devin Dupree closed out the sixth and the Hornets put together a six-run uprising in the bottom of the inning to complete an 11-1 run-rule win that was highlighted by senior Marcus Wilson's 4-for-4 performance at the plate.
It was their 19th straight victory and improved them to 26-5 overall going into their Class 7A State Tournament game on Friday when they begin their quest for a fourth straight run to the championship game and their third State title during that four-year run.
The Hornets will play a team to be determined on Friday at 2:30 p.m., at State in Rogers.
Against Fairview, Bryant hammered out 10 hits. Tyler Green and Brandan Warner each had two. Trevor Ezell extended his hitting streak to 12 games with a second-inning single. Jason Hastings came through with a hit as well. Along with Wilson and Warner, Hayden Lessenberry drove in two runs.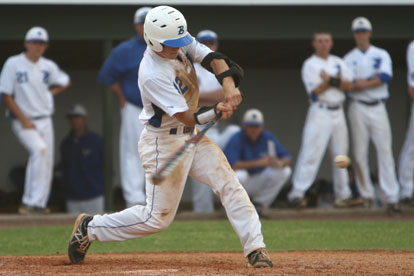 Knight worked around an error in the top of the first and the Hornets grabbed a 3-0 lead in the home half. It took Fairview starter Aaron Wynn 32 pitches to get through the frame.
Green led off with a liner up the middle for a single. Ezell walked then Wilson shot a single to center as well, filling the bases. Lessenberry bounced into a force at second and Green crossed the plate with the first run. Hayden Daniel followed with a grounder to short that was booted allowing Ezell to score.
With Austin Caldwell, serving as the courtesy runner for Lessenberry, at third, Hastings got down a squeeze bunt that Wynn fielded. But when he tried to throw to the plate to retire Caldwell, it was too late and the Hornets had a 3-0 lead.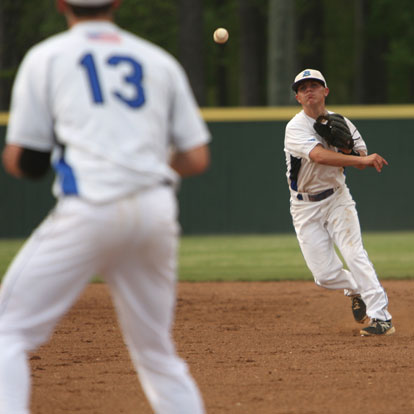 Camden got its lone run in the top of the second when Chris Smith slapped a one-out single to right, took second on a tap back to Knight and third on a wild pitch as P.J. Thrower worked a walk. With Jackson Mosely at the plate, Thrower took off for second. Knight, working the fake-to-third, throw-to-first pickoff move, appeared to have Thrower caught but the field umpire called a balk on his move to third and Smith was allowed to score.
With Thrower at second, however, Knight fanned Mosely to end the inning.
Bryant appeared to have another run in the bottom of the inning when, with two out, Ezell's single was misplayed in left field and Wilson singled him to third.
With Lessenberry at the plate, Wilson left early from first and got into a rundown. He got back to first and Ezell scored but it was all for naught. The homeplate umpire had called timeout before the play was initially made on Wilson.
Though Lessenberry was hit by a pitch to load the bases, Wynn escaped with a strikeout to send it to the third.
Knight struck out the side around a one-out bloop single by Reid Rogers and the Hornets went to work at the plate again. Hastings singled to right, advanced on Korey Thompson's cue shot to second and scored on an single by Warner.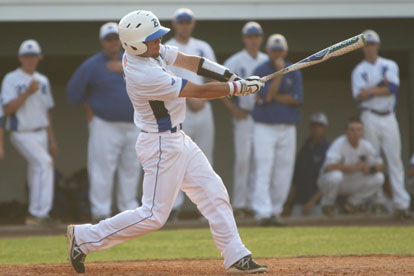 With one out in the fourth, Smith hit a drive that Wilson nearly flagged down in deep left. It went for a double. With one out, Matthew Walker hit a fly to Daniel in right. As Smith tagged and headed to third, Daniel fired a strike to Ezell in the cut-off position. Ezell relayed to Warner at third in time to nail Smith for an inning-ending doubleplay.
The Hornets were unable to get Wilson home despite his two-out triple in the bottom of the fourth but Knight finished set down the side in order, fanning two in the top of the fifth.
Hastings was hit by a pitch with one down in the home fifth. He stole second — one of Bryant's eight steals in the game — and advanced to third when Warner reached on a two-out error. Hastings scored after Warner left first early, drew a pickoff throw and stayed in the rundown long enough for the run to score.
Up 5-1, Knight began the top of the sixth by plunking Rogers. An out later, Wynn lined a single to right and Bryant head coach Kirk Bock brought in Dupree. With Jake Bever at the plate, Dupree induced a bouncer to Thompson at second. He started an inning-ending doubleplay.
Wynn work on the hill ended in the bottom of the inning after he'd walked Ty Harris and surrendered a single to left by Green. The count went to 2-0 on Ezell and D.J. Franklin was called in from third to pitch. Franklin completed the walk to Ezell, loading the bases for Wilson who got his fourth hit on a bouncer past Wynn at third. The ball was flagged down by Rogers at deep short but he had no play despite trying to beat Green to third.
Harris scored on the play then things began to fall apart for the Cardinals. Lessenberry reached on an error as Green scored. A wild pitch allowed Ezell to come home then Wilson crossed when pinch-hitter Evan Lee's grounder to second was booted.
With one out, Thompson drew a walk to load the bases for Warner who ended it with a drive to deep left for an RBI single.

BRYANT 11, CAMDEN FAIRVEIW 1


Cardinals ab r h bi Hornets ab r h bi

Franklin, 3b-p 3 0 0 0 Green, cf 4 2 2 0
Rogers, ss 1 0 1 0 Ezell, ss 2 2 1 0
Carmody, 2b 3 0 0 0 Wilson, lf 4 1 4 2
Wynn, p-3b 3 0 1 0 Lessenberry, c 3 0 0 2
Lester, cr 0 0 0 0 Caldwell, cr 0 2 0 0
Bever, c 3 0 0 0 Hurt, c 0 0 0 0
Smith, rf 2 1 2 0 Daniel, rf 3 0 0 1
Walker, cf 2 0 0 0 Lee, ph 1 1 0 1
Thrower, lf 1 0 0 0 Hastings, dh 2 2 1 1
Mosely, 1b 2 0 0 0 Thompson, 2b 2 0 0 0
Tipton, ph 1 0 0 0
Warner, 3b 4 0 2 2
Harris, 1b 2 1 0 0
Knight, p 0 0 0 0
Dupree, p 0 0 0 0
Totals 20 1 4 0 Totals 28 11 10 9
Fairview 010 000 — 1
BRYANT 301 016 — 11
Game-ending run scored with one out.
E—Warner, Rogers 2, Thrower, Wynn, Carmody. DP—Camden Fairview 1, Bryant 2. LOB—Camden Fairview 4, Bryant 8. 3B—Wilson. S—Rogers, Hastings. SB—Caldwell, Daniel, Hastings 2, Lee 2, Thompson, Ezell.

Pitching ip r er h bb so


Camden Fariview

Wynn (L) 5 8 6 8 2 4
Franklin 0.1 3 0 2 1 1

Bryant

Knight (W) 5.1 1 1 4 1 8
Dupree 0.2 0 0 0 0 0
Balk—Knight. HBP—Lessenberry, Hastings (by Wynn), Rogers (by Knight). WP—Knight, Franklin.