Hornets continue recent domination of Panthers
EDITOR'S NOTE: Because the look back at each day in Bryant athletic history has been so favorably received during the time when there was no sports during the COVID-19 shutdown, BryantDaily.com will continueposting past stories of Bryant athletics either posted on BryantDaily.com (from 2009 to the present) or published in the Bryant Times (from 1998 to 2008).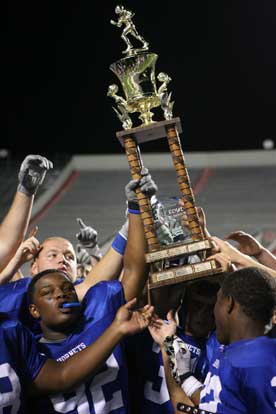 By Rob Patrick
Photos by Rick Nation
LITTLE ROCK — At one point in the 11th Salt Bowl and 38th renewal of the Bryant-Benton rivalry, there was a chance for the Benton Panthers to make it a game. Though the Hornets were on their way to their largest margin of victory (36 points) among their 13 wins in the series, there came just a glimmer that it might not be so easy.
The Panthers had used a rugby-style punt to pin the Hornets deep in their own end. A second down procedure penalty had backed them up from the 7 to just inside their own 3. And when they tried to go wide on the next play, sophomore running back Jalen Bell was tackled in the end zone for a safety.
Fired up, the Benton players dropped back for a free kick that Corey Dabney returned to midfield, the Panthers best field position of the night. Held to just two first downs to that point, Benton picked one up on a 13-yard scamper by quarterback Dylan Harris. After a short pass completion, however, running back Trevor Nix was cut down for a 3-yard loss. And, on third down, Harris was sacked by Bryant's Matt Jones to bring up a punt situation.[more]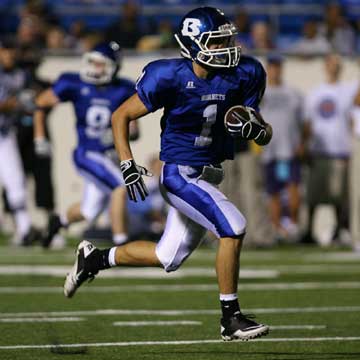 Though the Panthers hadn't taken immediate advantage of the momentum their defense had conjured up for them, another pooch kick was downed once again at the 7. The Benton defense was, no doubt, hoping for a similar scenario to unfold. And, on first down, it looked even better when Bryant running back Karon Dismuke was dropped for a loss back to the 5.
The teams exchanged penalties and the Hornets faced a third-and-13 from their own 5. It figured that, if Benton could force a punt they'd at least get very good field position out of it.
A few seconds later, however, and those hopes and any others were dashed.
Sawyer Nichols ran a deep post, got a step on the defender who was covering him one-ond-one and Bryant quarterback Blake Davidson hit him in stride. Nichols raced to the other end for a touchdown on, as it turns out, the longest play from scrimmage in Hornets football history, 95 yards.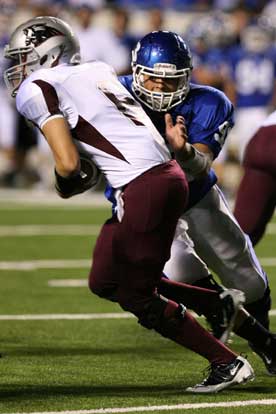 It was, at that point, about all but over. The Hornets built a 45-2 lead and, for the second year in a row, Benton scored late. And another first: the sportsmanship rule was invoked in the fourth quarter. (The rule calls for continuous running of the game clock, except during timeouts and changes of possession.)
Bryant piled up 204 yards rushing and 223 passing. Meanwhile, because of sacks, the Panthers finished with a net of minus-15 yards on the ground and a total offense of 80 yards for the game.
"I'm proud we won," stated Hornets head coach Paul Calley. "I'm happy for our team but we've got a lot that we've got to improve on.
"It's the first game," he noted, "highly anticipated, a lot of energy, a lot of butterflies. But the nerves ought to be gone after the first couple of snaps and you settle in and play. I don't think we did that.
"It wasn't a cleanly played football game by us as far as execution, offensively," commented the coach. "I knew they were going to line up and try to make us throw the football. I didn't think they were going to let us run it. They stunted a lot, they shot gaps, they did everything they needed to do to keep us from running the ball. In turn, they gave us big plays in the running game and the passing game.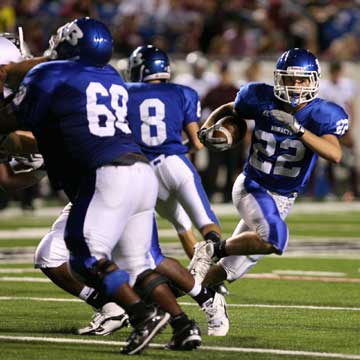 "And that's the way it works. I learned a long time ago, as bad as I want it to be the way I want it — you know, 5 or 6 yards consistently, picking up first downs, driving the ball down the field — it's not always going to be that way."
"Obviously, anytime you shut out their first team, you're pleased with that," said defensive coordinator Steve Griffith. "I felt like our pass rush really became effective through the late first quarter and into the second quarter. We really started to pick it up on the pass rush."
"I thought our defensive line played well," Calley agreed. "I thought behind our defensive line — I'll have to watch the tape — but, if Benton had caught the ball better, it would've been a lot closer ballgame than it was. They had open receivers and they just didn't make plays. We didn't tackle very well, I didn't think.
"We had some miscommunication, a couple of mis-reads on some things that we definitely have to work on and get improved before we play a quality opponent in (Fort Smith) Northside next week," Griffith added. "Hopefully, we'll be a lot better football team than we were tonight."
The Hornets never punted in the game but they lined up once to do so. After Benton went three-and-out, so did the Hornets with a holding call negating a good opening run by Dismuke. On a fourth-and-12 at the Benton 42, punter Tanner Tolbert, who also just happens to be the fastest guy on the team, brought the ball down and took off. He didn't stop 'til he crossed the goal line.
Bryant got the ball back after another three-and-out (highlighted by a sack of Jones by linebackers Collin Chapdelaine and Jacob Brady). Jones' punt was partially blocked and the Hornets had great field position again. Dismuck broke a 20-yard run to the Benton 25 but a penalty appeared to have derailed the Hornets. But they went for it on a fourth-and-2 at the Benton 17 and Davidson fired a strike to Dillon Winfrey, who extended to haul it in at the goal line for the touchdown.
That was the second of three times in the game that Bryant went for it and wound up with a touchdown.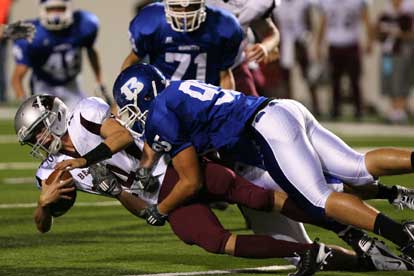 A sack of Jones by Bryant's Matt Jones helped force Benton to punt again without picking up its initial first down. Grant Jones unleashed a long punt but Dillon Winfrey came up to field the ball with a head of steam. His 39-yard return had the Hornets 29 yards from another score.
Dismuke got 27 of it then Stephen Clark dove in from the 1. A two-point conversion attempt failed and Bryant had an 18-0 lead going into the second quarter.
The Panthers drove to midfield but, on the first play of the new quarter, Ben Seale dropped Grant Jones for a loss and, a little while later, the Panthers were punting again. That's when they pinned Bryant back initially, leading to the safety.
Bryant added to the lead late in the half. Again on a fourth down, sophomore quarterback Hayden Lessenberry fired a strike to Nichols for a touchdown that had to demoralize the Panthers even further.
It was 31-2 at the half and, before Benton ran two plays on offense in the third quarter, it was 45-2.
Bryant's first possession of the second half produced a 52-yard, six-play drive that featured a run for 10 by Clark and an 11-yard burst by Jalen Bell to set up Clark's 29-yard bolt to paydirt.
Jace Denker added the extra point then kicked off to Dabney who couldn't get back to the 20.
On first down, Benton tried to set up a screen but the Hornets were ready and Chapdelaine intercepted returning to the 13. A play later, Jacob Powell broke a run to the outside and barreled into the end zone for the touchdown.
So, before the third quarter was even half over, the Hornets had increased their lead to 45-2.
With both teams beginning to bring in new players, Benton drove for its lone touchdown. An 81-yard drive that was sparked by a third-down pass from Jones to Tamario Beaugard that not only converted a third down but set up the 10-yard scoring run by Wallace Foote.
The Hornets will dedicate the new field at Bryant Stadium when they play their first game their against Fort Smith Northside on Friday.
BRYANT 45, BENTON 9
Score by quarters
Benton 0 2 7 0 — 9
BRYANT 18 25 14 0 — 45
Scoring summary
First quarter
BRYANT — Tolbert 42 run (kick failed), 9:18
BRYANT — Winfrey 17 pass from Davidson (run failed), 5:21
BRYANT — Clark 1 run (run failed), 2:08
Second quarter
BENTON — Bell tackled in the end zone by Haley for safety, 10:07
BRYANT — Nichols 95 pass from Davidson (Lowery kick), 6:34
BRYANT — Nichols 30 pass from Lessenberry (conversion failed), 2:20
Third quarter
BRYANT — Clark 29 run (Denker kick), 8:49
BRYANT — Powell 9 run (Denker kick), 6:58
BENTON — Foote 10 run (Carrigan kick), 2:51
Team stats
Benton Bryant
First downs 8 16
Rushes-yds 25-(-15) 28-204
Passing 10-21-1 11-16-0
Passing yards 95 223
Punts-avg 7-39.0 0-00.0
Fumbles-lost 2-0 3-2
Penalties-yds 6-45 11-70
INDIVIDUAL STATS
Rushing: BRYANT, Dismuke 5-52, Clark 6-50, Tolbert 1-42, J.Bell 6-33, Powell 3-30, Henson 3-0, Lessenberry 3-(-1), Smith 1-(-2); BENTON, Dabney 3-37, Foote 8-12, Beaugard 2-2, Nix 1-(-3), D.Harris 4-(-9), Jones 6-(-36).
Passing (C-A-I-Y): BRYANT, Davidson 5-7-0-143, Lessenberry 6-9-0-80; BENTON, Jones 8-18-1-90, D.Harris 2-3-0-5.
Receiving: BRYANT, Elmore 4-52, Daniel 3-26, Nichols 2-125, Winfrey 2-22; BENTON, Beaugard 3-61, Curtis 3-8, Foote 2-14, Nix 1-11, Balisterri 1-1.