Photo by Rick Nation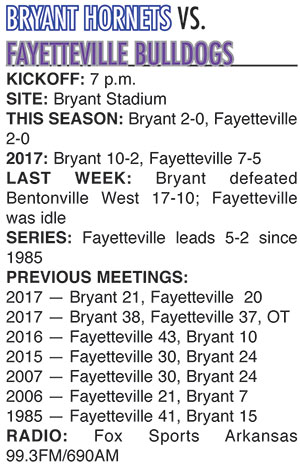 To view the Fidelity Local 6 live stream of tonight's game at Bryant Stadium, go here
"A win's a win. I'm the kind of guy, you know, I like to win. And I know our kids do," stated Bryant Hornets football coach Buck James after his team's 17-10 victory at Bentonville West last Friday. "But, it's kind of like holding hands with your sister, you know? You love her and everything but that's not what you went to the movie for."
James was expecting, well, more; particularly from his offense. He wasn't spare in his praise for Bentonville West, which fought hard despite going without three major playmakers.
The Hornets got by and are now 2-0 but this is the first week in which things have gone normally. There was all the build-up to the opener in the Salt Bowl against the rival Benton Panthers three weeks ago. Then the craziness that ensued at the game, which was called off three minutes into the second half over an imagined threat.
Then there was an idle week, an open date thanks to the new "zero week" scheduling. Game week with Bentonville West followed and, admittedly there was a little rust to knock off. The Hornets were well-prepared but had experienced only a little over a half of playing against a hostile opponent. Then there was the long journey to Bentonville.
No excuses. They just weren't as sharp at Bentonville West.
So, this is the first week of a regular-season routine. And it's leading into one of the premier games of the season as the undefeated Fayetteville Bulldogs come to town for Bryant's first game on the home turf.
The Bulldogs, after outscoring St. John Vianney of St. Louis, 51-28, and Oklahoma powerhouse Owasso, 45-31, took their bye week last Friday. So, they've had two weeks to get ready for Bryant.
Understandable. The Hornets made their series with Fayetteville into a rivalry last year by twice edging the Bulldogs by one point. In the second week last fall, the two teams met in Fayetteville and Bryant rallied in the second half and won in overtime, 38-37, when a two-point conversion pass by the Bulldogs was deflected and intercepted by Bryant linebacker Jake Wright.
Then, in week two of the playoffs, Fayetteville came to Bryant and built a 20-0 halftime lead only to have the Hornets rally to win, 21-20, with the winning touchdown (and extra point) coming in the final minute of regulation.
That game ended Fayetteville's season.
No doubt, the Bulldogs remember.
Fayetteville returns three players that started on offense in the playoff game against Bryant last year. They are primary players: Quarterback Darius Bowers, who threw for 257 yards and ran for 102 more against the Hornets, his favorite receiver in that game, Connor Flannigan (8 receptions, 73 yards) and blind-side tackle Cameron Ervin.
So, new this year are their running backs, three of four receivers and four of the five offensive linemen.
Defensively, the Dogs return three of their four defensive line that started that playoff game, led by Keondre Conley and Coleman Johnson. Two linebackers return in Carsten Johnson and Tryndyn Meadows. But the secondary is new.
That sounds a lot like the Bryant defense. A new secondary, except for corner Andrew Hayes, who probably won't start due to an ankle injury, and a stout from seven led by linemen Kajuan Robinson, Nate Wallace and Josh Salguerio. Wright's back at linebacker along with Catrell Wallace, who played defensive end last season.
Offensively, the Hornets return their all-State quarterback/running back duo of Ren Hefley and Latavion Scott and a trio of linemen Logan Burton, Blaise Smith and Clay McElyea.
Looks even, doesn't it?
Bryant had never beaten Fayetteville in five meetings before last year. But it's been a hotly contested rivalry, mostly in the playoffs in recent years.
James expressed his hope that his defense can continue to play well and that his offense can start to find some rhythm, something closer to what the team started to put together in the second quarter of the abbreviated Salt Bowl than what they were able to do at Bentonville West.