By Rob Patrick
Photos by Kevin Nagle
A block or a charge?[more]
It's the toughest call in basketball. Was the defender set when the collision occurred or was he still moving?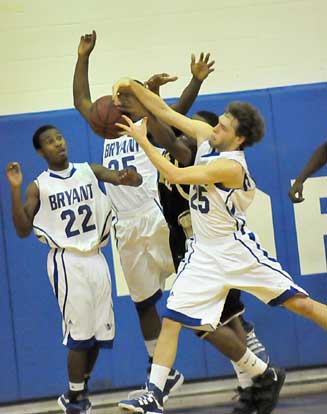 Certainly, as Bryant girls coach Blake Condley once said, we folks in Bryant tend to see things with royal blue-tinted glasses, but . . .
The Hornets were trailing the Little Rock Central Tigers in overtime, 52-50. The Tigers were inbounding the ball on the side near midcourt. The pass in was deflected and Bryant's 6-7 junior Quinton Motto latched onto it and drove toward the basket as Central's Rayshawn Griffin tried to get back to cover the Hornets' Kyle Nossaman who was closer to the bucket.
With Nossaman covered, Motto took it to the rack. There was a collision with Griffin as Motto banked in a shot. It looked like, with :23.7 left in overtime, Motto had just tied the game and was going to have a chance for a three-point play that would give Bryant the lead. Griffin, it appeared, was still moving around Nossaman and up under Motto as he leaped to attempt his shot.
But that's not the way the official saw it.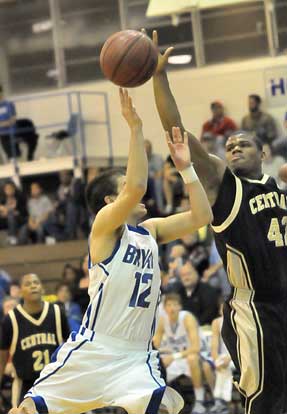 It was ruled a charge, much to the consternation of the big gathering of Bryant fans and the Hornet bench. The basket was waved off and Motto became the third Hornets player to foul out.
On the subsequent inbounds pass, the Hornets immediately fouled Kaunbra Pride who had missed four previous free throw attempts. And, with :22.6 showing, he missed two more, giving Bryant one last chance. After a timeout, with :14.4 to go, the Hornets struggled to get an open look. Finally, senior Houston Garner lofted a 3-point try in an attempt to win it.
The shot rimmed out, however, and Central held on for the win, dashing the Hornets' hopes of making the Class 7A State Tournament, ending their season and the high school careers of Garner and Nossaman. West Memphis, despite a loss at Little Rock Parkview, gains the final slot at State. Ironically, the Hornets had visited West Memphis in a pre-season game, losing 47-38 in a game that was closer than the final indicates.
Bryant's first-year head coach Mike Abrahamson would not comment on that critical call but he praised his players, particularly his seniors.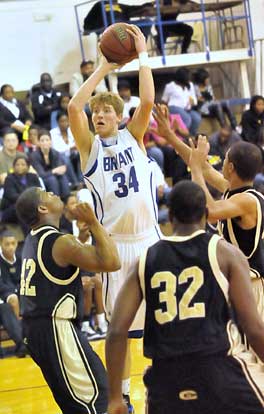 "I love these kids," he said. "I'm so proud of them. Kyle Nossaman and Houston Garner are two of the highest character people I've ever been around of any age. I'm the adult. I'm supposed to be the role model. They have been role models for me. They are amazing people. I wish we could've done more for them. I wish we could've won more games, wish we could've made it to the State tournament for them. They have been incredible leaders. They bought into what I was trying to do from day one. Their attitude and their approach to practice every day and games and academics and just being a model citizen has rubbed off on everybody else. And there are things that they have done that are probably irreplaceable. I'm going to miss them."
In a rugged game, 54 fouls were called and it wasn't enough. It was a physical battle for Bryant's guards in particular as the Tigers pressed and trapped, pushed, slapped, grabbed and bodied up. Bryant played a lot of half-court zone, yet was cited for exactly half of those 54 infractions.
The Hornets had the upper hand early but at the end of regulation had to overcome a deficit of as much as 42-35 with :55.5 to go.
A three-point play by Brantley Cozart, who led all scorers with 23 points, whittled the margin with :47.1 to go. After Griffin hit a free throw, Hornets sophomore Leon Neale came up empty on two attempts at the line. But, moments later, so did Central's Chukwukere Ekeh.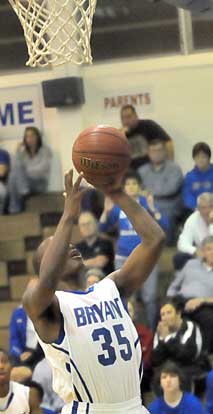 With :19.2 showing, Cozart produced another three-point play on a drive to the rack, trimming the margin to 43-40.
The Hornets fouled Central freshman Anthony Black on the subsequent inbounds pass. Black, who took over at point guard after starter Tre'von Wilkerson fouled out, wound up leading his team in scoring with 18 points. He made one free throw to make it a 4-point lead only to have Wilson bury a 3 with :10.7 showing to make it a one-point game.
The Hornets got a quick timeout, then fouled Pride with :07.7 to go. Pride missed both but the carom off the second miss was tipped around and ultimately collected by Griffin. The Tigers called a timeout with :06.2 showing.
On the inbounds play, the ball got loose and the Hornets came tantalizingly close to recovering only to lose it out of bounds. Central got in back in and with :04.3 on the clock, fouled Black. His free throws made it 46-43.
The Hornets inbounded to Cozart, who pushed the ball up the court, reached the 3-point line to the right of the top of the key and launched a shot that banked in to tie the game at the buzzer, sending it to overtime.
Uncharacteristically, Bryant struggled at the free-throw line in the game, going 12 of 22, perhaps showing the fatigue of four games in five days. Cozart made one of two to start the scoring in overtime and, after Black hit a floating jumper over Motto, hit one of two again, tying it at 48.
Ekeh missed for the Tigers and the Hornets gained possession. Fighting off physical defensive pressure bringing the ball upcourt, Cozart appeared to be fouled but, instead, was hit with a foul for pushing the defender off of him.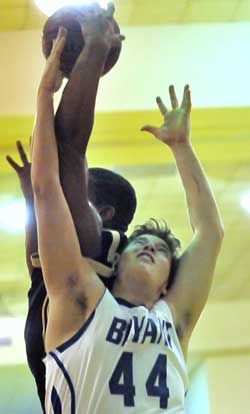 Black cashed in with a driving jumper to give the Tigers a 50-48 lead with 1:23 left in overtime.
After a Bryant miss, Black got behind the Hornets' press for a layup and a four-point lead.
Cozart was fouled at the 1:16 mark and converted both free throws to make it 52-50. Pride was fouled with :45.7 to go and missed both shots. Hornets' sophomore Strodney Davis, pressed into duty because Griffin and Wilson had fouled out, couldn't get a contested shot to go from 5-feet but, moments later, Motto made the steal and drive that resulted in the game-turning play.
"I'm very, very proud of the effort," Abrahamson said after an emotional post-game meeting with his players. "We played really well in the first half. We missed a couple of free throws, front ends of one-and-ones that could've extended the lead. The second half, Central played a lot better but my kids were still playing really hard.
"Central's pressure, coupled with our foul trouble, was a bad combination for us," he continued. "We could never get Jordan Griffin going. He really had a big game against them at their place (in a 60-44 Bryant win). He's in foul trouble and he doesn't play a lot of minutes because of it. He's been there for us all year long. He's been our rock. He's been so consistent and reliable every game.
"But we hung in there. Even when he fouled out, we fought back and fought back. I'm really proud of the guys. Foul trouble really hurts. We've got a lot of young guys coming off the bench that, next year, are going to be, I hope, really good and help us a lot. But we need Jordan in there. We need Brantley in there. And we need Quinton to play well."
In his limited time, Griffin was held to 4 points. His first field goal was part of Bryant's game-opening 7-0 run. Garner had a layup, Motto banked in a jumper off a nice dish from Cozart and, after Jordan Griffin hit on his drive into the lane, Motto added a free throw.
Central's first points came with 2:54 left in the first quarter when Wilkerson hit a 15-footer. Motto answered to make it 9-2. Rao Felder, who finished with 11 points in the game, made it 9-4 going into the second quarter.
With the Hornets leading 9-6, Wilson hit a 3 to start another push. Cozart converted a pair of free throws and, after a Tigers turnover, nailed a 3 to make it 17-6. A basket inside by Zach Cambron gave the Hornets a 13-point advantage before Felder scored again.
It was 19-10 at the half as the Hornets failed to score in the final 2:55. It was during that stretch that they missed on the front end of two one-and-one opportunities.
Jordan Griffin scored to start the second half and, after Central's Griffin hit his team's first 3 of the night, Cambron scored an easy layup when the official gave the Hornets the ball out of a timeout when the Tigers were slow coming out to the floor.
Central started hitting shots at that point, going on a 16-3 run that gave them their first lead, 29-26. Cozart hit a free throw with :09 left in the quarter and, on the missed second shot, Garner rebounded. He got the ball back to Cozart who returned it to him. On a nifty pass, Garner found Eric Moore alone under the basket for a layup at the buzzer that had it tied at 29.
It was tied at 33 when the Tigers began to make the push that produced the 42-35 lead in the final minute, which the Hornets were incredibly able to overcome to get the game to overtime.
The Hornets finished their star-crossed campaign at 7-20 overall, 3-11 in the 7A/6A-Central Conference.
After the game, Abrahamson pondered the future.
"The kids I have coming back play very hard," he stated. "We're going to try to get better. I don't think that our record is what I'm going to remember from this year. It's going to be the daily grind. I enjoyed every day showing up with these kids. They're just incredible people."
LITTLE ROCK CENTRAL 52, BRYANT 50, OT
Score by quarters
LR Central 4 6 19 17 6 — 52
BRYANT 9 10 10 17 4 — 50
LITTLE ROCK CENTRAL (4-21, 3-11) 52
Player fg-fga ft-fta reb fls pts
o-d-t
Wilkerson 2-8 2-2 0-2 2 5 6
R.Griffiin 2-5 2-4 1-1 2 1 8
Nichols 0-2 0-0 0-0 0 5 0
Pride 2-5 0-6 2-1 3 2 4
Wilborn 2-4 1-4 1-8 9 5 5
Felder 4-7 3-4 4-5 9 4 11
Black 5-8 7-10 1-5 6 3 18
Ekeh 0-1 0-2 0-0 0 2 0
Team 3-3 6
Totals 17-41 15-32 12-25 37 27 52
BRYANT (7-20, 3-11) 50
Player fg-fga ft-fta reb fls pts
o-d-t
J.Griffin 2-4 0-0 1-0 1 5 4
Cozart 5-10 11-18 1-1 2 3 23
Nossaman 0-0 0-0 0-1 1 4 0
Garner 2-4 0-0 1-8 9 1 4
Motto 2-7 1-2 2-4 6 5 5
Wilson 2-9 0-0 1-2 3 5 6
Cambron 2-4 0-0 0-2 2 2 4
Trudell 0-0 0-0 0-0 0 1 0
Moore 2-3 0-0 0-1 1 1 4
Neale 0-0 0-2 0-0 0 0 0
Davis 0-1 0-0 0-0 0 0 0
Team 2-4 6
Totals 17-42 12-22 8-23 31 27 50
Three-point field goals: Bryant 4-16 (Wilson 2-8, Cozart 2-5, Garner 0-2, J.Griffin 0-1), Little Rock Central 3-18 (R.Griffin 2-5, Black 1-4, Wilkerson 0-5, Nichols 0-2, Felder 0-2). Turnovers: Bryant 19, Little Rock Central 16.