For more photos of this event by Rick Nation, go here; photos also by Andrew Schrader
Four years ago, to the day, the Bryant Hornets went to Springdale and came away with a 23-16 win over the Har-Ber Wildcats to advance to the semifinals of the 7A State playoffs for the very first time in the history of the program.
They've played in every semifinal round since then, and they'll do so again in 2020 after a 48-22 thumping of the Wildcats, this time on Everett Field at Hornet Stadium.
Of course, the Hornets went on to win State championships in 2018 and 2019. They're going for three in a row and their next step is against Central Conference rival Conway on the Friday after Thanksgiving. Conway advanced with a 49-14 win over Little Rock Central.
It's an all-Central final four for the first time in a long time. On the other side of the bracket, it'll be North Little Rock, which dismissed Little Rock Catholic, 34-7, playing against Cabot, which pulled a big upset with a 38-34 win over previously unbeaten Bentonville, champions of the 7A-West.
The winners next Friday will advance to the championship game and if Bryant and North Little Rock win, it'll be the third year in a row they've met in the finals.
The Hornets, who notched their 28th win in a row, raced out to a 21-0 lead by the end of the first quarter and led 35-7 before a touchdown by Har-Ber with 10 seconds left in the half, made it a 21-point game again.
The win was highlighted by senior wide receiver Hayden Schrader's four touchdown receptions which tied a record set in 2003 by Zach Cardinal against Catholic. Schrader caught 10 passes for 200 yards, which gave him 1,208 on the season, breaking the school record of 1,180 yards in receptions set by Cardinal in 2003.
Senior quarterback Austin Ledbetter, who has set a few records as well this season and in his career at Bryant, completed 21 of 28 passes for 336 yards and five touchdowns. Most of that in the first half.
The Hornets amassed 502 yards of total offense.
Always seeking perfection, Bryant head coach Buck James said, "I thought we played well for about the first quarter and a half. Then, I thought we lost our edge a little bit towards the end of the first half.
"But we came back out in the second half and played pretty good," he acknowledged. "We just had mental lapses. I think we lose our focus. It gets too easy or whatever and we get penalties. We get sloppy and we get behind the sticks.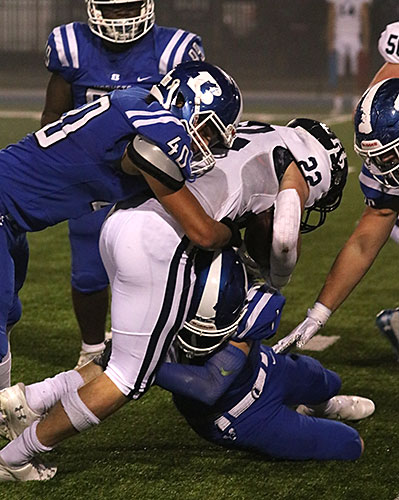 "We just made some mistakes," the coach asserted. "We've got to clean that up. We've got to be sharper. It's got to mean more to us. If we have to score every time, let's score every time. If we have to stop them every time, we've got to stop them every time. That's sort of got to be our mentality.
"It wasn't tonight," he said. "It didn't seem that way. It seems like we always lose our focus a little bit. We quit tackling well or we let guys get behind us or whatever the case may be. We have a hard time lining up and getting where we're supposed to be and doing what we're supposed to do. A lot of that is focus."
But, Coach, it was 48-22.
"I can't kick that horse too much," he acknowledged. "I mean, we really dominated the football game for the most part and we made (Har-Ber) one-dimensional. They were willing to run the ball up in there and we had to put our nose in there and get some of it. Sometimes we did and sometimes we didn't. When we didn't, we paid for it."
The Wildcats rushed for 182 yards on 40 snaps and passed for 104 yards as senior quarterback Noah Livingston completed 9 of 28 passes.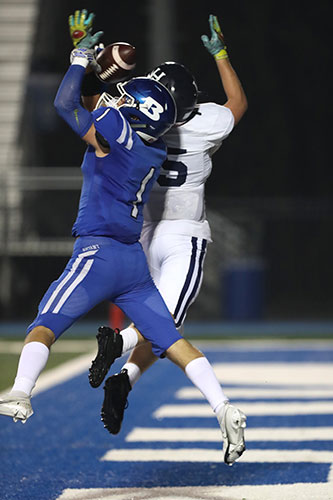 "Really, they had about three big plays," James said. "They threw up a 50-50 ball and caught that."
That was Har-Ber's final touchdown, a 12-yard completion from Livingston to Peyton McKee. The duo combined on a two-point conversion that had the Wildcats down 42-22 with 5:08 left in the game.
"A win's a win this time of year," James noted. "The things we did wrong, we can fix. We've got to be more stingy on defense and we've got to be more hungry on offense."
Bryant took the opening kickoff then drove from its own 19 in 10 plays to paydirt. Schrader's first TD pass covered 27 yards.
Har-Ber went three-and-out and punted the Hornets back to their 28. Jamarian Bracey started the subsequent drive with a 16-yard burst. A 35-yard completion from Ledbetter to River Gregory set up Ledbetter's 12-yard TD strike to Cory Nichols.
Another three-and-out led to another touchdown on a 43-yard throw from Ledbetter to Schrader. It came after a 44-yard touchdown pass to Tanner Anderson was negated by a holding penalty.
Stephen Fuller, who had all Bryant's kicking duties after senior Brock Funk tweaked his back after the first PAT, was good on five of six extra points.
Har-Ber answered with a TD drive of its own thanks in part to a pass interference penalty that converted a fourth-and-8. The Wildcats got on the board moments later on a 30-yard run by Lane Reiter.
In six plays, the Hornets answered. Schrader caught three passes during the drive including the TD toss from 12-yards out.
Har-Ber drove to the Bryant 46 but a holding penalty undermined their threat. The Wildcats faced a fourth-and-4 at the Bryant 48 and Livingston missed on a deep throw.
The Hornets took over and, after a 5-yard pass from Ledbetter to Anderson, Schrader got free down the seam and Ledbetter put the pass on him for a 47-yard touchdown.
That was the fifth consecutive possession that resulted in a touchdown for the Hornets.
After the teams traded punts, Har-Ber drove for a score in the final seconds of the half, a 30-yard pass from Livingston to Ethan Fender.
Another pass interference penalty helped the Wildcats on the opening possession of the second half. But, later, a hold put them in a tough spot, and they were ultimately unable to convert a fourth-and-4.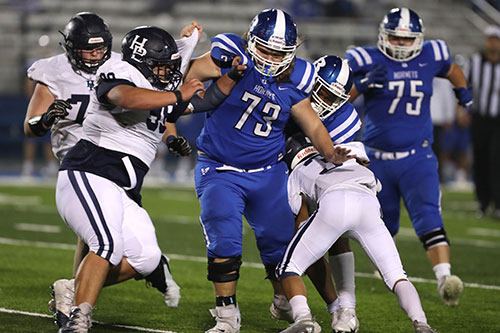 A hold and a third-down sack brought Noah Davis in to punt.
Late in the period, Bracey capped a 52-yard drive with a 5-yard scoring burst and, with Fuller's kick, it was 42-14.
The Hornets were on the move again as the fourth quarter started out. They reached the Har-Ber 38, but a fumble cost them. The Wildcats drove to a final score only to be answered by the Hornets, who put together a drive with all running plays. Xavier Foote found the end zone from the 10.
Bryant sophomore Jaylin Brown put the finishing touches on the win with an interception with just over a minute left in the game.