Photos by DeDe Gillespie
The Bryant Hornets swim team celebrated Senior Night honoring Dylan Rogers and Jake Tipton at[more] the Bishop Park pool on Thursday and, as a team, turned in a third-place performance after nearly a month off.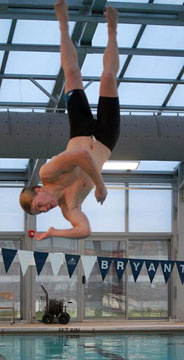 Conway took top honors with 407 points followed by North Little Rock with 388. Bryant finished with 243 with Russellville fourth at 188 followed by Arkadelphia (177), Arkansas Baptist (161), Rogers (143), Benton (67), Central Arkansas Christian (36), Pottsville (33), Little Rock Christian (22) and Lonoke (1).
The Hornets' top finish was turned in by Nick Hoffpauir who finished third in the 500 yard freestyle with a time of 6:58.72. Spencer Qualls was fifth in 7:13.61.
That duo also contributed legs to Bryant's fourth-place quartet in the 400 free relay. They were joined by Jim Dellorto and Ross Grant in turning in a 4:30.27 clocking.
Rogers added a fourth-place finish individually in the 100 butterfly, finishing in 1:02.23. He also finished fifth in the 200 individual medley with a time of 2:23.67. In the 100 fly, Dellorto was ninth in 1:22.33.
The Hornets scored well in the one-meter dive, led by Justin Combs who was fifth with a score of 108.80. Scott Mead was sixth (102.05) and Lucas Reitenger eighth (90.05).
Casey Ball, Tipton, Grant and Rogers combined on a time of 1:46.61 to finish sixth in the 100 freestyle relay while Ball, Hoffpauir, Rogers and Tipton teamed up to finish seventh in the 200 medley relay, turning in a 2:06.08.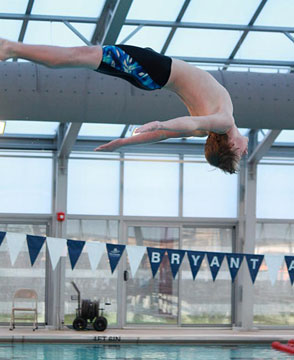 Individually, Ball was eighth in the 100 back (1:09.65) followed by Mead (12th, 1:16.83) and Austin Sanchez (16th, 1:31.20).
Tipton added a ninth-place finish in the 100 free (1:00.44) with Grant 14th (1:01.87). Grant turned in a 2:23.68 in the 200 free to pick up ninth-place points. Hoffpauir was 10th (2:29.27) and Ryan West 13th (2:44.15).
Andrew Ball also added to the Bryant point total in the 100 breast stroke. His 1:23.85 clocking was good for 14th.
The Hornets are set to return to competition on Saturday, Jan. 21, at Hendrix College in Conway.