File photo by Rick Nation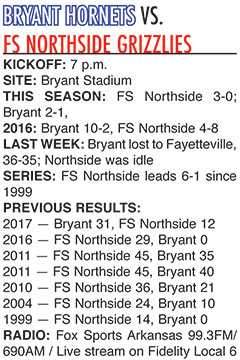 Bryant Hornets fans will tell you that, among other things, their team didn't get many breaks last week. And head coach Buck James will tell you his team didn't play very well except for about a quarter.
"Hopefully, we will learn from what we were unable to do well," the coach said. "We'll learn to take care of our own business and not ask for help at the end of a game and we will grow from it, be a better football team.
"I feel like these guys have answered the bell every time we've asked them and (our non-conference schedule) should be a catapult going into our conference season," he added.
The 36-35 loss for the Fayetteville Bulldogs ended Bryant's second season. (The Salt Bowl against Benton was a season unto itself, followed by the non-conference games.) Their third season commences tonight when the Hornets host the upstart Fort Smith Northside Grizzlies, who come in with a 3-0 record in its non-conference slate including a convincing win over perennial powerhouse Greenwood.
Northside, according to James, may be a better team than Fayetteville.
The Hornets had their hands full will the Bulldogs' senior quarterback Darius Bowers. They'll face a similar talent this week in the Grizzlies' Derrick (Deuce) Wise. His team's leading rusher, Wise is probably a better runner than Bowers and not much less of a passer.
"Ground yards are something he can gobble up," James related. "That breaks your back. We've got to stay in coverage. We've got to be disciplined. We've got to tackle well. We've got to tackle well in space. This is the kind of player that really kills defenses. He's always looking to throw but he also, in the back of his mind, knows that, if he doesn't, he can run it and even throw at the last minute. He's dangerous.
"They're a big, fast, strong, physical football team," he asserted. "Their quarterback is very explosive. They've got big offensive linemen. The defensive line might be the best in the conference outside of ours. And they've got speed.
"They're going to be a tough opponent," he emphasized. "We'll have to play well. We need to put four quarters together to win this game."
That has been the challenge for Bryant so far. They've played in spurts, particularly on offense, about a quarter a game so far. Though they didn't play the fourth quarter in the Salt Bowl, the Hornets have yet to score in the fourth quarter this season, while only mustering 7 points in the first quarter all year.
"We had seven dropped balls," James noted, regarding the passing game against Fayetteville, "and we only averaged 1.2 yards per rush. We've got to win the line of scrimmage. That's what we emphasized to our kids this week. It ain't that we can't run the football. It's that we don't run the football.
"We've got to protect the passer and we've got to keep people from being able to run on us," he added. "The line of scrimmage is something we should be able to dominate each and every game. That's the strength of our football team and it's time for those guys to step up and accept the challenge.
Northside is a traditional power, which had an off year in 2017. Still, though they were just 3-7, they made it into the Class 7A playoffs and knocked off Springdale Har-Ber, 21-9, before losing to eventual champion North Little Rock. A lot of those guys are back.
In fact, Bryant's 31-12 win over the Griz last year was the first time a Hornets team had ever beaten Northside in six previous games dating back to 1999. In 2016, James' first year as Bryant coach, Northside came to Bryant and won 29-0.
The Hornets have worked on toughening up the young receiver corps.
"We went more live this week," James related. "We hit those guys a little bit more during our pass skel so they knew somebody was coming. It's a concentration thing, watching the ball into your hands all the way to the tuck.
"We're young, inexperienced a little bit but, but no excuse," he added. "We caught the ball all summer in 7-on-7's. It's just a little bit different when somebody's out there with pads on. They've caught it in our practices and we've improved. We dropped maybe a half dozen balls all week.
"I feel like the guys are going to step up. They're going to concentrate at a higher level and they're going to play at a higher level."
The game is just the first in a gauntlet that is the 7A-Central Conference. The league enters play with a composite non-conference record of 19-4.
"We're in for a battle," James acknowledged. "This league is stacked. It's going to be an opportunity for somebody, whoever comes out of this, to have a chance to win a State championship. We've got to play well. We've got to play well on the road. Our football team has got to accept the challenge to being the hunted. It's a lot different. You know, I think people would do a lot less deer hunting if the deer could shoot back. That's kind of what we're in.
"Everybody's geared up for the Bryant Hornets," the coach concluded. "So, we get everybody's best shot. It's an opportunity for us to go out there and shine and play good football.