By Rob Patrick
Though it's not as big a senior group as expected, the Bryant Hornets soccer team returns six upper classmen, giving new head coach Jason Hay reason to believe the team can make a run at returning to the State tournament after missing out last spring.
Hay welcomes back defenders Tim Ezel, Aaron Prewitt and Seth Howerton, forward Marvin Lopez and goalkeeper Michael Stout as the team prepares to open the 2009 season on Tuesday, Feb 17, at Little Rock Episcopal Academy.
"Four or five other guys that would've been starters are gone for a variety of reasons," Hay noted, "but those guys we have, some of them have been four-year starters, others it's at least their third year to start. So we've got some experience.
"But we're awful young other than that," he added. "We've got a good group of freshman coming in and we expect about five of them to see significant playing time."[more]
A couple of move-ins will help too. "Jared Umland is a senior that's going to be able to help us," Hay related. "Tyler Salminen is a junior and he's going to be one of our starting defenders with those three returning guys.
"It's a different look. We've got that core of guys that are back but we've got several new faces this year that are going to play," he added.
Getting them to mesh, to perform as a team, will be a primary goal early in the season.
"And getting these young guys — you know, they're not used to playing in the (Class) 7A," Hay said. "There's a big difference between playing club ball and playing in the 7A, playing probably the toughest conference (the 7A-Central) in the state. Four of the last five state champions have come out of this league. So, I think the speed of the game for those younger guys and how they mesh with the older guys. Soccer's about communicating and knowing what the player next to you is doing in advance, without having to think about it, just react. That will be a big deal for us."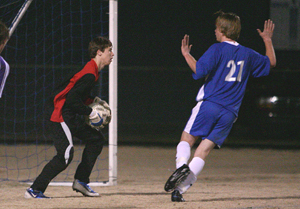 Joining Lopez at forward will be junior Johnathon Lowery, said the coach. On the left wing will be sophomore Reed Evans with Umland on the other side, with junior Marshwan Hood rotating in at either spot. Midfielders will be freshmen Pete Alverio and Alex Rowland with Forrest Fowler. It also helps to have the starter in goal returning in junior Devin Norris.
The varsity team also includes freshmen Caleb Lambert, Jesse Wolf, Ryan Watson, Alec Salminen, Brenden Guffey and Jace Denker. The JV squad includes junior Christian Lira, sophomores Michael Ma, Fidel Vilanueva and Austin Kimbrough, and freshmen Oscar Rodriquez and Victor Rodarte.
Regarding the first week of the season, Hay said, "I just want to look and see how we compete. Last year, they didn't have a very good year but the program has had success in the past. We're going to try to see if we can learn to win again."
Hay is being assisted this season by Bob Williams, who was instrumental in developing the BHS program when it began.
"He's been a real help to me," Hay said. "And he's done a real good job with the kids."
BRYANT HORNETS
2009 soccer schedule
Feb. 17 — at LR Episcopal Collegiate
Feb. 19 — at Jacksonville
Feb. 20-21 — at Paragould Invitational
Feb. 26 — at LR Catholic*
Mar. 3 — Van Buren*
Mar. 5 — at Russellville*
Mar. 10 — at Conway*
Mar. 12 — at Cabot*
Mar. 17 — North Little Rock*
Mar. 19 — at LR Central*
Mar. 31 — LR Catholic*
Apr. 2 — at Van Buren*
Apr. 7 — Russellville*
Apr. 9 — Conway*
Apr. 11 — NEA Invitational Tournament
Apr. 14 — Cabot*
Apr. 16 — at North Little Rock*
Apr. 21 — LR Central*
Apr. 25-May 2 — Class 7A State Tournament, TBA
*7A-Central Conference games