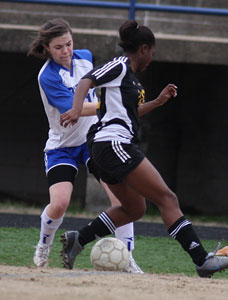 By Rob Patrick
The Bryant Lady Hornets soccer team will be seeking their fourth consecutive trip to post-season play under head coach Doug Maxwell when they open the 2009 season at Jacksonville, Maxwell's alma mater, on Thursday, Feb. 19. The junior varsity squad opens Tuesday, Feb. 17, at Little Rock Episcopal.
Some key players are returning, Maxwell noted.
"Megan Childress is returning in goal for me," he stated. "I'm glad to have her back.
"Amber Moskow will be playing back on top for us after spending some time wide for us last year, a little bit up top," Maxwell continued. "We also have Emily Smith returning as a defender. Sarah Manning was another starter who's back. Those were the girls that we full-time starters. Erica Selig started for us some last year. She'll help us out in the middle. She'll actually be playing right side for us this year."
The coach also mentioned Shelby Bryant, who saw some playing time last year, along with Serenity Gomez who started the last part of the season in 2008.
"Once basketball's over, we'll have Haley Montgomery back as well as Tara Hendricks," Maxwell noted. Montgomery, a junior, was an all-State performer last season.
"We also have a lot of new faces this year," he continued. "A lot of young faces. But we're excited. The talent-level is up for us. We're going to be competitive this year. We want to be in it each game, that's one of our goals. It's a good group that's working hard not only on the practice field but in the weight room as well. We've gotten a lot stronger. We're working on quickness and this team is very close."[more]
The 7A-Central Conference is a physical league, Maxwell acknowledged, and the Lady Hornets have been pushed around at times in the past.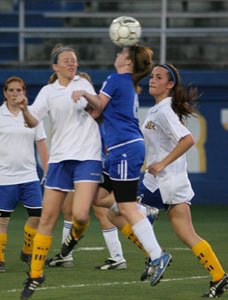 "Our soccer ability's improved over the years but our strength level hasn't always been there," he said. "But this group has really dedicated a lot of time every day to getting in the weight room and getting stronger. I think it's going to pay dividends for us in the future."
To start the season, the Lady Hornets will deploy on the defensive end with some combination of Gomez, Smith, freshman Grace Oxley, Jessica Baugh with, at times, Manning.
Manning will mostly be in a midfield spot with Selig, Bryant, Lauren Reed, Katie Moore and Maggie Hart.
"Up top, right now we're looking at Lindsai Arceneaux who's a transfer junior and an exciting player," Maxwell continued, "with Amber Moskow.
"Really, this is the first year in a while we've got depth at every position," he mentioned. "And it's not just one player. I can go two or three on my bench at just about every position and still not have a big drop in skill level or in intensity or ability."
The team also includes Madison Land, Allison Woodward, Elizabeth White, Laura Shuler, Lindsey Walker, Tori Lewis, Sarah Cockerham, Lauren Boyer, Taylor Brooks and Lyndsay Brazil. The JV team will also include Amelia Humphrey, Nicole Morales, Tessa Rckling, Arlene Morales, and Kaitlin Miller.
Following the match at Jacksonville, the Lady Hornets will open conference play on the road on Thursday, Feb. 26, against one of the perennial powers of the league, Mount St. Mary's.
"That'll be a true test," Maxwell noted. "That one's definitely marked on the calendar to find out what we're made of. The next day, we go to Paragould for a tournament. So we've got a couple of games early and hopefully we can get some wins under our belt and build some confidence."
BRYANT LADY HORNETS
2009 soccer schedule
Feb. 19 — at Jacksonville
Feb. 26 — at Mount St. Mary's*
Feb. 27-28 — at Paragould Invitational
Mar. 3 — Van Buren*
Mar. 5 — at Russellville*
Mar. 10 — at Conway*
Mar. 12 — at Cabot*
Mar. 17 — North Little Rock*
Mar. 19 — at LR Central*
Mar. 31 — Mount St. Mary's*
Apr. 2 — at Van Buren*
Apr. 7 — Russellville*
Apr. 9 — Conway*
Apr. 11 — NEA Invitational Tournament
Apr. 14 — Cabot*
Apr. 16 — at North Little Rock*
Apr. 21 — LR Central*
Apr. 25-May 2 — Class 7A State Tournament, TBA
*7A-Central Conference games