Hornets overcome Central's early barrage, extract 12-8 win
EDITOR'S NOTE: Because the look back at each day in Bryant athletic history has been so favorably received during the time when there was no sports during the COVID-19 shutdown, BryantDaily.com will continue posting past stories of Bryant athletics either posted on BryantDaily.com (from 2009 to the present) or published in the Bryant Times (from 1998 to 2008).
For more photos of this event by Kevin Nagle, go here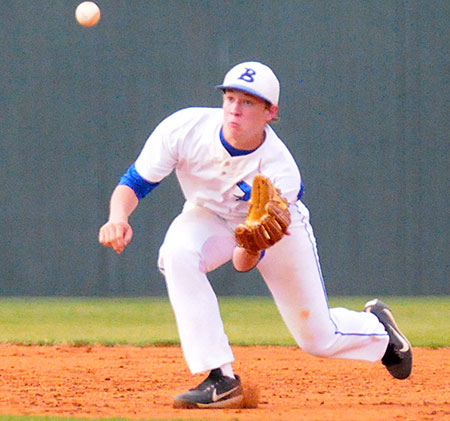 Through three-and-a-half innings Monday night at Bryant High School Field, the Little Rock Central Tigers, 0-2 in the 7A-Central Conference, had built an 8-4 lead over the Bryant Hornets, 2-0 in the 7A-Central.
The Tigers had pounded out 12 hits in those four innings against a trio of Hornets' pitchers, who had all be stingy and stellar this season.
But with their fourth pitcher, freshman Austin Ledbetter, putting a stop to the Tigers' scoring over the final 3 1/3, the Hornets chipped away and, capped by a five-run bottom of the sixth, rallied for a 12-8 victory.
Gage Stark came through with a two-run single that put the Hornets on top in the sixth and Myers Buck capped the scoring with a two-run double.
"I tip my cap — I told (Central) Coach (Rusty) Passini, that was impressive," said Hornets head coach Travis Queck of the early barrage by the Tigers. "They earned everything they got and that was very impressive.
"They got us out of our game and we had to savor every out," he added. "We kind of went to an approach where we made them throw strikes, to get as many base-runners as we could get and see if we couldn't dink and dunk."
Indeed, the Hornets picked up a pair of runs in the bottom of the fourth, cut the margin to 8-7 with another tally in the fifth then exploded in the home sixth.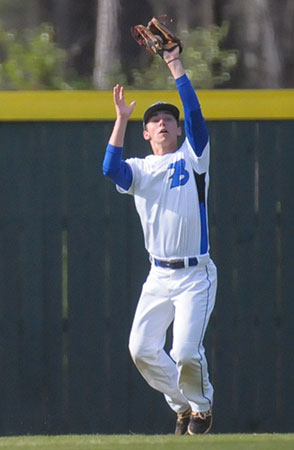 Central ended up with 14 hits including three each by Paden Chrisman and Mason Gresham. The top five in the Tigers' batting order wound up 12 of 18 at the plate in the game. But Ledbetter, who had a nightmare outing in a loss to Conway on Friday, bounced back nicely, allowing just two hits and striking out five without a walk to earn the victory in relief.
"I was worried about the short rest," Queck said of his first two pitchers, Scott Schmidt and Coby Greiner who had each won conference games before spring break last week. Both had pitched in the Central Arkansas Invitational Tournament on Thursday. It became an issue when the game with Central was moved to Monday from Tuesday due to the threat of rain.
"I knew Scott and Coby had never really done that, off the number of pitches that they threw," the coach explained. "So, I was hesitant about moving this game up from Tuesday to Monday. But I also knew the back end of it wasn't going to be good either."
With a rain out on Tuesday, Queck may have been looking at playing Central along with league powers Cabot (the defending State champion) and North Little Rock next week. They hope to get in Thursday's game against Fort Smith Southside as well.
"I'm glad we got the win," he said, "glad we fought back but, you know, it was scary at times."
The Hornets finished with 11 hits to take advantage of 12 walks and a hit batsman. Still, they stranded 11. Greiner, Buck and Logan Chambers each had two hits in the game.
Regarding Ledbetter's positive work on the mound, Queck said, "It was good. We wanted to see him back on the bump today, get him back out there and kind of get that (bad outing) flushed out of his system. He wasn't clean at all times, but he fought and found his way. What we've got to do is keep working it and cleaning it up a little bit and things will be good. But this was good for his confidence."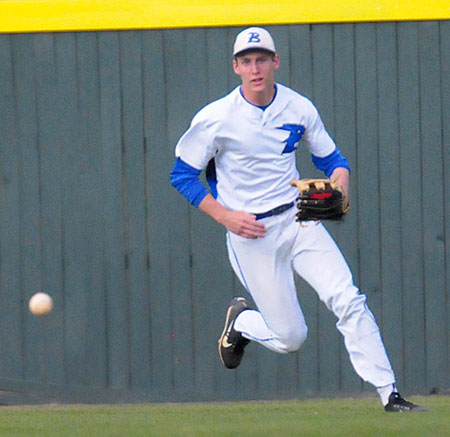 The Tigers came out swinging, cracking four consecutive hits to start the game including an RBI triple by Javii Goins Jr. It was 2-0 with runners at first and third and no one out when Joey McCracken hit a bouncer to Ledbetter at third. He threw home in time to retire Chrisman who had singled in Goins Jr.
Garrett Hatfield followed with a drive that Buck flagged down in left-center. With a strong throw to Logan Catton at second, he doubled up Peyton Perry, the courtesy runner for Gresham, to end the uprising.
And the Hornets came right back in the bottom of the inning to take the lead. Chambers singled and was sacrificed to second by Greiner. But he remained there with two out. That's when Jake Wright drove one to the wall in left-center for an RBI triple.
After Matthew Sandidge drew a walk, he followed courtesy runner K.J. Merriweather home when Ledbetter's single to left was misplayed, making it 3-2.
Greiner relieved in the second and worked the only 1-2-3 inning of the night. In the home second, though Buck walked, he was doubled off first when Chambers hit a rocket right to Chrisman, the first baseman, who made the catch and took one step to double off Buck.
The top of the Central order went back to work in the top of the third. C.J. Price singled, Goins Jr., drew a walk then Chrisman yanked a single to right again to load the bases. Gresham lashed a two-run single to left then McCracken pulled a hit inside the bag at third to make it 5-3.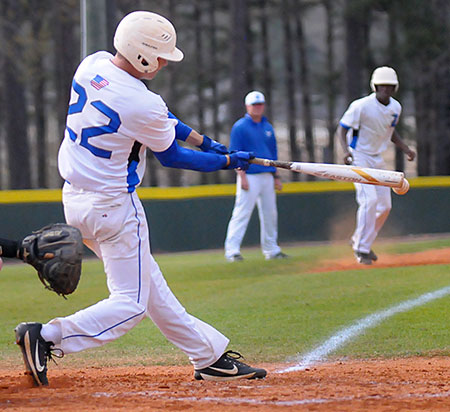 Hatfield's knock brought in Perry and a new pitcher. Peyton Dillon relieved. Though he balked to allow McCracken to score the fifth run of the inning, Dillon got out of the inning with Central ahead 7-3.
Central's starting pitcher Ty Barrett walked the bases loaded in the bottom of the fourth, bringing up Dillon with one out. He delivered a sacrifice fly to left to make it 7-4. But Barrett preserved the lead for the time being with a strikeout to end the frame.
In the top of the fourth, one-out hits by Goins Jr., and Chrisman set up Gresham's sacrifice fly, which made it a four-run game again.
McCracken singled again and that's when Ledbetter was called to the mound. He threw one pitch and retired Hatfield to keep it at 8-4.
Bryant's fourth began with Buck's bad-hop single that hit Price, the Central shortstop, in the mouth off the unexpected hop. A wild pitch sent Buck to second then Chambers ripped a single to left. And when a throw came home to keep Buck at third, Chambers hustled into second, setting the stage for Greiner's two-run knock that made it 8-6.
Though the Hornets had the potential tying runs on base and one out, Barrett was able to induce back-to-back infield pops to preserve the lead, for the moment.
Ledbetter surrendered a lead-off single to Charles Pyron in the top of the fifth but then struck out the side. The Hornets' seventh run was a result of walks by McCracken, the new Tigers pitcher, to Stark and Buck. With one out, Chambers clubbed a long drive to left that Goins Jr., kept faded back on. He got there to make the catch just in front of the wall but dropped it. Stark scored, and runners were at first and second with one out. But McCracken worked out of the jam and the game went to the sixth.
Ledbetter struck out a fourth Tiger in a row before Chrisman lined out to Greiner at short. Gresham doubled to left center, but Ledbetter came back to get McCracken to foul out to end the inning.
Bryant's uprising in the bottom of the inning began with a walk to Wright. Sandidge got a bunt down that hugged the third-base line and never went foul, resulting in a single. Ledbetter drew a walk to load the bases for Stark who shot a 2-1 pitch up the middle.
Brandon Hoover followed with a bunt that McCracken had to chase. Hoover legged out a hit and when McCracken's throw to first was wild, Logan Grant, running for Ledbetter, scored and Stark wound up at third. Hoover took second on the error.
Jacob Evans-Funk became the Tigers' third pitcher, but he was greeted by Buck who doubled in both Stark and Noah Davis, who was in running for Hoover, making it 12-8.
Chambers launched another rocket but this time Price grabbed it on the fly and tossed to second for a doubleplay.
Greiner singled, Schmidt was hit by a pitch and Wright walked again but Evans-Funk got the final out to keep it 12-8.
"I kicked myself a couple of times, giving our hottest bat a chance to drive in a run or get a big hit and he squared the ball up twice and they both ended up in doubleplays," Queck said. "Now, we've got to do a better job on the base-running aspect of it. And we've got to get that fixed. But that was two areas — I told the kids, I make as many mistakes as you do. That haunted me early in the game and that last one got us because that was the fifth run for the tiebreaker, the max amount of runs. That's what I was trying to fight for."
Nonetheless, Ledbetter closed it out with a strong top of the seventh, pitching around a one-out walk.