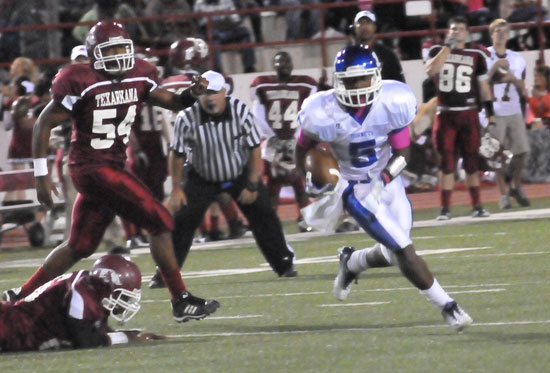 Photos by Kevin Nagle
By Rob Patrick
TEXARKANA — Usually, when it's mentioned that a football team is being carried by its tradition,[more] it's referring to one that is winning games it's not supposed to. That's been the case for the Bryant Hornets on a number of occasions over the last 10 years.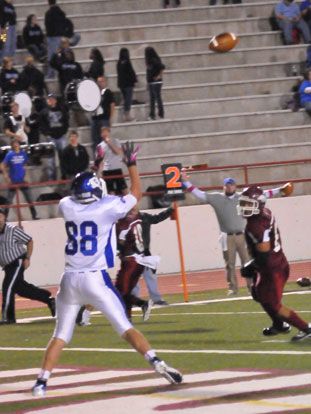 Other times, however, a team can be carried by its tradition when it comes up against an opponent that is, let's say, underwhelming — a foe that, based on its record, its ability level or maybe a lack of depth of talent, is difficult to get "up" for. The intensity level, emotional level isn't where it might be against an opponent that presents an obvious challenge.
On Friday night, two teams from the 7A/6A-South Conference met at Razorback Stadium in Texarkana. One came in vying for the lead in the conference, the other battling to get out of the league's cellar.
Two plays into the game, the former, Bryant's Hornets, found itself trailing 7-0. Then, early in the second quarter, they were still tied with the latter (the hosting Razorbacks), 14-14.
The Hornets bore down at that point and produced 35 unanswered points on the way to a 49-20 win in which the "mercy rule" was put into effect before the start of the fourth quarter.
Class 7A Bryant, in its first year back in the South Conference — a league that's otherwise full of Class 6A teams — is used to battling through the rugged Central Conference, facing a challenge every week. While there are certainly challenges in the South like Pine Bluff, Lake Hamilton and El Dorado, that doesn't make it so every week. In fact, since facing Pine Bluff on Sept. 28, the Hornets have overwhelmed three 6A level opponents with a combined regular-season record of 2-13 after the results of Friday night.
So, Bryant head coach Paul Calley was a little aggravated early in his team's game against Texarkana.
"Our guys, they know what level they're supposed to be playing at," he said. "And when they don't, it gets to that point where it's borderline embarrassing. They know they have to step up."
The coach noted, going into the game, that despite the easy wins over Little Rock J.A. Fair and Sheridan in weeks six and seven, he really didn't now where his team was in its quest to reach its full potential.
"Still don't," Calley declared after the whipping of Texarkana. "We made a lot of mistakes up front. We were just able to make plays. I mean we've got some playmakers but when you play better competition, those things are going to tell."
That better competition will build gradually as the Hornets finish off the regular season against Lake Hamilton and El Dorado, the two teams that played for the 6A State championship in 2011. Then comes the greater challenge of taking on 7A teams in the playoffs.
And despite the win over Texarkana, Bryant's bid for a third straight conference championship took a hit when Pine Bluff downed El Dorado, 21-6, on Friday. The Zebras, who rallied late to stun the Hornets, 24-21, are now the lone unbeaten team in the South Conference. El Dorado, now 4-1 in the league, is tied with the Hornets for second place. For Bryant to gain a piece of the conference title, Pine Bluff would have to be defeated by one of two second-division teams remaining on the schedule, Benton or Sheridan, while the Hornets win out, something they plan to do anyway, obviously.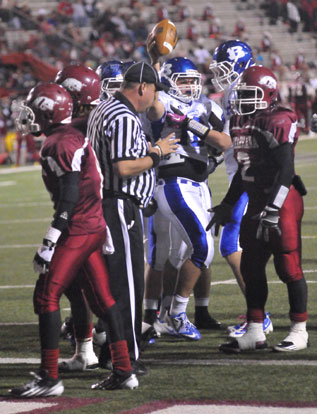 That will be important as they continue to vie for seeding position among teams it hasn't played this season. Bryant will be slotted among the teams in the 7A-West for playoff seeding, which will be determined by ratings points.
The Hornets have an outside shot at a second-place finish and a first-round bye in the playoffs but, most likely, they're battling to garner a first-round home game as a 3 or 4 seed.They'll be playing Lake Hamilton for the first time since 2001 next Friday on Senior Night.
Against Texarkana, the Hornets piled up 318 yards of offense despite not running a single offensive play in the fourth quarter. With the clock running in accordance with the mercy rule, the Razorbacks used up the quarter driving for a final touchdown, which came on a fourth-down pass play from Tomoya Davis to Brandon Jetton with around 2:45 left in the game.
The clock ran through the 2-point conversion and then continued as the two teams casually lined up for the kickoff. Texarkana held for a while before the kick so that, by the time, Brenden Young was tackled on the return, the final seconds ticked away.
Hayden Lessenberry continued his hot streak in the passing game. He was 14 of 15 for 150 yards and a touchdown. He finished the night completing 13 passes in a row. Add that to the 11 in a row he completed before coming out of the Hornets' 58-0 win over Sheridan the previous week and he's working on a 24 of 25 streak.
The senior quarterback also rushed for 50 yards on eight carries and scored twice.
"He's making good decisions and (offensive coordinator) Coach Lance Parker is putting him in a better position, I think, to make those throws," Calley stated. "And our ability to run the ball helps. We're not having to rely just on the downfield passing game."
K.J. Hill added 56 yards on 10 totes with two TDs as the Hornets finished with 168 yards on the ground.
Defensively, Bryant forced four turnovers including interceptions by Davis Nossaman, Bryce Denker, and Aaron Bell. Nossaman returned his pick for 6, taking it 87 yards. The safety finished with seven tackles in the game as well.
"He's got a nose for the football, there's no doubt," Calley acknowledged.
Sophomore cornerback Drew Tipton led the team in tackles with 10. He also broke up a pair of passes. Another sophomore, linebacker Hunter Fugitt, in for an injured Tyree Reese, finished with six stops. Denker had five including two for losses.
Tim Kelly, Austin May, Justin Hollingshead, Stoney Stevens and Ben Bruick also had tackles for losses. Kelly caused a fumble that Hollingshead recovered.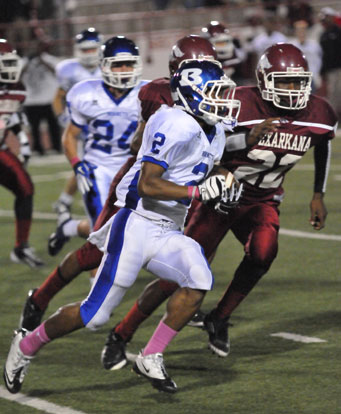 The game started in ominous fashion for the Hornets. Texarkana went 80 yards in just two plays. The first was a 36-yard pass from Dylan Silvey to Jetton, which, it appeared, Jetton either couldn't hold onto or fumbled away. The officials, however, ruled that Jetton was down and the Hogs retained possession.
On the next play, Silvey streaked 44 yards for the score.
The fumble/non-fumble would happen again later in the game and go Texarkana's way, while similar scenarios when Bryant was on offense went against the Hornets resulting in a pair of turnovers.
Bryant's first score came after Hollingshead recovered a more obvious fumble with 8:36 left in the first quarter. Lessenberry's tunnel screen to DeVonte Howard went for 22 yards, making up for a holding penalty on the previous play. A snap later, Lessenberry tossed his TD pass to tight end Nate Rutherford. Josh Lowery kicked the extra point to knot it up.
In turn, the Hornets forced a punt. Bell returned it 40 yards but the runback was negated by penalty and instead of taking over 13 yards away from a go-ahead score, the Hornets started the series at their own 36.
They scored anyway.
Brushawn Hunter's 34-yard sprint and Lessenberry's keeper for 17 stripes were the big plays in the drive. Hill covered the last 6 yards and Lowery again added the PAT. The Hornets had their first lead at 14-7.
But Texarkana responded with an 81-yard scoring drive that nearly stalled twice. But the Razorbacks converted a pair of third-down plays on passes by Silvey and, once they reached the Bryant 35, running back Andrew Bishop took it in from there.
The back-and-forth continued as the Hornets marched 86 yards in 12 plays. Lessenberry's completion streak was extended with throws to Jacob Irby, Hunter, Howard and Austin Vail. Hill contributed a 21-yard run early in the drive before capping the march from 3 yards out.
And Bryant was back up again, 21-14.
Denker sparked the defense with a perfect form tackle on Texarkana's kickoff return — shoulder into chest, back to the ground and cleats to the sky. The Razorbacks managed on first down but on a third-and-14 from their own 28, they lost it. Pressured by the Hornets' rush, Silvey tried the throw the ball away only to have Denker intercept it. He traipsed his way down the sideline before being knocked out of bounds at the 6. Hill ran it to the 2 then Lessenberry kept from there. Lowery kicked it to 28-14 with 3:13 left in the half.
Both teams threatened to score before the half was over. The Hornets, sparked by a 27-yard pass from Lessenberry to Hill, reached the 13 but, on a double-reverse, a fumbled exchange resulted in a turnover with :50 left in the half.
Texarkana used the sidelines and incomplete passes (including a couple of spikes) to drive to the Bryant 22 with :10 still to go. Jetton out-jumped a Bryant defender on a fade route that picked up most of the yardage. It was 38-yard gain. A pass from Silvey to Bishop got it to the 22 but that's as far as they would get. A toss into the end zone, intended for Jetton, was knocked down by Tipton as the half ended.
The teams traded turnovers to start the second half. On Bryant's, Hunter hauled in a pass and was smacked down. Though it looked like he was down before the ball came out, it was ruled a fumble.
But the Razorbacks gave it back on a third-down play. Silvey, under pressure again, rushed a throw that Bell stepped in front of, returning to the Texarkana 36.
And the Hornets took advantage. Set up by completions to Rutherford and Hunter, Lessenberry laced his way 11 yards for the touchdown and it was 35-14.
Texarkana had an answering drive going, reaching the Bryant 18, when Nossaman flashed in front of the intended receiver at the 13 and swivel-hipped his way through the Razorbacks then sprinting in for a touchdown with 3:44 left in the third.
It was the fourth straight week that Texarkana has given up over 40 points in a game, the fifth time overall this season.
The Bryant defense forced a three-and-out and, with good field position after the punt, the Hornets, filtering in substitutes, put the finishing touches on the victory. Sophomore quarterback Brandan Warner completed all three of his passes on the drive, hitting Devon Sears for 12 yards and Howard twice including the TD play from 5 yards out with :06 left in the quarter. Young contributed 23 yards on three rushes along the way and sophomore Alex Denker tacked on the extra point.
Texarkana's final scoring drive was aided by a 15-yard penalty against the Hornets on a play in which safety Jalen Peterson was blind-sided. A couple of Hornets took exception and the resulting penalty helped make up for a 15-yard loss on a tackle by linebacker Johnny Austin a play before the penalty.
The win improved the Hornets to 6-2 on the season. Texarkana fell to 1-7.
BRYANT 49, TEXARKANA 20
Score by quarters
BRYANT 14 14 21 0 — 49
Texarkana 7 7 0 6 — 20
SCORING SUMMARY
First quarter
TEXARKANA — Silvey 44 run (Luther kick), 11:28
BRYANT — Rutherford 7 pass from Lessenberry (Lowery kick), 6:55
BRYANT — Hill 6 run (Lowery kick), 2:17
Second quarter
TEXARKANA — Bishop 35 run (Luther kick), 11:09
BRYANT — Hill 3 run (Lowery kick), 5:57
BRYANT — Lessenberry 2 run (Lowery kick), 3:13
Third quarter
BRYANT — Lessenberry 11 run (Lowery kick), 7:13
BRYANT — Nossaman 87 interception return (Lowery kick), 3:44
BRYANT — Howard 5 pass from Warner (A.Denker kick), 0:06
Fourth quarter
TEXARKANA — Jetton 18 pass from Davis (kick failed), 2:48
Team stats
BRYANT Texarkana
First downs 20 18
Rushes-yds 27-168 30-175
Passing 17-18-0 13-29-3
Passing yds 171 201
Punts-avg. 1-48.0 3-34.3
Fumbles-lost 3-2 3-1
Penalties-yds 8-63 4-25
INDIVIDUAL STATS
Rushing: BRYANT, Hill 10-56, Lessenberry 8-50, Hunter 2-33, Young 3-23, Irby 2-11, Warner 1-5, Powell 1-(-10); TEXARKANA, Bishop 15-80, Silvey 9-63, Grissom 4-26, Jones 1-10, Meador 1-(-4).
Passing (C-A-I-Y): BRYANT, Lessenberry 14-15-0-150, Warner 3-3-0-21; TEXARKANA, Silvey 10-23-3-179, Davis 3-5-0-22.
Receiving: BRYANT, Howard 4-42, Hill 3-40, Hunter 3-37, Rutherford 3-21, Sears 1-12, Vail 1-7, Irby 1-7, Akers 1-5; TEXARKANA, Jetton 5-124, Grissom 2-19, Jones 2-4, Harris 1-26, Bishop 1-10, Murphy 1-7, Bailey 1-1.