Jr. Hornets keep title hopes alive with win
EDITOR'S NOTE: Because the look back at each day in Bryant athletic history has been so favorably received during the time when there was no sports during the COVID-19 shutdown, BryantDaily.com will continueposting past stories of Bryant athletics either posted on BryantDaily.com (from 2009 to the present) or published in the Bryant Times (from 1998 to 2008).
By ROB PATRICK
BRYANT TIMES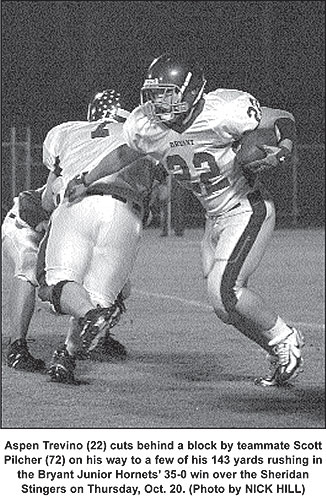 Early in the season, in a game that the Bryant Hornets freshman team eked out a 14-0 win over Little Rock Fair, Ethan Powell had one of those games that can shatter a quarterback's confidence.
At the time, however, Powell's coach Jason Hay insisted that there would come a time when Powell would need to step up and he would.
He has played better and better ever since. And, on Thursday, Oct. 20, he came through in a big way against the unbeaten Sheridan Stingers.
On the first play from scrimmage in the game, Sheridan's Landon McFarland and Ricky Pickett darted into the Bryant backfield and dropped running back Aspen Trevino for a loss. It was obvious, the Stingers were going to key on the Hornets' 1,000-yard rusher.
On second down, Trevino made a splendid run just to get 5 yards. That's when Powell went to work, completing a short pass to Tim Floyd then lofting a perfectly thrown deep pass that Jeremy Jordan hauled in for a 44-yard touchdown.
Powell went on to complete 7 of 11 pass for 124 yards and two touchdowns as the Hornets built a 21-0 lead. He never had to throw it in the second half as Bryant rolled to a 35-0 win to keep their hopes of a bid to the Central Arkansas Junior High Conference championship game.
"We knew there would come a time when people were going to try to stop Aspen and we'd have to chunk it," Hay declared. "Powell came out and he was throwing some bullets. We had several big catches, by Tim Floyd, by Jeremy Jordan."
The win improved the Hornets to 7-1 overall and 3-1 in the South Division of the conference, tied with Sheridan a game behind Lake Hamilton, still unbeaten after a dramatic comeback win over Bryant, 36-34, back on Sept. 29. The Hornets can play in the league championship game if Sheridan knocks off Lake Hamilton on Thursday, Oct. 27, while Bryant takes out arch-rival Benton.
"We're going from fighting Sheridan to rooting for them," Hay noted.
It was a dominating performance by the Hornets against the Stingers. Trevino, held to 31 yards in the first half, went on to rush for 143 on 15 carries and two touchdowns, extending school records in both yardage rushing (1,195) and TDs (16) in a season.
And the defense limited Sheridan to a net of 50 yards of offense, 37 of that coming on Vince Aguilar's run on the Stingers' first play from scrimmage. Bryant intercepted three passes including one by defensive lineman Aaron Schrock that he returned 30 yards for a touchdown. Kaleb Jobe and Justin Blankenship had the others.
"It's unbelievable," Hay enthused. "We've been cursed on this field ever since I've been here. (Sheridan) Coach (Mike) Moore always has his guys ready. They've ruined our chance at a conference championship two or three times. These guys were 7-0 and I don't think they've allowed more than 14 points in a game and we had 21 at the half, just over a quarter. Unbelievable. It was just a great game. I'm almost in shock. It was our night."
Indeed, the Stingers had only allowed double-digits in scoring to two teams previous to playing Bryant.
The game got off to a bit of an odd start. Sheridan's kickoff was a pop up that was placed where no Hornet could get to it. The Stingers' West McDonald was able to get downfield in time to catch it on the fly.
But what figured to be a big break for Sheridan turned Bryant's way when the ball was awarded to the Hornets by the officials.
"The ball has got to bounce, you can't catch it in the air," Hay said. "They basically kicked the ball to themselves. It was a great idea but they've got to let it bounce."
After Powell's first TD pass to Jordan, Sheridan looked like it would strike back immediately when Aguilar broke his run to the Bryant 22. But on the next play, the Hornets' Dijon Benton and Austin Humbard dropped quarterback Zach Cole for a 3-yard loss. On second down, Benton and Schrock teamed up to stop running back Daniel Ramsey for a loss of another yard.
So, on a third-and-14, the Stingers went to the air only to have Jobe pick off the pass at the 13, wrestling it away from the Sheridan receiver.
Trevino's longest run of the half, 13 yards picked up a first down then Powell and Floyd connected for 8 as the Hornets worked their way out to the 43. On a second-and-7 from there, Powell passed to Floyd who broke a run up the sideline all the way to the Sheridan 27.
After a dropped pass, Powell kept for a 23-yard run to the 4.
Sheridan made a bid to make a goalline stand. It was fourth-and-goal at the 1 when the Hornets, who were hit with 11 penalties in the game, were flagged for procedure.
That made it fourth-and-goal from the 6. They still went for it and, again, running a fade, Powell passed to Jordan, who made a nice leaning, over-the-shoulder catch for the touchdown.
Austin Bradley, who was 5-for-5 on the night, booted the extra point to make it 14-0 with :13 left in the first quarter.
Moments later, Schrock sniffed out a screen pass by Cole and picked it off on the run at the 30, sprinting into the end zone to increase the lead.
It was 21-0 at the half.
Sheridan got the ball to start the third quarter and thanks to a pass interference call, picked up a first down. But, a play later, Blankenship's interception got the offense back on the field at the Bryant 43.
On first down, Trevino rumbled for another score.
A chop block on the ensuing kickoff return forced Sheridan's offense to start at its own 13. The Stingers were unable to pick up a first down and had to punt.
A nice return by Jordan had the Hornets 40 yards from paydirt and it took them six plays to get there, all on runs by Trevino including a 19-yard jaunt to the 17. A play later, he powered into the end zone from the 14 and, with just over a minute left in the third quarter, the final score was on the board and the mercy-rule was in effect in which the game clock runs continuously, except for injuries or timeouts. Reserves finished the game with a 15-yard run by Aaron Prewitt highlighting Bryant's work on offense.