By Rob Patrick
Bryant Hornets coach Steve Griffith will tell you, there have been only a couple of times since he took over as defensive coordinator that he was really disappointed with his squad, when, he said, they just didn't compete.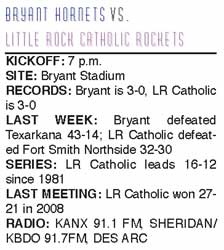 Once was in the playoffs, 2003, when the West Memphis Blue Devils came to Bryant and put up 42 points to end the Hornets' season, 42-25.
The other time was just last season at War Memorial Stadium in a 27-21 loss to the Little Rock Catholic Rockets to open 7A-Central Conference play.
He fully expects a different effort this season and the Hornets will need one against a veteran Rockets team that sports many of the players that helped put together that victory.
Once again, Bryant and Catholic open league play tonight, this time on the rain-soaked sod at Bryant Stadium.
Both teams come in with 3-0 records but Bryant's three wins have come against a trio of teams that have yet to post a victory among them. Catholic's victims include perennial powers Fort Smith Southside and Fort Smith Northside.[more]
The Rockets are led by a three-year starter at quarterback in Taylor Bartlett. Heady, competitive and quick, Bartlett's most impressive attribute may be the accuracy of his passes. He has a couple of big targets in 6-3 tight end Garrett Uekman, who will split out wide at times, and 6-4 wideout Chase Miller.
It won't help that the Hornets will probably be without starting cornerback Tanner Tolbert, who's recovering from the flu. Senior Kendrick Farr will step into the starting lineup in his stead. Tolbert also is the Hornets' punter and returns kickoffs. Sophomore placekicker Jace Denker will handle the punt chores.
Last year, Bartlett was 20 of 26 for 252 yards and three touchdowns without an interceptions against the Hornets, leading his team out of a 14-0 hole with a 21-point second quarter and a clinching touchdown in the third.
The Rockets ran the ball just effectively enough to set up the passing game. Thomas Gring, who led with 49 yards on 12 carries, is back this season but speedy sophomore Quinta Thomas has been tabbed to start by head coach Scooter Register, who coached Bryant rivals at El Dorado and Little Rock McClellan before reviving the Catholic program.
"You always want to win your conference opener," stated Hornets head coach Paul Calley. "I feel like Catholic and Cabot are the favorites just because that quarterback is so dependable. He can make plays."
"We've remained fairly healthy," noted Register of his team's early success, "and we haven't turned it over very much. We didn't have any against Northside or Southside. And very few mistakes, really.
"It's the first time I've ever had a three-year starter at quarterback," he added.
Bartlett and Uekman are the playmakers on the offense, linebacker Stacy Hunter, Register noted, also returns kicks and punts for the Rockets.
For the Hornets, the defense has been led by linebackers Trey Sowell and Hunter Mayall. Brennan Bullock had a big game at the third linebacker spot last week against Texarkana. Up front, tackle Josh Hampton and ends Blake Heil and Ryan Cox have been playmakers. In the secondary, Sammill Watson has been a standout along with Tolbert.
On offense, the Hornets' running back Chris Rycraw was held to 77 yards by the Rockets last season, one of the few times he was held under 100 yards. Last week, Rycraw was keyed on by Texarkana's defense and picked up about 60 yards on 21 carries but the focus on him allowed Jimi Easterling to open up the passing game effectively. So far this season, he's completed 24 of 35 passes for 300 yards and five scores.
The senior quarterback has received good protection this season but that will be quite the challenge for the Hornets' offensive line to continue against Catholic.
Born of the desire to disguise defenses so no-huddle spread offenses would have a difficult time calling plays based on their alignment, the Rockets defenders often mill around until just before the snap — sometimes none of them get down in a three-point stance in hopes of creating some confusion.
"They play tough defense," Calley acknowledged. "What they do is unique and unpredictable. You've got to hope you've got the right play called and hope you get one called quick enough.
"It's been successful for them," he continued. "It's along the same line as the scheme that they run but it's just a little tougher to prepare for. You can't tell your guys what they're going to do, they just have to follow the rules that we have and hope they don't two-gap us.
"They're big, and the only way they can run the scheme that they run is to have good athletes. They got them. They're impressive."
"We gave up some points to Northside but part of that was the offense's inability to move the ball a lot in the third quarter," Register said of his defense. "We gave Northside a short field but the defense played well. They played really well at Southside. That win, on the road, really gave us some confidence."
Regarding the Hornets, the Catholic coach said, "I know they're 3-0. I know they're a good football team. The running back (Rycraw) will give us fits. They can give us some match-up problems because of that.
"Really, I think you've got two good football teams here," Register concluded. "I think it's going to come down to the team that can recognize formations and keys, and doesn't make mistakes."
That could be a challenge for both teams depending on the weather and the condition of the Bryant field.
No doubt, the Hornets will taste more adversity in this game than they've faced this season so far. But the ability to respond positively to adverse situations has been a hallmark of the program since it's dramatic about-face in 1999.
The decisive factor tonight may be how well this team upholds that legacy.