Hornets survive Mavericks behind McEntire
EDITOR'S NOTE: Because the look back at each day in Bryant athletic history has been so favorably received during the time when there was no sports during the COVID-19 shutdown, BryantDaily.com will continue posting past stories of Bryant athletics either posted on BryantDaily.com (from 2009 to the present) or published in the Bryant Times (from 1998 to 2008).
For more photos of this event by Kevin Nagle, go here
At long last victory.
Bryant Hornets junior right-hander Will McEntire had pitched as well as anybody on the team this season but going into Friday's game against the Fort Smith Southside Mavericks, hadn't picked up a win yet. He took tough-luck losses in a 1-0 game at Hot Springs Lakeside, a 2-1 loss at White Hall and, left his last outing against Conway, in line for a win only to get no decision as the Wampus Cats rallied to win.
On Friday, it was lining up in similar fashion as he and Southside's side-winding righty Stratton Whittington dueled in a game that was scoreless through seven and headed to extra innings. Both had been efficient enough to continue and McEntire waded through the top three hitters in the Mavs' lineup 1-2-3 in the top of the eighth.
In the home half, Whittington started with a strikeout but a single by Logan Chambers opened the door for Bryant. Chambers stole second then reached third on Coby Greiner's looping liner to center. A throw came home, and Greiner hustled to second while Chambers held at third.
That led to an intentional walk to Scott Schmidt to set up a force at any base. But, on a 3-2 count, Jake Wright spoiled that strategy with a game-winning RBI single to left.
The Hornets improved to 12-3-1 overall this season and 4-0 in the 7A-Central Conference going into a showdown with defending Class 7A State champion Cabot on Tuesday.
Southside came in with a 6-8 mark including 1-4 against the league. Whittington, according to stats on MaxPrep.com, was 1-3 with a 6.11 earned run average. But he kept the Hornets off-balance and off the scoreboard.
"Credit them," said Hornets head coach Travis Queck regarding the Mavericks. "They came down here prepared. That pitcher kept us off-balance throwing fastball, change-up every pitch.
"We didn't do a good job at the plate," he added. "That's my fault. We've got to fix it and I've got to be the one that leads the fix. So, we're going to go back to the drawing table and look at some things on film and analyze it and talk about it, try to simplify things. We'll see."
McEntire finished with a four-hit shutout with just one walk and 10 strikeouts, throwing 96 pitches. He didn't allow a hit after a third-inning blooper by Brock Thibodeaux, following that up by retiring 12 in a row. An error interrupted then he retired the final six straight — that's 18 of the last 19 batters he faced.
"That guy's worked hard this year to come out with two losses," Queck said. "He just got stronger through the game. He was able to locate a little better at the end and he's asking for more and more. I don't like that we threw him out there for 96 (pitches) but I do like the way he battled."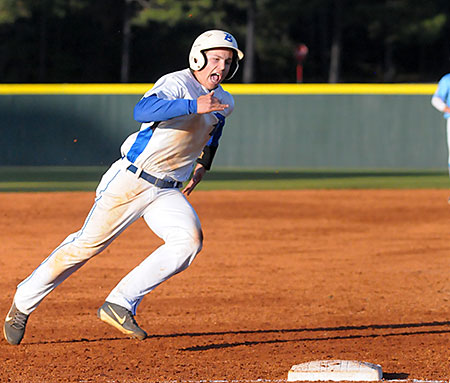 Thibodeaux and Mac Moody each singled in the first inning against McEntire but the right-hander came back to induce pop-ups from Jake Melton and Jamison Griffin to end the inning.
In the second, he issued his lone walk — and  his only three-ball count of the game. With Braiden Partin aboard on the pass, Caleb Emmert grounded into a force at second.
It looked like McEntire and the Hornets were out of the inning when Mason Love hit a grounder towards Schmidt at second but a bad hop resulted in a base-hit to put two on with two out and the top of the order due up.
But McEntire struck out lead-off man Matt Schilling, the second of his hat trick of strikeouts.
Thibodeaux led off the third with his looping single to right center then McEntire and the defense started mowing the Mavericks down. A wild pitch allowed the Southside base-runner to take second. Moody struck out on a pitch in the dirt and Wright, the Bryant catcher threw Moody out at first. Thibodeaux made a late break to third and got in ahead of the throw. He was stranded, however; the lone Maverick to make it as far as third in the game.
Whittington was matching McEntire, though not with strikeouts. The Hornets just couldn't string anything together. In the bottom of the first, Chambers legged out an infield hit and, after Greiner sacrificed him second, Wright reached on a third-strike wild pitch. But both were stranded.
In the second, Brandon Hoover stroked a one-out single to center, which came to naught. Greiner reached on the lone Mavericks error with one out in the bottom of the third. Though he was forced at second on Schmidt's grounder to third, Wright drew a walk. But both were left aboard.
Whittington retired the side in order in the fourth then pitched around a one-out walk to Chambers in the fifth when Greiner lined a shot to second and Chambers was doubled up.
Schmidt opened the sixth with a single. Wright followed with a bloop to shallow right that fell in. But Schmidt had to hold to see if the ball would be caught and wound up being forced at second. K.J. Merriweather came on to run for Wright and appeared to have second stolen. Despite a high tag on Merriweather's shoulder, he was called out. Quietly protesting the call, Hornets' first-base coach Stephen Tharp was thrown out of the game before Austin Ledbetter grounded out to third to end the inning.
Colton McBride reached on an error to start the top of the seventh. Partin tried to sacrifice but McEntire got to the bunt and fired to Greiner at second for a force. He then struck out the next two to send it to the bottom of the seventh.
Though Matthew Sandidge, Hoover and Logan Catton each hit the ball hard, all three were caught as the game went to extra innings.
McEntire continued to blank the Mavericks, though with two down, he was struck by a hard shot hit by Moody, scrambled after the ball and threw to first for the third out, setting up the Hornets' game-winning rally.