Hornets take advantage of early opportunities to turn back Catholic
EDITOR'S NOTE: In this time of COVID-19, with no sports action, BryantDaily.com will be posting past stories of Bryant athletics either posted on BryantDaily.com (from 2009 to the present) or published in the Bryant Times (from 1998 to 2008).
For more photos from this event by Rick Nation, go here, and by Kevin Nagle, go here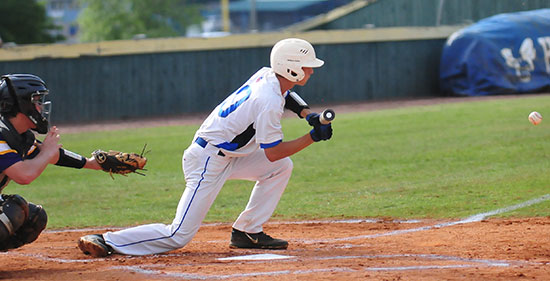 Playing with a lead is much more comfortable.
The Bryant Hornets jumped to a 7-0 lead in the first three innings and behind the shutout pitching of Beaux Bonvillain with last-inning relief from Will McEntire, they made that stand up for a victory over the Little Rock Catholic Rockets.
With the win, the Hornets pulled into a tie with Conway for third in the 7A-Central Conference and stayed on the heels of second-place North Little Rock. Catholic was trying to pull into a tie for fourth but the Hornets denied them to improve to 6-3 against conference foes.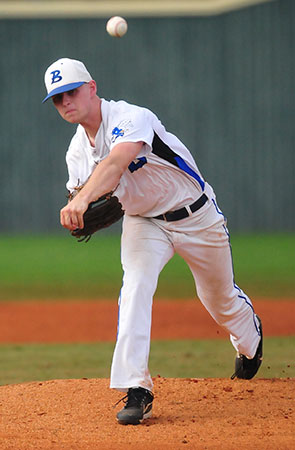 Conway lost to North Little Rock, 6-2, to drop to 6-3 while the Charging Wildcats improved to 7-2. Cabot won over Fort Smith Southside to remain unbeaten in league play.
The top two teams in the conference earn first-round byes at the 7A State Tournament.
"It was huge," said Hornets head coach Travis Queck. "We'll try to move on up from here. We're taking it one game at a time and this happened to be the game today.
"Beaux's been what we've needed," he added. "I daresay he's been that rock, pretty steady. If he keeps doing that, we're going to have success anytime he gets on the mound."
Bonvillain allowed just three hits over six innings, walked one and struck out seven. And the Hornets played error-free defense behind him.
Errors plague Catholic over the first three frames.
Seth Tucker, who was on base four times in the game, opened the bottom of the first with a single to right. Cameron Coleman followed with a knock up the middle then Jake Wright was hit by a pitch from Rockets starter Noah Fowler.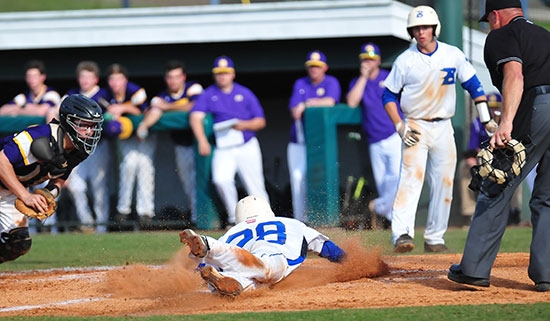 With the bases loaded, Logan Chambers lined a 1-1 pitch to left that looked like it would be good for a sacrifice fly as the speedy Tucker tagged. But freshman leftfielder Robert Bavon missed it. So not only did Tucker score but so did Coleman to make it 2-0.
Coby Griener sacrificed runners to second and third with one out but Fowler and Rockets wriggled off the hook.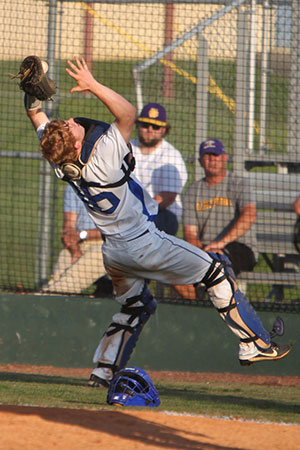 After Bonvillain fanned two in a 1-2-3 second, the Hornets tacked on. Matthew Sandidge drew a lead-off walk and Konnor Clontz sacrificed him to second. Tucker followed with a shot to the right side that first baseman Evan Hiatt booted. With Sandidge at third, Tucker stole second. The Rockets chose to intentionally pass Coleman to load the bases.
On the very next pitch, Fowler plunked Wright again, this time forcing in a run. With Chambers at the plate, a ball in the dirt got away from catcher Luke Wewers but only about 10 feet or so. But Tucker, with a good secondary lead from third, took the opportunity and beat Wewers to the plate to make it 4-0.
"They helped us out tremendously by booting it, throwing it around a little bit but the guys took advantage of what they gave us," Queck acknowledged.
Chambers and Fowler battled with the Bryant batter fouling off a pair of 3-2 pitches before he won the duel by stroking an RBI single to right.
In the third, Bonvillain struck out two more as he retired the side in order and the Hornets got it going again. Sandidge shot a single up the middle with one out and, with two down, Tucker worked a walk. Coleman drew a free pass as well to load the bases.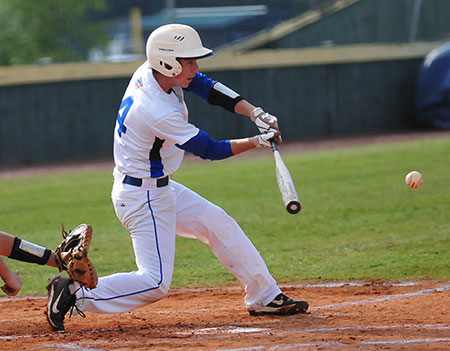 A wild pitch allowed Sandidge to score and when the late throw from Wewers to Fowler covering the plate got away, Tucker sprinted home as well to make it 7-0.
Right-hander Pierce Althoff relieved for Catholic after that and held the Hornets the rest of the way.
Bonvillain who retired 10 in a row at one stretch and 12 of 13 to start the game ran into his first trouble in the fifth when Noah Bray singled and Connor Breau walked. But he struck out pinch-hitter J.Matt Rogers. Will Plafcan followed with a soft liner up the middle that second baseman Scott Schmidt speared. He stepped on second to double off Bray to end the threat.
Bonvillain worked around a two-out single in the sixth then gave way to McEntire in the second. With one out, Bray walked and Breau doubled but the Hornets' right-hander got Rogers to foul out to Wright, the Bryant catcher, then got the final out on Miles Montgomery's fly to Tucker in center.
The Hornets are scheduled to play at Little Rock Christian on Thursday before returning to conference action at Little Rock Central on Friday.