For more photos of this event by Kevin Nagle, go here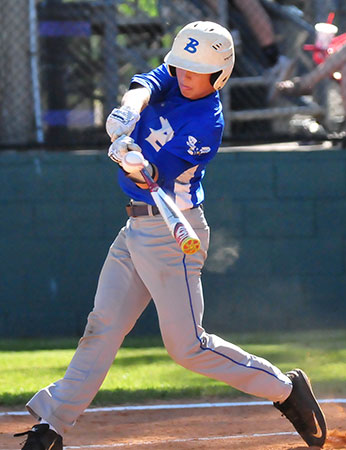 CONWAY — The Bryant Hornets have had a lot of success this season by taking advantage of their opponents' mistakes. But, on Friday night, the veteran Conway Wampus Cats didn't make any — besides a base-running miscue or two — that the Hornets could capitalize on and, after bolting to a 5-0 lead in the first three innings, celebrated Senior Night with a 10-0 win over the Hornets in six innings.
Junior lefty Jordan Wicks, who has committed to Arkansas State, shackled the Hornets on three hits, walked three and struck out six.
The Cats completed a home-and-home sweep of the Hornets, eking out a 2-1 win at Bryant on April 11. No doubt that's some consolation to them after losing to Bryant in the 2016 Class 7A State championship game.
But what's got to gall the Wampus Cats at least a little is that these Hornets, with one returning starter from the 2016 title team, will head into this year's State tourney in Bentonville next week as a No. 3 seed. Conway, with seven starters back from that State runner-up squad, will be seeded No. 4 from the 7A-Central Conference.
The loss should not give the Hornets as much heartburn as that 2-1 heartbreaker did but they did miss out on a chance to move up to the No. 2 seed from the Central and pick up a first-round bye. They needed top-seeded Cabot to defeat North Little Rock (tied with the Hornets in the standings for second) and the Panthers obliged 7-4. But the Hornets had to win over Conway as well to get the advantage over the Charging Wildcats.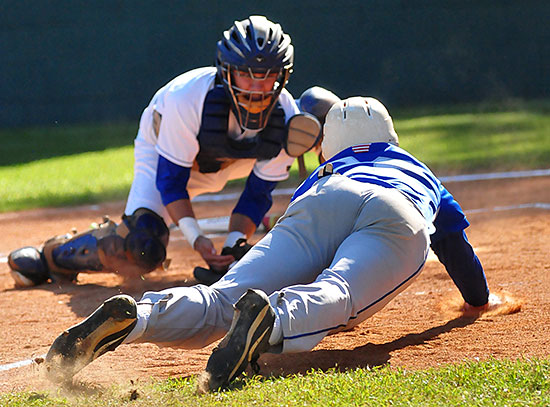 Bryant, now 17-8, is scheduled for one last regular-season game on Monday, May 8, at Sheridan, one of the top-ranked Class 6A teams. The Hornets then open play at State on Thursday, May 11, at 2:30 p.m., against the Springdale Bulldogs, the sixth-seeded team from the 7A-West.
Conway will play Thursday as well against Rogers, the 5 seed from the West, at noon.
Bryant's surge into the second-place tie was the product of a six-game winning streak since that tough loss to the Wampus Cats who had gone 3-3 since then.
The Hornets' best chance to score came in the first inning when, with one away, Cameron Coleman drew a walk. Jake Wright followed with a grounder to Matt Lloyd at second. He had to range to his left to field the ball, turned and threw to shortstop Kolby Reck for a force. Reck relayed to first but Wright, hustling all the way, just beat the throw to keep the inning alive.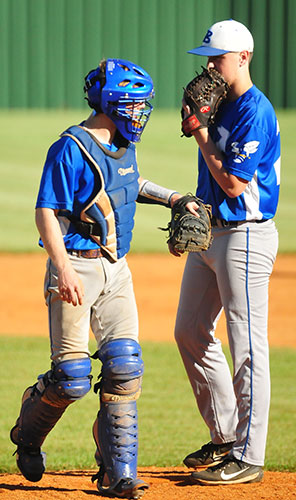 With Logan Grant in as a courtesy runner for the Bryant catcher, Wicks and sophomore clean-up hitter Logan Chambers battled to a 2-2 count. On the next pitch, Chambers belted a drive down the left-field line.
Grant was off on contact from first and, with two out, was waved in at third. But Conway executed the relay home to perfection and Grant was tagged out at the plate to end the inning.
Conway put its first two batters aboard in the bottom of the inning when Parker Gavazzi walked and Reck singled to left.
But Tucker, the Hornets senior side-winder, worked out of the jam. He made a nice play himself to get to Lloyd's sacrifice bunt attempt and threw to Konnor Clontz at third for a force on Gavazzi. Cats' cleanup hitter Cade Tucker skied to Myers Buck in left then Tucker struck out Wicks.
In the second, McCall Dail led off for Conway and hit a long fly to center. The Hornets Matthew Sandidge appeared to have a bead on it but the wind caught it and he just didn't read it right away. It got over his head for a double.
Cade White sacrificed him to third then Jack Stroth hit a fly to left. Dail tagged and scored but the Hornets appealed. Head coach Travis Queck was convinced Dail had left the bag before Buck had made the catch but the homeplate umpire denied the appeal. Queck argued hotly but was not only denied but given a warning.
So Conway had a 1-0 lead. Wicks, after working a 1-2-3 second, pitched around a two-out walk to Tucker in the top of the third. The inning ended when Tucker appeared to have second base stolen handily but a 1-2 pitch to Coleman was ruled a called strike much to the Hornet batter's surprise, ending the inning.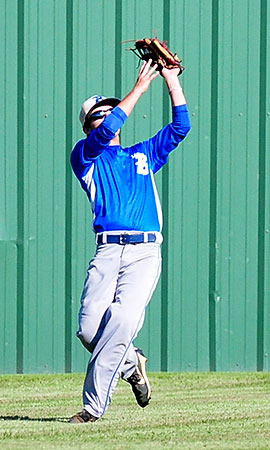 The bottom of the third didn't start too well for Tucker after he took a while to gather himself and return to the mound. His first pitch dinged Gavazzi. His fourth one clipped Reck.
Hoping not to fall too much further behind Wicks, Queck turned to sophomore right-hander Will McEntire, who had turned in some sparkling relief in recent games including a shutout frame to close out a win in extra innings over Cabot.
McEntire got ahead of Lloyd who fouled off a pair of two-strike pitches before pulling a single to left that  drove home Gavazzi. On his very next pitch, Cade Tucker tied into a fastball that got into the wind and sailed over the center-field wall at the 360-foot mark for a three-run jack.
(At Bryant, where it's 398 to dead center, it probably would've just been a long flyout.)
Senior submariner Boston Heil got the call to the mound after that and, after striking out Wicks, gave up a single to Dail then plunked White on an 0-2 pitch. But he hung in and got Stroth to bounced into a force at second as Dail advanced to third.
With a courtesy runner in for Stroth, the Conway catcher, Heil worked the fake-to-third, throw-to-first pickoff with Chambers who got to the back ahead of the runner who was tagged out to end the inning despite some squawking for the Conway fans and argument for longtime Conway coach Noel Boucher. (A balk in the Major Leagues now, the third-to-first move is still allowed in high school ball.)
Still, the Hornets were looking up at a 5-0 deficit. Wicks was being stingy with the hits and his defense was making the plays. He pitched around a two-out bloop single by Coby Greiner in the top of the fourth. He would retire the side in order in the fifth.
Meanwhile, Heil settled in. Gavazzi beat out an infield hit with one out in the bottom of the fourth but Heil picked him off then Clontz robbed Reck of a hit at third to send it to the fifth.
Lloyd singled in the bottom of the fifth but Clontz started an around-the-horn doubleplay and the Hornest seemed to have picked up some momentum going into the sixth.
Wicks retired the first two before Wright plugged the gap and one-hopped the wall for a double. Chambers waited out a walk then Greiner just missed on a 2-1 pitch, flying to deep center.
As one observer noted, the difference between Cade Tucker's homer and Greiner's flyball was the difference between a filled-out senior three-year starter and a not-nearly-as-strong-as-he's-going-to-be sophomore just finishing up his first season as a starter.
Though the Hornets went through three pitchers, they never could record and out in the bottom of the inning. Dail was struck by a pitch then pinch-hitter Garrett Fusilier fought Heil through an 11-pitch at-bat before taking a walk.
Queck brought in Greiner, who was greeted by Stroth's RBI single. Another pinch-hitter, senior Brady Newman walked on a very close 3-2 pitch to load the bases.
Greiner gave way to Cade Drennan at that point. Drennan sawed off Gavazzi who hit a soft tapper to the right side. Chambers had to come in to field it and decided there was no play at the plate. He turned to throw to Scott Schmidt, over from second to cover first, but the toss was errant and two runs scored to make it 8-0.
Newman wound up at third and Gavazzi at second. Drennan and Reck battled to a 3-2 count and Reck had to spoil two deliveries to stay alive before he yanked a two-run single to left to make it a walk-off run-rule win.