For all those who felt like maybe playing a full game against the North Little Rock Charging Wildcats was good for the number-one-ranked Bryant Hornets, Buck James, the Hornets' head coach, doesn't necessarily agree.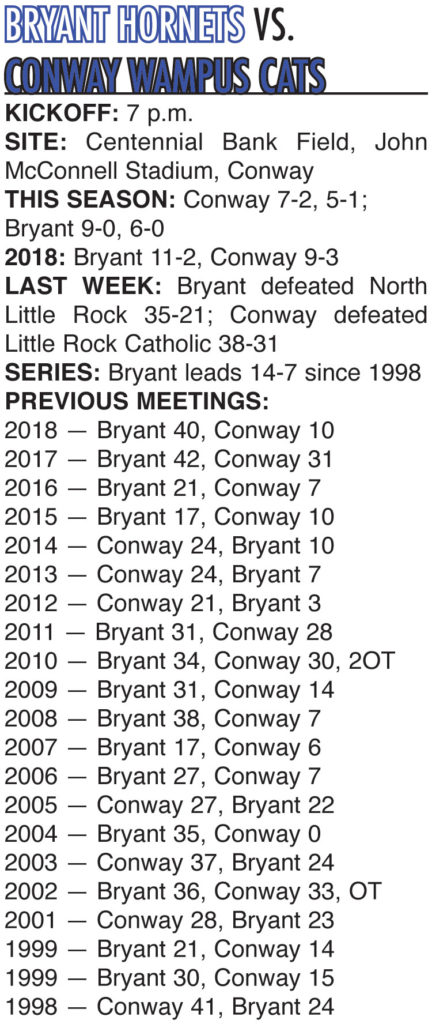 "I don't think there's too much to that," he said following last Friday's 35-21 victory. "We practice to play four quarters. We run enough plays in practice to play 50 quarters. That's just your conditioning and your strength. It's the mentality of playing four quarters. You could talk about that, but our focus has got to be, as long as it takes to be able to impose our will on whoever we're playing.
"We don't get too much into that kind of stuff," the coach said regarding the score being closer than all the previous Bryant games. "We worry more about us. We really don't talk about how close the game was. To me, it's the different between winning and losing. It's just the mistakes we made and the amount of opportunities they (the Wildcats) were able to accomplish. That's what makes the score closer.
"I'm proud that we found a way to win a game like that," he asserted. "Because we could've found a way not to win it. They'd come back on people a couple of times this year, down by a bunch of points. Can't take nothing away from them. That's probably the biggest misnomer out there. Sometimes people don't give their opponent enough credit. I told many people this, 'There's nobody lining up to play those guys.'
The Charging Wildcats were playing for a share of their fourth consecutive conference championship and they'll be trying to reach the State finals once the playoffs begin for the fourth consecutive time.
"They are still how they are," James said. "Anybody who takes those guys lightly, don't know a thing about football."
Did the Hornets take them lightly?
"No, I don't think they did," the coach assured, adding of his players, "I think they got hit in the mouth and they spit blood. The thing about it is, I thought they went back after them. I don't think we cowered down or anything like that. The test of the character of a man is when he gets hit in the mouth, does he check to see how much blood he's lost, or does he go after a guy. I thought we went back after them."
Though they were denied in the end, the Cats were able to show a few Bryant flaws.
"Where they attacked us and hurt us is where people can attack us and hurt us because of our youth or inexperience but I'm proud of the way our guys competed against a monster really," James said. "I don't want anybody to think we're supposed to go out there and destroy everybody we play because that's not the case. We're glad it's happened some that way, but I have a tremendous amount of respect for those guys and for Conway.
"They've been in this position three or four years in a row, so this is a situation where they're ready to get over the hump," he continued. "You're playing in a big game because you've gotten to the point where you can play in a big game. I think we've seen many teams that can find the big game, they just can't get there yet. Conway's at a point where they're saying, 'Hey, we've worked our way to this big game. Now, let's find a way to get over the hump.' And, rightly so, so are we.
"We've been over the hump a few times, but we haven't established dominance by any means over the last 10 years or so. You've got to keep doing it. Once you get there you can expect to be there year in and year out. We're not to that point but that's what we're working to get to."
Regarding practice this week in response to the hard-fought win over North Little Rock, James said, "We went back to fundamentals. We had to learn to block and be aggressive, tackle and be aggressive, work on our mentality.
"We got pushed around a little bit by North Little Rock and we've got to fix that," he reiterated. "We got too many penalties, had too many missed opportunities.
"So, we've gone back and tried to clean up little things and get these guys to understand that one bad play can cost you," the coach emphasized. "We've got to do a better job on the details, being where we're supposed to be, doing what we're supposed to do and doing it how we're supposed to do it."
Regarding Conway, James said, "They've got good offensive and defensive lines. Year in, year out, they've got the best offensive and defensive linemen in the conference. They've got big guys. They're very well coached. They've got some skill guys on offense that are game-breakers. They've got three that could start for anybody. They've got guys that understand their roles. They move them around. They're a big-play football team.
"Defensively, their linebackers are good players and their defensive linemen are good players. They've struggled a little bit with their d-backs but they're athletic.
"We're fixing to get a different Conway than what everybody else has got," he concluded. "They're going to play their guts out. They've got a chance to win a conference championship on their own field on Senior Night. It's going to be a tall order for us. They've got a good football team. They've competed well against everybody they've played against."
Bryant has clinched a share of its first conference championship since 2013. They'll have it outright by beating Conway, but the Wampus Cats can earn a share and pick up the number one seed for the post-season with a victory.
The Hornets will be a 1 or a 2 seed for the playoffs, drawing a first-round bye. Conway could be a 1 seed or anything down to a 4 depending on what North Little Rock does at Cabot.