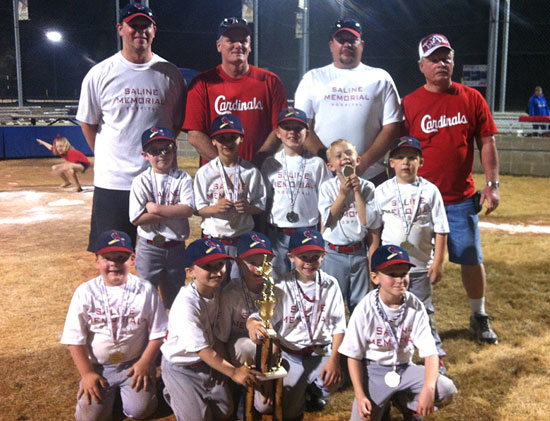 The Saline Memorial Cardinals captured the championship of the Bryant Athletic Association's[more] preseason Instructional League tournament, sweeping six games. The team is also 3-0 in regular-season play so far.
The Cardinals are managed by Brian Terry with assistance from Randy Allison, Chris Cobb and Joey Gregory. Members include Zac Carson, Carter Cobb, Carson Gregory, Carter Gregory, Avery Heidelberg, Evan McCrary, Peyton Potter, Branton Prather, Ayden Sharp, Tyler Spear and Brayden Terry.
In the tournament, the Cards edged Wayne Hughes Construction, 4-3 then topped Arvest Bank, 8-1. A 5-3 victory over Oltmans Development was followed up by an 8-2 decision over Olly Olly Oxen. In the semifinals, they topped Landers Chrysler, 7-4. In the championship game, the Cards outslugged Ace Sign Company, 12-7.
During the regular season so far, Saline Memorial has earned a 7-5 win over Landers, followed by a 12-6 victory over Everett Buick GMC. They improved to 3-0 with a 6-0 victory over Oltmans Development.