Editor's note: This is a regular feature profiling senior athletes at Bryant High School.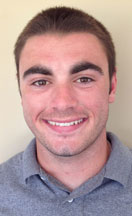 NAME: Hayden Daniel
PARENTS: Tom and Kathy Daniel
SIBLINGS: I have an older brother, Trent Daniel. He's 22.
FAVORITE SUBJECT IN SCHOOL: History
WHAT DO YOU LIKE TO DO IN YOUR SPARE TIME? Hang out with my friends.
FAVORITE FOOD: Mexican
FAVORITE MUSIC ARTIST OR GROUP: Rap
FAVORITE MOVIE: Remember the Titans[more]
FAVORITE TV SHOW: Tosh.0
WHAT WAS YOUR FAVORITE TOY AS A KID? Little race cars
WHAT ARE YOUR PLANS AFTER HIGH SCHOOL? Play college baseball. I'm undecided (where) right now. I want to study Kinesiology.
OTHER THAN YOUR PARENTS, WHO HAS HAD THE BIGGEST INFLUENCE ON YOUR LIFE? My brother; he's just taught me confidence and to never give up on your dreams.
FAVORITE THING ABOUT BASEBALL: Being with my friends out here and playing all together as a team.
POSITIONS: Right field
WHAT'S YOUR APPROACH AT THE PLATE? Put the ball in play.
WHAT'S YOUR APPROACH IN THE FIELD? Catch everything that's hit to me.
WHAT DO YOU THINK OF THE SEASON SO FAR? We're doing really good because we're playing as a team. Since we got back from Florida, everything's just kind of clicked for us.
WHAT'S BEEN THE HIGHLIGHT TO THE SEASON SO FAR? Winning seven games in Florida. The varsity won out.
WHAT'S IT GOING TO TAKE FOR THE TEAM TO BE SUCCESSFUL THE REST OF THE SEASON? Keep playing as a team and keep hitting, of course. Our defense is solid. We've just got to keep putting the ball in play.
TALK ABOUT YOUR GAME: WHAT DO YOU FEEL MOST CONFIDENT IN YOUR ABILITY TO DO? My defense, catching the ball out there in the outfield.
WHAT DO YOU WORK HARDEST TO IMPROVE ON IN PRACTICE? Hitting.
AFTER YOU'RE THROUGH PLAYING BASEBALL AT BHS, WHAT DO YOU THINK YOU'LL REMEMBER MOST FONDLY ABOUT IT? I'll remember playing with this team right here. We've come a long way together. And I'll remember playing with all my best friends. Those are memories you never want to forget.