File photo by Andrew Schroeder
Take nothing for granted.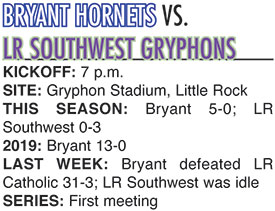 Deep down, most athletes know that. The risk of injury is always there. In a blink of an eye, you could suffer a knee injury — like Bryant Hornets' senior wide receiver Joseph Young, who was hurt during his team's showdown with Trinity Christian of Texas, and got the gravely disappointing news that he would miss the rest of the season.
But, in 2020, of course, there's a new threat. With Covid-19, every player is susceptible to being quarantined just through contact with someone who has it. It's sidelined the Little Rock Central team since Sept. 25. They can't play tonight against Cabot, making it three weeks in a row they've had to cancel games. It sidelined Little Rock Southwest. The last game the Gryphons played was against Benton on Sept. 11. With their bye week on Sept. 18, they've missed three weeks including conference games against Cabot and North Little Rock.
Tonight, they return to play the top-ranked Bryant Hornets for what turns out to be their first 7A-Central contest.
"I think the kids understand we get a chance to play now and, man, we better play because we're not guaranteed next week," acknowledged Hornets head coach Buck James, whose team was idle last week because of Central's quarantine. "If you're a player you're not guaranteed tomorrow. If you get quarantined, you're out for 14 days. That could be three games. So, they better not take any of game for granted at this point if they enjoy playing football."
Southwest is a brand-new school, fundamentally combining Little Rock J.A. Fair and Little Rock McClellan High Schools. It was a tall enough task for head coach Daryl Patton and top assistant Paul Calley, both former Bryant head coaches, to get these players to gel and learn a system without their battle with Covid.
The Gryphons lost their three non-conference games, 35-16, at West Memphis; 49-0 against Little Rock Parkview; and 44-8 against Benton.
"They've been in a tough situation," James acknowledged. "They really didn't have an off season. They didn't have their school built. They didn't have their facility built. Then you had all this Covid started and it was sort of the perfect storm. I mean they need a chance to grow as a football team. At least we've been together some and we played last year together. They hadn't done any of that.
"They have good athletes," he related. "They have some big strong kids. They just can't get everything together enough. But they've had a couple weeks of practice for this game, really uninterrupted as far as practice goes. Now, they've had kids that have been quarantined and they've had kids who haven't been able to make it and stuff just like everybody's had at this point.
"But they knew who they were going to play two weeks ago," the coach noted. "They knew this game was the game they'd be preparing for. So, that makes a big difference. We better be ready to play, and we better be ready to play well. We better be ready to play hard and physical as long as we've got to, to do what we got to do."
The Hornets' improved to 5-0 on the season and 2-0 in conference play with a 31-3 win over Little Rock Catholic at War Memorial Stadium on Oct. 2.
"I looked it up," James said when asked about the last time he had a week off in the middle of a season. "Forty-three years ago. I was in the seventh grade. I'm 56. I was 13 when I was in seventh grade and that was the last time I had a week six off. You know, 43 years, some of these parents aren't 43 years old."
With a Friday off, what did James do?
"I got two iPads out, got my TV and my computer and I watched about four (high school) football games in my living room," he said.
Was it for scouting or entertainment?
"A little of both but more for entertainment. You know just a way of making the night go by a little faster. But I enjoyed it. I really did. But I don't want to do it again."
The players got Friday off.
"That's probably what they were more interested in," the coach acknowledged. "They got to go do whatever it is they do, hopefully good stuff. They came back to practice Monday. I thought we were a little sluggish, but we had a good Tuesday and Wednesday. Kids are kids. They know they don't have a game
"I thought we had good practices last week," he added. "I thought we had really good practices. I thought we had some guys who really stepped up in practice even though we knew we weren't playing. Some guys stepped up that needed to. They got a lot of reps and got a lot of confidence. Hopefully, they'll show up on Friday night. Some guys that we really need to come on. I feel good about that. Hopefully we'll be ready to play."
James concluded: "I'm just glad we got game. I don't really care too much about who we're playing as much. I'm not into that as much as, you know, I'm aware of who's having success and who's not, but I know that in this league if you don't take care of that particular Friday night then it'll sneak up on you. You don't get anywhere by looking over the horizon for something else. I think, if you're going to see the forest, you're going to miss the trees. You've got to have a plan. You've got to have a detailed plan. You've got to be able to execute your plan."