Photos by Andrew Schroeder
With eight starters out of the lineup for one reason or another, the Bryant Hornets freshman team hardly missed a beat on Thursday night, racking up over 400 yards of offense while limiting the El Dorado Wildcats' freshmen to 72 yards of total offense in a 40-0 romp on Everett Field at Hornets Stadium.
The lead reached mercy-rule (running clock) status with 1:49 left in the third quarter.
Quarterback Gideon Motes threw for four touchdowns and ran for two more for the Hornets, who improved to 7-0 on the season.
It was a non-conference win for Bryant, which will travel to Cabot South next Thursday for a battle of unbeatens. The Panthers improved to 7-0 and, like Bryant, 5-0 in the Central Arkansas Junior High Conference, with a 47-8 win over Conway White on Thursday.
Defensively, the Hornets took advantage of interceptions by Aaron Granado, Mytorian Singleton and defensive lineman Sebastian Oltmans. Each led to a touchdown in the first half.
"When you're nicked up, you're nicked up," acknowledged Hornets head coach Kenny Horn. "This is the time of year for it, you know? We've had some guys step up. We've had to make a few personnel changes. But we're not looking back. We've got to go forward and coach the kids we've got. That's what we're trying to do."
Jaden Ashford rushed for 100 yards on just six carries. He also caught a shovel pass and turned it into a 63-yard touchdown to cap the scoring on the night. Singleton caught a TD pass and Drake Fowler hauled in a pair.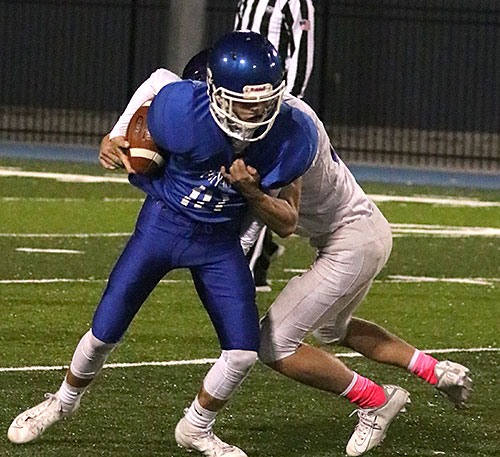 "Gideon's good," Horn stated. "I thought maybe we'd seen the end of some really good ones but he's as good as we've had. He's a good player. He's calm and he knows what he's doing. He knows our offense.
"And the offensive line does a good job of protecting him," he related. "If we can protect him, we can throw and catch. We'll be okay. It doesn't matter really who we play. Tonight, we did a good job."
El Dorado actually threw more passes (23) than Bryant (16) but the Wildcats' 14 completions only produced 44 yards.
Bryant took the opening possession to the end zone. Ashford had a 14-yard run and Motes found Singleton for 22, setting up his 17-yard TD strike to Fowler.
Given their first chance, the Wildcats marched from their own 37 to the Bryant 30 in 11 plays. The longest gain on the drive was 8 yards. Quarterback LaMarion Clemons converted an early third down with a 3-yard run. Later, they faced a fourth-and-4 at the Bryant 46. Clemons passed for 5 yards and first to Dovonte Williams.
Later, on a fourth-and-7 at the Bryant 38, Clemons threw swing pass to Williams that he turned into a first down at the 30.
Along the way, Hornets defensive coordinator John Orr called a timeout to talk to his defense.
"Honestly, really all we had was some alignment issues," Horn said. "And the personnel's a little bit different. So, he had to calm those kids down a little bit and once we got lined up right, we started executing like we knew we could, like we know we should."
At the 30, Dylan Enis broke through and dropped Clemons for a loss to 7. On the next play, Granado intercepted a pass at the 25.
The offense produced in just three plays, the big one, a 50-yard pass from Motes to Fowler for the touchdown with :44 left in the first quarter.
Down 12-0, the Wildcats managed a first down despite tackles for loss by A.J. Foreman and Oltmans. A penalty helped as El Dorado reached their 46 with a first down.
But that's when Singleton stepped up for an interception.
On the very next snap, Motes connected with Singleton for 51 yards. Ashford added a 23-yard bolt. Motes kept from the 2 and Bryant led 18-0.
Later in the half, Oltmans' interception set up another score as he returned it to the 8. Motes kept again and, with a two-point run by Ashford, it was 26-0.
Singleton and Chelton Murdock made key stops on El Dorado's opening series of the second half. The Wildcats were forced to punt, and the Hornets put up more points.
Ashford had a 37-yard run. El Dorado's Aidan Johnson saved a touchdown. But it really only delayed it. Motes and Singleton combined on a 33-yard touchdown pass. Jaime Perez kicked the extra point and it was 33-0.
El Dorado was in position to pick up a first down on its next series but Oltmans sacked quarterback Jamison Dumas and a punt ensued.
The Hornets got the ball back at their own 37 and, on first down, Motes was looking to make a pitch to Ashford. But the running back got a little ahead of his quarterback and Motes' toss went forward a yard or two. Nevertheless, Ashford grabbed it and sprinted up the sideline for a 63-yard touchdown play that made it a mercy-rule lead.
Joshua Terry had a sack to help the Hornets turn aside the Wildcats' next possession and the Hornets went on to close out the victory.