Photos by Kevin Nagle
The Bryant Lady Hornets and the North Little Rock Lady Cats were about even in their[more] junior varsity volleyball match on Thursday night. Unfortunately, for the Lady Hornets, the Lady Cats eked out a 16-14 win in the tiebreaker to take the match.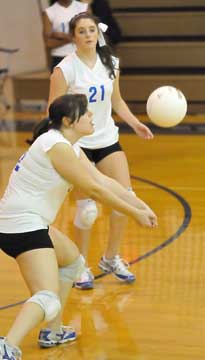 Bryant won the first game 25-22 but lost the second 24-26 to set up the tiebreaker.
The Lady Hornets are now 6-3 going into a match at Little Rock Central on Tuesday, Sept. 27.
Courtney Davidson had eight kills and assisted on a block for the Lady Hornets. Aubree Allen, Erica Smith and Kaylon Wilson each had three kills with Allen, Smith and Alex Boone recording a solo block apiece.
Carley Choate handed out seven assists and had 14 good serves with four aces. Caylin Choate led the team with 22 digs. Davidson had nine.
Caylin Choate and Wilson also had good nights at the service line. The former had 12 good serves without an error including an ace. The latter had 10 good serves with two aces and only one error.