Photos by Val Nagle and Rick Nation
With final scores like 17-0, 10-0, 14-0, maybe 12-0 or even 14-2, you might[more] think it's the Bryant Hornets' football team.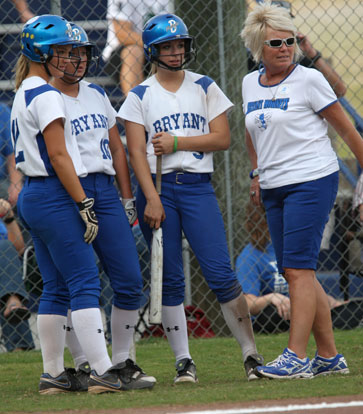 But not this time of year. No, in the spring, that's got to be the Lady Hornets softball team.
Now 28-0 on the season, taking it one game at a time while everyone else anticipates a third straight Class 7A State championship on the near horizon, the Lady Hornets posted one of those "football" scores on Thursday against the Van Buren Lady Pointers, 12-0.
On Friday, however, they went to Russellville and engaged in a rare close contest. They still won, of course, 4-1.
Though they're now 11-0 in the 7A/6A-Central Conference, the Lady Hornets don't have the league championship secured yet. That's because Conway has beaten everybody in the conference except the Lady Hornets. During the first half of the league campaign, Bryant won 9-2 at Conway. The rematch, with a share of the conference lead on the line, will be Tuesday in Bryant.
"It will be a big day for us, the baseball team and in soccer," noted Lady Hornets head coach Debbie Clark. "We need a lot of fans to come out and support the Hornet Nation."
In the win over Russellville, pitcher Peyton Jenkins allowed three hits, walked two and struck out nine. She had a shutout until the bottom of the seventh on a walk, a single and a groundout.
"We traded a run for an out," Clark noted.
Jenkins proceeded to end it with a pair of strikeouts.
Offensively, the Lady Hornets were led by Katy Stillman and Jenna Bruick. Stillman had two hits, a double and a triple, and scored twice. Bruick drove in three runs.
"We hit the ball but just hit it to people," Clark noted. "It was a very good game for us. Russellville has a very talented freshman pitcher and she pitched well. She has a bright future."
The coach noted that illness has hit the team. Senior shortstop Cassidy Wilson, who had to come out of the Van Buren game on Thursday, played against Russellville but, Clark said, "She was not 100 percent.
"Their head coach, Harley Sisson, said of Cassiday, 'Her sick is better than a lot of players at 100 percent,'" Clark mentioned. "That's the kind of respect our players have around the state."
The Lady Hornets didn't have a base-runner in the game until, with one out in the third, Stillman took an outside pitch to right field. She got to second but was awarded third because it was ruled the first baseman had obstructed her progress as she rounded first.
With two out, Bruick hit a drive to center that was misplayed allowing Stillman to score the first run.
Bryant added two more run in the fifth. With two down, Stillman cracked another double, McKenzie Rice beat out a bunt hit and, after Rice stole second, Bruick drove both of them home with a single.
"The stolen base was huge," Clark stated.
Jessie Taylor opened up the top of the sixth with a two-bagger for Bryant. With Kayla Jolley on as a courtesy runner for the catcher, Kayla Sory got a sacrifice bunt down to allow Jolley to take third. She scored on Wilson's groundout to make it 4-0.
"Coach Sisson complimented our team after the game," Clark said. "He spoke very highly of Jenna and the fact that they tried to frustrate her at the plate. But they didn't succeed.
"He was extremely pleased that the game went seven innings and they kept us under 10 runs," she added. "It is amazing when you beat a team 4-1 in a good game and they see it as a victory."
Van Buren couldn't manage that on Thursday. Bryant struck for seven runs in the first inning and Jenkins pitched a two-hit shut out, walked a pair and fanning 12.
"She had a great night," Clark noted. "She shut them down.
"We did what we needed to do and got another big win," she added. "Cassidy was battling illness but didn't want to miss the game or miss playing for Landon, the little boy from The Miracle League."
The Lady Hornets had visited Landon and the other players at the Miracle League on the previous Saturday and, on Thursday, had several of the players throw out the ceremonial first pitches while holding a fund-raiser for Team Lando Commando and the League in association with Autism Awareness Month.
"We sent Cassidy home in the second inning and Breanna Sanders played shortstop and hit for her," Clark noted.
The seven-run first started with a two-out hit on a shot to third by Taylor. Kayla Sory followed with the first of her three hits in the game. After Wilson walked, Kaley Coppock cracked an RBI single. With the bases still full, Carly Yazza walked to force in a second run.
The carousel continued with Stillman's RBI single then Rice belted a two-run double. Bruick bunted for a hit to drive in a run then the seventh tally of the evening came in when Jenkins reached on an error.
The advantage grew to nine in the second inning. Sory singled and Sanders, in her first at bat, ripped the first pitch down the left-field line for an RBI double. Sanders came home on a groundout by Coppock.
The onslaught resumed in the bottom of the third when Bruick reached on an error and scored on a one-out double by Taylor. Sory singled and when Sanders reached on an error, Jolley, in again to run for Taylor, sprinted home. Sanders made it 12-0 when she came in on Coppock's grounder to third.
In the fourth, Clark sent up four pinch-hitters. Ashley Chaloner grounded to third, Ashlyn Lessenberry singled and stole second then Brittany Ball popped to first and Jolley grounded out to short.