Lady Hornets clinch bid to State with 5-set victory over Cabot
EDITOR'S NOTE: Because the look back at each day in Bryant athletic history has been so favorably received during the time when there was no sports during the COVID-19 shutdown, BryantDaily.com will continueposting past stories of Bryant athletics either posted on BryantDaily.com (from 2009 to the present) or published in the Bryant Times (from 1998 to 2008).
For more photos from this event by Kevin Nagle, go here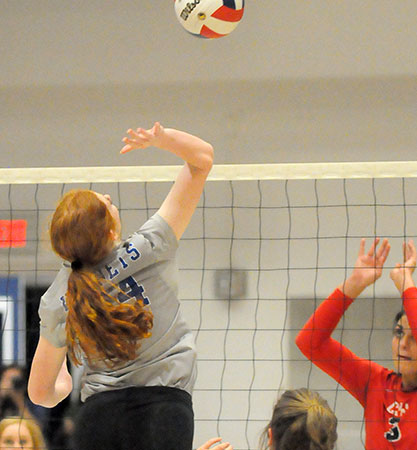 In a 7A-Central Conference match that was the Cabot Lady Panthers' last chance and the Bryant Lady Hornets' best chance to clinch a bid to the State Tournament, it figured to go a full five sets Tuesday night at the Hornets' Nest. And, with a mid-game surge in the final set, the Lady Hornets pushed through for the victory 25-18, 18-25, 25-14, 20-25, 15-8, to punch their ticket to State, which will be played in Conway Oct. 24-28.
In addition to knocking Cabot out of contention, the Lady Hornets jumped into a tie for fourth place in the conference at 5-7 along with Fort Smith Northside and Mount St. Mary Academy of Little Rock. In hopes of earning a higher seed, the Lady Hornets will close out the league slate over the next week with a trip to North Little Rock (second in the league) on Thursday and a home match with Conway (already the conference champion) next Tuesday.
Senior Night at Bryant will be Thursday, Oct. 19, in a non-conference duel with Benton.
In the final game, the Lady Hornets were clinging to a 5-4 lead when sophomore Ivory Russ came through with a kill to force a side-out. Libero Cassie Ray rotated to the service line and a pair of hitting errors by the Lady Panthers extended the Bryant lead. Ray followed with an ace. Another hitting error by Cabot and Bryant's lead was 10-4, which proved to be too much for the Lady Panthers to overcome.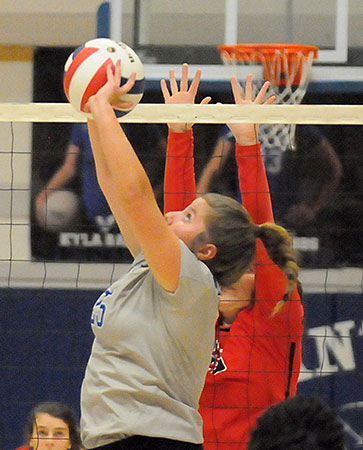 Late kills by Faith Stone and a combined block by Stone and Grace Camferdam helped secure the victory.
"What a great win tonight," exclaimed Lady Hornets' coach Beth Solomon afterwards. "We've noticed a different atmosphere during practice and we saw it on Saturday (at the Conway Invitational Tournament). The girls have been playing a different caliber of play. Tonight, they beat Cabot in a hard-fought game to five.
"I'm so proud of how the girls played," she asserted. "They worked together, talked on the court, and played well. Such a great night for them!"
Bryant recorded 37 kills, six solo blocks and served up eight aces in the match while getting in 98 of 102 serves.
Senior Raven Loveless led with 15 kills. Stone added seven kills, Russ and Truli Bates had five each with Ashlyn Lee and Camferdam picking up two apiece and Ray one. Russ and Stone recorded two blocks each. Lexi Brown had one as did Loveless.
At the line, Lee (22) and Kyla Baker (21) got in all of their serves without an error. Ray was 20 of 21 and Brown was 13 of 13. Lee and Brown each had three aces to go with Ray's two.
Lee finished with 20 assists, Brown six with Baker and Russ adding two apiece.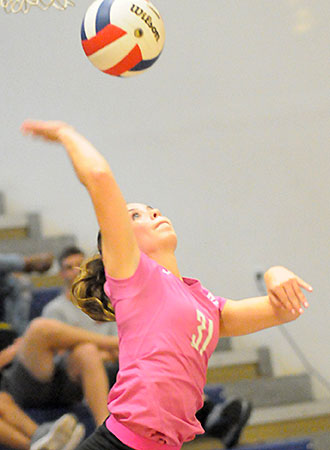 Ray also had 24 digs patrolling the back line. Baker dug up 13 and Brown five and Thompson three.
The Lady Hornets gained the upper hand early in the first set. With Baker serving, they ran out to a 7-0 lead. Loveless scored on a pair of kills and a block. Bates had a block for a point as well.
Eventually, Cabot rallied and had the match tied at 16 when Loveless broke serve with a kill and Lee served for an ace. Russ' kill and a hitting error by the Lady Panthers extended it to 21-16. Kills by Russ, Loveless and Camferdam helped close it out.
In the second set, Bates had another kill and Loveless scored off a dink as the Lady Hornets established a 3-0 lead.
Cabot managed to tie it a few ties but couldn't get ahead until after it was knotted 11-11. Down 11-14, the Lady Hornets were never able to catch up despite the fact that, down 15-21, Brown served for consecutive aces forcing a Cabot timeout, which undercut Bryant's momentum.
The third set was back-and-forth early. Cabot tied it 7-7 but a hitting error cost them control and the Lady Hornets took the lead for good. Camferdam's kill and Brown's ace extended the advantage.
The Lady Panthers managed to get back within 11-13 but a pair of kills by Loveless and an ace by Lee put Bryant back in control, winning on a 12-3 burst.
Cabot turned a 3-3 tie in the fourth set into a 10-3 advantage and never relinquished the lead.