For more photos of this event by Rick Nation, go here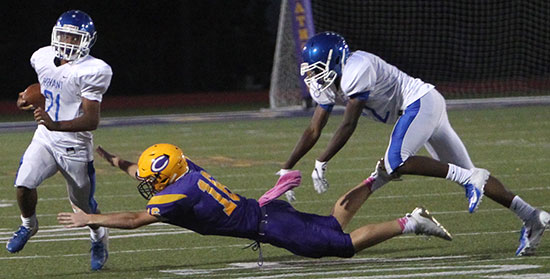 LITTLE ROCK — Big plays were the story for the Bryant Hornets' freshman team. Producing five plays over 20 yards (and a few others that were negated by penalties) plus a pair of long punt returns for touchdowns, the Hornets earned their sixth consecutive win and their fourth without giving up a touchdown in a 44-3 romp over the Little Rock Catholic Rockets freshman in a rare Wednesday night game.
The Bryant defense gave up 123 yards passing but made up for it against the run. With sacks included, the Hornets forced the Rockets into a rushing total of minus-37.
The punt returns were 80 yards by Jordan Knox and 90 yards by Malachi Graham. Knox also caught a 47-yard touchdown pass from quarterback Cory Nichols. Graham took a screen pass 56 yards to set up Nichols' 1-yard touchdown run, his second of the night.
Xalen Curenton capped the scoring with reserves on the field for the Hornets, out-running the Rockets on a 76-yard touchdown run.
"We didn't execute near like we wanted to," commented Hornets coach Kenny Horn, referencing the team's nine penalties for 93 yards. "We made some big plays though; big plays all night long. That's always good.
"Defensively, we busted three things tonight," he added. "Fortunately, we can fix that.
"But, you know, I'm glad we won," the coach concluded. "We'll move on to next week."
Now 6-0 overall and 5-0 in the Central Arkansas Junior High Conference, the Hornets have surrendered just 15 points in those six games. They take a break from conference next Thursday, Oct. 17 at home against Little Rock Central.
The Hornets' offense sputtered a little bit early. Penalties had something to do with that, plus a toss sweep that the Rockets stopped for a loss of eight on the second play of the game. Bryant gave the ball up on downs.
But, after the defense stuffed three plays near midfield, the Rockets punted. Knox fielded it at about the 20 and brought it all the way back for the first score of the game.
Two plays into the Rockets' subsequent possession, Graham intercepted a pass. But a holding penalty cost the Hornets and they eventually punted from their own 35.
Aiden Baker sacked Catholic quarterback Sam Sanders for a loss of 12 on a second-down play. Plus, Sanders was cited for intentional grounding. So, it wasn't long before the Rockets were punting back to the Hornets.
The exchange left Bryant 40 yards away from another score. They covered that in two plays, both scrambles by Nichols. The second getting into the end zone from 24 yards out. Martavion Earle ran in a two-point conversion to make it 14-0.
Thanks to pass completions of 42 yards from Sanders to Cole Eichler and 20 yards from Sanders to Cole Pace, the Rockets got into scoring position at the Bryant 15. But they could get no closer. On fourth-and-9, Nathan Peacock came on to boot a 31-yard field goal.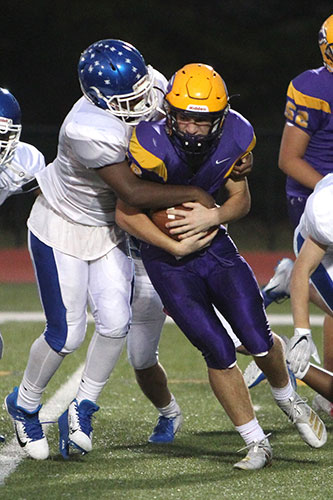 But it didn't take long for the Hornets to answer. Set up at their own 37 after Braylon Montgomery's kickoff return, they needed just three plays and one of those was an incomplete pass. Earle burst for 16 yards and, a play later, Knox hauled in the TD pass from Nichols. With Nichols' run for two, it was 22-3, which held up at half.
To start the second half, Bryant forced another Catholic punt. Graham had a long return negated by an illegal block in the back.
After picked up a first down on the subsequent series, Earle had a 29-yard run wiped out by penalty. On a first-and-21, the Hornets ran a screen pass to Graham, who broke it for 56 yards. Though a dead-ball foul pushed them back 15 yards, Earle followed with a 24-yard sweep to set up Nichols' 1-yard TD run. Earle ran in the conversion and it was 30-3 with 2:40 left in the third quarter.
Tyler Mosley sacked Sanders for a loss of 11 yards on the first play of Catholic's next series. But Sanders found Pace over the middle for a 24-yard gain and a first down. Sanders threw to Eichler for 35 yards to the Bryant 30 but Mosley sacked Sanders again then Ethan Primus blew up a swing pass to Ross Maginn for a loss of 5.
On the subsequent punt, Graham fielded the ball at the 10 and went the distance. Stephen Fuller added the extra point and, with 5:41 left in the game, the mercy rule (running clock) was in effect.
Broy Troyer and Gabriel Childs each made stops for lost yardage on Catholic's final possession. With no one back, the Rockets' punt by Drew Parker rolled to the Hornets' 29.
After a false start penalty moved it back to the 24, Curenton set sail on his touchdown run. Fuller's PAT wound up being the final play of the game.