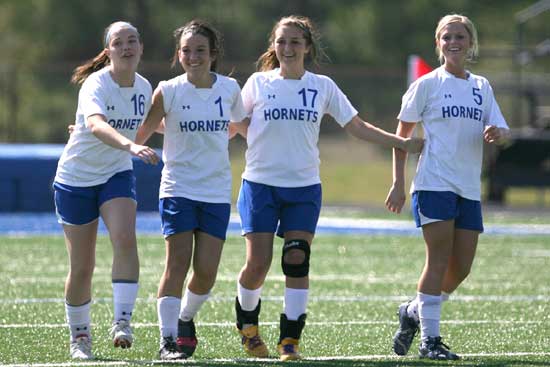 By Rob Patrick
Photo by Rick Nation
TEXARKANA — Playing their fourth game of the day on Saturday, the Bryant Lady Hornets challenged the[more] Rogers Heritage Lady War Eagles in a marathon finale to the Razorback Invitational soccer tournament at Arkansas High.
The game ended with the teams deadlocked at 1 before Heritage won it on a shootout.
"I can honestly say, in my whole time playing and coaching soccer, I have never played four games in one day," declared Bryant coach Julie Long. "So, I was very pleased with how well they played across the board. They had to fight and dig deep to even compete in this game.
"The girls did great," she continued. "We out-shot them 8 to 4 during regulation and, overall, out-played them. Even if you do that, though, you don't always get the win. The girls' legs were just dead."
Heritage was playing just its second game of the day.
Bryant tied it in regulation off a free kick by Tarra Hendricks. Heritage scored on a penalty kick but Lady Hornets' keeper Kaitlyn Miller had five saves.
"She had a great game," Long said. "She had one huge save late in the game."
It was the second time that the two teams had battled to overtime in the tournament. On Friday night, it was tied 1-1 after regulation play concluded and the two teams matched each other through seven PK's. The Lady War Eagles hit their eighth but the Lady Hornets couldn't find the net.
As a result, Bryant dropped into the loser's bracket only to come all the way back to play for the championships.
In Friday's match, Bryant's only goal came in the first five minutes of the second half. Dylan Vail got the shot to go off a long delivery from Hendricks.
On Saturday, Bryant started with a 1-0 win over the Rogers Lady Mounties.
"It was a good game," Long said. "Our only goal came off an indirect free kick inside the box. Tara sent the ball across and Bailey Gartrell finished it."
Ashlyn Baughtman scored the lone goal of the 1-0 win over DeQueen off an assist from Vail.
Against North Little Rock, a 7A/6A-Central Conference rival, Hendricks fed Taylor Bryant with a ball over the top. Bryant controlled and went one-on-one with the Lady Charging Wildcats' keeper and scored.
Victoria Rose set up Madison Land for the second goal. "she turned and had an excellent goal," Long recalled. "It was probably the prettiest goal of the day."
The capper was netted by Kaitlin Gaiser off a feed from McKenzie Adams.
"The girls were exhausted that game," Long said. "They really had to dig deep to keep going."
The results have Bryant 6-4 overall versus a rugged pre-conference schedule. They were set to host Benton tonight at 7 then open league action at Little Rock Central on Thursday.