Photos by Kevin Nagle
The Bryant Lady Hornets freshman volleyball team was once again on the cusp of winning a Central Arkansas Junior High Conference match Thursday night but, as was the case at Cabot North in their previous out on Monday, Sept. 9, it got away at the end. Conway White surged to a 2-0 win, 25-21, 25-22.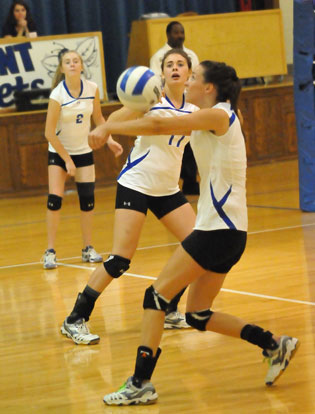 "Both games, we led," noted Lady Hornets coach Julie Long. "That's what happened to us against Cabot North too. We get ahead up to point 20 then they come back to beat us.
"We worked on it all week, on trying to push through at the end," she said.  "Unfortunately, it didn't help us for this game but we'll continue to work on it. We had to make some adjustments with people playing in different positions because of Riley (Hill) being out. She hurt her back in our last game. So Ty (Foote) played middle for us and we had to make a few adjustments as far as back row as well.
"Sarah Kennedy has been strong for us every game. She's our setter," the coach related. "She served well. Ty has come a long way. Every game, she gets better. If she can keep improving, that's going to make a huge difference."
It's a work in progress, Long acknowledged, "It's been a couple of heartbreak losses. I'm trying to create a winning attitude where they'll expect to win every time they step on the court instead of second-guessing themselves. I think that's the biggest thing right now. They're just not used to winning. We're going to try to push through it and figure out how to win."
Bryant will host Mount St. Mary Academy in the next match set for Monday, Sept. 16.