For more photos from this event by Rick Nation, go here
Every coach wants their team to face up to a challenge, to take it head-on and not shrink from the moment.
It's a whole 'nother thing when your team not only faces the challenge but embraces it, gets fired up about it. That's the very nature of competitiveness.
On Thursday at the Lady Hornets' Yard, Bryant hosted one of the best teams in the state regardless of the classification. The Bauxite Lady Miners, a close Saline County neighbor, came into the contest with a sparkling 24-0 record, ranked No. 1 in Class 4A and No. 2 overall in the state behind only 18-1 Bentonville.
Bryant, sporting a 17-3 mark, was ranked No. 3 in the state, No. 2 among 7A teams.
The Lady Hornets, sparked by a solo homer by Sarah Evans, broke through with four runs with the help of a couple of errors in the second inning and the every-two-innings rotation of Gianni Hulett and Raven Loveless made it stand up, limiting the Lady Miners to five hits and one unearned run in a 4-1 victory that was out of conference for both teams but played like a State tournament game.
The Lady Hornets celebrated like it was State after the final out.
"It's Bauxite," noted Bryant head coach Lisa Dreher. "They're an awesome team. My girls have been fired up all week about this game. We try not to look past any games at all but it was a big win. I'm proud of them.
"I think they're seeing how good they are. We knew that we had a lot of talent but, at the same time, you've got to execute in games. They work extremely hard. Some of them seven days a week at it. It's good for that work to be finally paying off. We've just got to keep going all the way through May."
If they were looking past league rival Conway on Tuesday, they got away with it with a 9-3 win that kept them atop the 7A-Central Conference standings, a game ahead of Cabot. They'll travel to Fort Smith to play Northside on Friday, planning to keep that league mark unblemished.
It was the sixth consecutive win for the Lady Hornets, the fourth since Dreher deployed the pitching arrangement, taking advantage of two tough pitchers. Those wins included games against Cabot and third-place North Little Rock, not Bauxite.
"I think it's working well," she acknowledged. "They're two totally difference style of pitchers. Gianni's left-handed, Raven's right. It's a whole different look.
"As long as they are able to do it, we'll probably continue to have that approach," the coach added. "They've adjusted real well to it. It can't be easy every two innings and trying to stay warm and everything. G's coming from centerfield. But they've done well with it."
Bauxite pitcher Bailey Buffington was plenty impressive as well. Besides the second-inning uprising and defensive breakdown, she blanked the Lady Hornets, retiring 11 of the last 12 batters she faced.
Hulett started in the circle for Bryant and, despite hitting former Lady Hornets Daniele Singleton to start the game, retired the next three then worked around a one-out single by Ashley Redman in the second.
In the bottom of the inning, Evans launched a 2-1 pitch over the boards in center for the game's first tally.
Perhaps shaken by the bolt, Buffington issued her lone walk of the game to Macey Jaramillo. But she came back with a strikeout and retired Madison Lyles, who got a sacrifice bunt down to get Jaramillo to second.
That proved significant when Loveless, on the very next pitch, laced a single up the middle to drive in Jaramillo. And when the ball was bobbled in the outfield, Loveless advanced to second.
That brought up Maddie Stephens who looped a single to center to chase home Bryant's third run.
Back at the top of the order, Regan Ryan laid down a perfect bunt and beat it out for a hit. Still, it looked like Buffington and the Lady Miners would escape further damage when Hulett flew to left-center. But the ball was dropped and Stephens hustled home to make it 4-0.
"They're being patient and they're making the pitcher throw them strikes," Dreher said of her hitters. "So they're getting in there with a plan and executing for the most part. You can't ask for much more than that."
With Loveless taking her turn in the circle, Singleton managed a one-out hit in the top of the third but Valery Cotton popped to Lyle at short and Taylor Sledd grounded out to the shortstop to end the inning.
Evans greeted Buffington in the bottom of the third with a sharp single to right but, with one out, Evans strayed too far off the bag when Brooklyn Trammell's shallow fly to center was chased down by Singleton, who quickly relayed to first for an inning-ending doubleplay.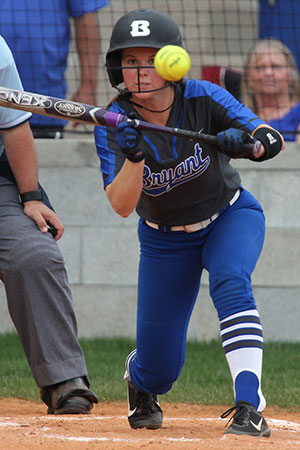 Both teams were retired in order in the fourth. In the fifth, Hulett returned to the circle and a two-base throwing error put her under the gun as Destiny McClain reached second safely.
Cheynne Harris fanned then Jacie Cooper hit a fly to Regan Keesee in right. McClain tagged and went to third but it was ruled that she left second too soon and was thus out. That fired up the Lady Miners and their fans but the play stood.
More controversy followed when Ryan led off the bottom of the fifth with a slap toward third when Redman got a glove on it before it rolled into foul territory. At first, it appeared that the protest by Bauxite coach Sara Tew was about that call but it soon became clear that she thought Ryan was out of the batter's box when she made contact.
The play stood but Buffington made it moot when she set down the next six in a row to close out the game.
In the top of the sixth, the Lady Miners got something started with back-to-back singles from Singleton and Cotton. When Sledd struck out, catcher Meagan Chism tried to pick off Cotton as she tried to get back to first. But the throw got away. Singleton sprinted all the way home and Cotton wound up at second.
She moved to third when Buffington grounded out to Evans at second and was stranded there when Chism hauled down Shelby Chaver's pop at the plate.
With Loveless set to close it out, Redman led off the seventh with a shot off of the Bryant pitcher's glove. Jaramillo fielded the ricochet but her throw was late as Redman reached.
But the Lady Miners' hopes of rallying were quashed as Loveless retired the next three batters, catching an infield pop herself for the final out.