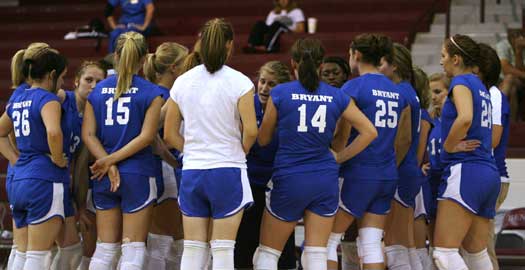 By Rob Patrick
BENTON — The Bryant Lady Hornets just couldn't get a roll going on Monday night as they battled the rival Benton Lady Panthers. The big hitters for the Lady Panthers always seemed to get a kill in or a block to break any momentum Bryant seemed to be gaining and Benton swept three games, 25-14, 25-17, 25-17.
The Lady Hornets JV, however, won both games of their match.[more]
The Lady Hornets varsity hopes to bounce back on Thursday as they open 7A-Central Conference action with their first home match against Little Rock Central.
Bryant head coach Beth Solomon said she felt her team took a step back in their second match of the season.
"Bottom line, plain and simple, the girls did not play to their potential," she stated. "We didn't play nearly as well as we're able and didn't come close to playing as well as we did last week (at Lake Hamilton). Let's hope they can turn things around before our conference opener with Central."
Jordan Armstrong led the Lady Hornets with six kills. Sophomore Brianna White was in on 3 ½ blocks.
Armstrong's first kill had the Lady Hornets up 2-1 in the opening game but it would be the last time Bryant held a lead until the third game of the match.
Still, the first game stayed tight until Benton finished with a 7-0 run. On an ace by Kasey Baker, Bryant was within 9-10 before that. A 6-1 stretch put Benton in position for the victory.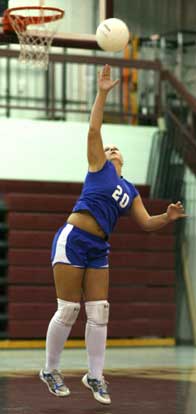 And the run that ended the first game spilled over into the second game in which the Lady Panthers rolled out to a 10-1 lead. The Lady Hornets played about even after that and made a bit of a surge at the end, avoiding game-point with a 4-0 stretch that included a kill by Kayla Davidson and another ace by Baker.
Hoping to duplicate the feat of Lake Hamilton the week before in which the Lady Wolves rallied to win after Bryant had taken the first two games of their match, the Lady Hornets opened the third game with their best stretch of play. Armstrong's kill gave them the lead initially. White added a block for a point and Amber Cope's kill gave Bryant a 6-3 advantage.
Benton rallied to within 7-6 but another kill by Armstrong and a block by Taylor Shutt had the lead back to 3.
Though Benton fought back to lead 10-9, the Lady Hornets bounced back with kills by Armstrong and Shutt and a combination block involving White and Shutt that made it 12-10.
The teams traded points for a while. Bryant's last lead was 13-12. A 4-0 spurt by Benton forced a Bryant timeout and the Lady Hornets never fully recovered. A service error after the timeout cut the lead to 16-14 but, after that, Benton closed out the match with a 7-2 run.
In the JV game, Jenna Bruick led the Lady Hornets with five kills. Cope added four blocks and Jenifer Hubbard contributed nine assists.
"I was very proud of our JV team," Solomon remarked. "They fought hard and played well."