CONWAY — In a field of 16 schools, the Bryant Lady Hornets swim team finished fifth in a meet held at Hendrix College on Saturday, Jan. 22.
Sophomore Jinson Kang turned in[more] second-place performances in two events and Alise Heavrin, Kaitlin Howey, Courtney Wells and Mollie Robinson each had top 10 finishes in individual events.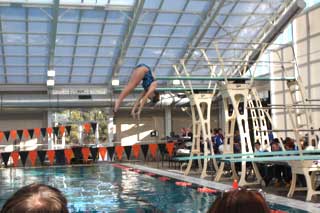 Conway won the team competition with 521.5 points. El Dorado was second with 284 followed by Mountain Home (229), Little Rock Central (226) and Bryant (206).
It was the first meet for the Lady Hornets since before Christmas. They'll return to competition this Thursday at Ouachita Baptist University in Arkadelphia.
Kang finished the 200 individual medley in a time of 2:20.46 to finish second only to Arkansas Baptist's Andi Burroughs (2:17.93). Bryant picked up points from Robinson in the event as well. She was 16th in 3:20.15.
In the 100 butterfly, Kang turned in a time of 1:05.94 to finish second to Mountain Home's Samantha Mohler (1:03.59). Moser was seventh with a time of 1:16.70.
The Lady Hornets' 200 freestyle relay team picked up third-place points, finishing in a time of 1:59.26. Kelsie Vaughn, Amanda Butler, Kang and Moser teamed up on the effort. Bryant's B team of Skylar Combs, Catarena Falco, Howey and Deidra Reeves finished 14th with a time of 2:38.73.
Heavrin's top 10 finish came in the 1 meter dive. She placed fifth with a score of 131.80. Howey was seventh with a score of 59.85.
Robinson was 10th in the 500 free, finishing in 7:31.83 while Wells turned in a 10th place finish in the 200 free with a time of 2:31.81. Vaughn was right behind Wells in 11th with a time of 2:31.90.
In addition, Moser was 11th in the 50 free (28.56) while, in the 100 breast stroke, Vaughn, Wells and Butler finished 12th, 13th and 14th respectively. Vaughn's time was 1:31.86; Wells' was 1:33.22; and Butler's was 1:34.57.
In the 200 medley relay, Robinson, Wells, Kang and Moser produced a 2:19.80 clocking which was good for eighth. Vaughn, Robinson, Butler and Wells finished in 5:00.23 in the 400 free relay, finishing eighth as well. The B team of Mikayla Douglas, Taylor Rhea, Falco and Lauren Wood was 12th in 5:39.95.