CONWAY — Dylan Machycek turned in top five finishes in two events and Jordan Combs in another as the Bryant Hornets finished third in an 18-team swim meet at Hendrix College on Saturday.
Conway won the meet with[more] a whopping 958.5 points. Little Rock Central was second with 411 followed by the Hornets with 380. Memphis University School was fourth with 344 points.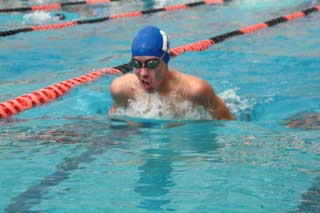 It was Bryant's first meet since before Christmas. The Hornets will return to competition this Thursday at Ouachita Baptist University in Arkadelphia.
Machycek finished second in the 50 yard free style in a time of 22.92 to post the Hornets' top finish. Conway's Tyler Crosson won the event in a time of 21.84. Bryant's Dylan Rogers was 13th in 24.72.
Machycek was fourth in the 100 back stroke with a time of 59.91 with Casey Ball finishing 10th for the Hornets in 1:12.15.
Combs, competing in the 1-meter dive, earned a fourth-place finish with a score of 109.80. He was also ninth in the 200 individual medley with a time of 2:31.
Andrew Dull contributed a pair of ninth-place finishes. In the 500 free, he finished in 5:53.28. In the 100 butterfly, his time was 1:03.20 with Rogers right behind in 10th with a time of 1:03.22. Hayden Stewart picked up 12th-place points with a 1:04.45 clocking.
The Hornets quartet of Dull, Brent Heil, Rogers and Machycek finished seventh in 1:55.84 in the 200 medley. A B team of Casey Ball, Stewart, Combs and Ross Grant was ninth in 1:59.52.
In the 200 free relay, Rogers, Heil, Dull and Machycek was seventh in 1:42.15. A B team of Seth Hoffmans, Nick Hoffpauir, Austin Sanchez and Steward was 15th in 2:02.61.
Ball, Hoffmans, Combs and Grant also combined in the 400 free relay, finishing 12th in 4:12.97.